A GAME TOO FAR - BUT WE'RE STILL CHAMPIONS OF EUROPE!!!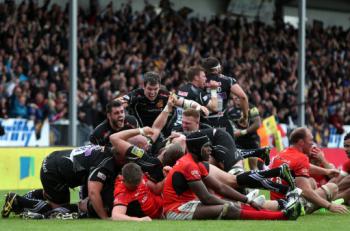 By Darraghgirl
May 21 2017
In the words of that great Scottish bard Jim "Rabbie Burns" Hamilton, there are only so many times you can go to the well before it runs dry". Today the well was dry and despite this fabulous, brave lionhearted team digging with their bare fingernails, there was nothing left.
Don't get me wrong, a superb Exeter Chiefs team deserved their victory and we wish them all the best in the final next week. Hopefully they will be able to build on their feelings from last year's game and make sure this time they win the trophy. But the origins of this defeat go back to a long bruising season, injuries to key players at the wrong time and a huge burden of international call ups, not to mention a totally disproportionate disciplinary ban (but that's another story). McCall, like a single mum on benefits, had to conserve his resources across a long season. Sometimes that meant forgoing a try bonus point with substitutions of key players. Sometimes it meant resting players for entire games. 2 weeks ago it meant sacrificing a home semi final for a greater prize, the European Double.
Saracens were very clear what their priorities were, and they achieved that with victory over Clermont in Edinburgh last weekend. Anything else would have been icing on the cake. Sadly the cake will have to be eaten with just a sprinkling of sugar – but it should still be enjoyed. The team that took the field at Sandy Park was the same team which took the field at Murrayfield a week ago with the notable exception of Captain Fantastic, Brad Barritt who finally had to listen to his body and rest. I don't suppose we will ever know how many of the other guys were carrying knocks, patched up, stitched up and sent out to battle again although we got a brief glimpse that even Billy, the bionic man, had his shoulder held together with yards of tape.
I won't dwell too much on the game – it is too painful. Saracens lost the toss and played the first half with a substantial breeze behind them – not what they would have wanted. The writing was on the wall when Michael Rhodes, Saracens' Player of the Season and a man who has given everything to the club, hobbled off with a knee injury after only 10 minutes. Worse was to follow when Chris Ashton left the field a few minutes later with a shoulder injury – not the way he would have wanted to end his Saracens career. At the time I thought that even if we got to Twickenham next week, those 2 guys weren't going to make it.
Saracens had the best of the first quarter and a 6-0 lead probably didn't reflect this. I hate to blame Wiggy, who has been fantastic for us this year, and who made a couple of try-saving tackles, but his decision to take a quick tap penalty when we should have gone for the points ultimately resulted in the score being 3-6 rather than 0-9. Chiefs had a purple patch up till half time and the teams went in level. Playing into the wind in the second half and with a team clearly running on empty, it didn't look enough.
But this team never gives up. Chiefs were all over them in the second half and eventually Jack Nowell scored the inevitable try. But slowly, gradually, these Barnet warriors got themselves back into the game. A lovely piece of play saw Chris Wyles score in the corner. He looked a bit sore when he got up but he carried on. From the touchline, into a swirling breeze, Farrell couldn't land the conversion. Chiefs emptied their bench, Sarries opted to change only their hooker, preferring to stay with their wearying warriors. Was that the right decision? We will never know.
With 5 minutes left, somehow Mike Ellery scored in the other corner. It looked like he was helped in scoring by a Chief's defender lifting his legs. Mr Barnes didn't even review the tackle though. Where's Graham Hughes when you need him? One wonders if this had happened in open play, whether he would have been quite so generous. Farrell again, kicking into a capricious breeze, couldn't land the extras but Sarries now led 13-16 with just a couple of minutes to go. Could the miracle happen?
Sarries seemed happy to try and wind down the clock in their own half. It was going to be a long couple of minutes but maybe they could do it. Then Wiggy chose to kick into that strong breeze, territory over possession. Sadly the gamble failed. Chiefs got a scrum and from that a penalty. Then Henry Slade won the match with a sublime touch-finder from deep in his own half on to the Sarries' 5m line. With such small margins are games won. A couple of meters longer and it was a scrum all the way back to Sarries, 10m further from the touchline and I don't think Exeter would have scored but the kick was inch perfect and Chiefs for once set the rolling maul and although Sarries threw everything at it, their tired bodies had nothing left to give. It just remained to be seen whether the ball was grounded. Barnes raised his arm and that was that.
So congratulations to Exeter Chiefs and good luck against Wasps next weekend. It couldn't be more deserved. I have to admit to a touch of relief. Having watched the boys today, I think we would have struggled to get a fit-enough team on the pitch next week. So many big tough games have finally taken their toll.
So our season has ended. I really wish everyone could go off and rest now. It worries me that Mako and Jamie, George and Maro, Billy and Owen will now be asked to give even more of themselves in that most challenging of Lions tours to New Zealand. I really, really hope we are not asking too much of them. Please Warren, treat them like bone china, don't break them.
So thank you Saracens for yet another amazing season. Despite everything we can hold our heads up high. We are DOUBLE EUROPEAN CHAMPIONS and in the words of George Gershwin "They can't take that away from me". This team is something special and we are so lucky to support them. Let me end with a couple of quotes from our fabulous boys:-
"One of the bravest Saracens performances I have ever seen, so proud of the boys" Kelly Brown
"Super proud of Saracen's character" Brad Barritt
"To all the players, you are going to get better and better, winning trophies, but more importantly making memories" Petrus du Plessis
"As much as it hurts you learn more from defeats! I've learnt is that I love the boys" Billy Vunipola
EXETER
Dollman (Slade), Nowell, Whitten, Devoto (Campagnaro), Short, Steenson, Townsend (Chudley), Moon (Rimmer), Cowan-Dickie, Williams (Francis), Dennis, Parling, Horstmann (Lees), Armand, Waldrom (Simmonds)
SARACENS
Goode, Ashton (Ellery), Bosch, Taylor, Wyles, Farrell, Wigglesworth, M Vunipola, George (Brits), Koch, Itoje, Kruis, Rhodes (Burger), Wray, Vunipola
Subs (unused) Lamositele, Du Plessis, Brown, Spencer, Lozowski
SCORERS:
Exeter (18): tries: Nowell, Simmonds; Conv: Steenson, Pens: Steenson (2)
Saracens (16): Tries: Wyles, Ellery; Pens: Farrell (2)
Attendance: 12,436
Referee: Wayne Barnes (RFU)