IT'S TIME TO SAY GOODBYE - 2. BIG JIM HAMILTON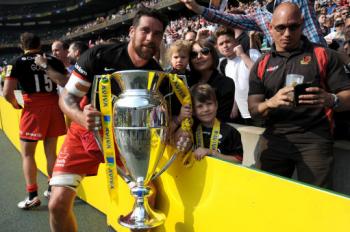 By Darraghgirl
June 2 2017
James Leigh Hamilton was born on 17th November 1982 in Swindon England. He was a kid from a council estate, a boy from a broken family (his Scottish dad and half English half Chinese mum divorced when he was young which led to Jim living over his mum's family's Chinese Restaurant in Coventry).
When he joined Saracens in 2014, he had a bit of a reputation for a "journeyman" and his arrival was not universally welcomed. Big Jim grew up in Coventry and learned his rugby at Coundon Court School. He then went on to play for Barker's Butts Rugby Club (their mission statement is "where friendships flourish") and joined other alumni – Neil Back and Danny Grewcock. He was invited to play for Warwickshire against Leicestershire in 1999 where he was noticed by Dusty Hare and Andy Key who signed him for the Leicester Tigers Academy. He represented the Tigers' youth team and was a member of the under-21 championship winning side of 2002-3. His abilities did not escape the England national side and he was capped at under 19 level. During a game in Santiago Chile in 2001, he met his long-time friend Kelly Brown (playing for Scotland!): "He was playing for England Under-19s and was the same size he is now. Our tallest player was 6ft 3in and this 6ft 8in clown runs out on to the pitch. We were all like: 'What is that'".
He made his Leicester Tigers debut in September 2003 and played for the Tigers until 2008 when he moved to Edinburgh under Andy Robinson. He had represented Leicester 64 times scoring 4 tries including a brief appearance as a substitute in Leicester's demolition of Edinburgh earlier that year. While at Leicester, Jim learned "the Leicester way". He learned how to win a tight game – experience he later brought to Saracens. He said "When it comes to a pressure line-out that we need to win to have a chance of scoring, maybe that is where my experience of that way of doing things can come into its own". And where better to learn line-out skills than Welford Road! Leicester was the making of Jim. He found in the set up at Welford Road, the family spirit that was lacking in his own upbringing. He said "If it wasn't for Leicester, Dean Richards and Richard Cockerill there's no way I'd have the life I have. They saw something in me – a drive, a natural anger and physicality." In his younger days Jim was no stranger to the physical side of the game. "People talk about warrior spirit in rugby and it's something you do need. You're not going to war and the likelihood is you're not going to die but you need that combative edge. I've learned I've got a natural desire to make things happen. I think that's why I've made it to the top of the game". Whilst at Leicester he became friendly with a young prop called Matt Hampson. Hambo's devastating injury touched big Jim, along with many others, and in tribute to him, Jim had Proximo's quote from Gladiator tattooed on his forearm: "Some of you are thinking you won't fight. Others that you can't fight. They all say that until they're out there."
Jim's move north of the border may have been linked to his decision to become a proper Scot (he inherited his nationality through his Glasgow-born father who served for 24 years in the Queen's Own Highlanders). He made his debut for Scotland in November 2006 as a substitute against Romania, when he became Scotland's 1000th capped player. Jim represented Scotland 63 times over a 9 year period. Of these, Scotland won 18 and drew 1. He scored just one try against Argentina in 2010. He played his final game in a win against Italy in 2015. When he missed out on Vern Cotter's Scotland Squad for the World Cup, he announced his retirement. "Fifteen years ago from today I was on the bare bones of my arse. Never in a million Saturday afternoons did I think I would have represented this beautiful country of Scotland 63 times on the rugby field. I have loved every single moment of wearing the thistle and feel extremely humble to have done it for nine years".

Jim spent 2 years at Edinburgh before moving back South in 2010 to join Gloucester Rugby. During his time at Gloucester he was involved in one of rugby's biggest brawls when a fight with Irish's David Paice led to a yellow card for both men, only for the fight to resume as both players left the pitch leading to a massive brawl and both players being red-carded and banned for 7 weeks. His disciplinary record didn't stop Jim being appointed captain in the 2012-13 season. But at the end of that season he moved to Montpelier in France. He still had 2 years left on his contract and was worried that his motives might be questioned. "You look at me and see how happy I am, how well the team is doing and how much I enjoy being captain and you see the reasons why I would stay, so there has to be a good reason why I would go". That good reason was financial. "At the end of the day I'm not a well-educated person and have nothing to fall back on after rugby," he said. "I wouldn't say I'm in my twilight years but I turned 30 last month and rugby is becoming more of a younger man's game. If you go to France the government pay your salary if you're injured, so if you've signed for three years, you'll be paid for three years and you also get pay for an extra two years on top of that. It's called the chômage – it's like a dole and the club or company you play for pay into that system." (Who said he wasn't well educated!) Jim clearly had high hopes of the move to France. "If you had said to me at the beginning what was my ideal career I would have said to you essentially what I've done. But to finish playing in the south of France for a good team in a good league having won trophies here and there! Not a journeyman, someone who can end their career on their own terms." Sadly for Jim things didn't work out in France (although Montpelier finished 2nd in the Top 14 that year) and after only a year he was heading back across the channel to join Saracens in 2014. His departure coincided with that of Montpelier coach Fabien Galthie (following a disagreement with President Mohed Altrad).
It is rumoured that Jim took a sizeable pay cut to join Sarries. Diplomatically he said "It was unfortunate that the Montpellier move didn't work out as maybe I thought it would have".Jim joined Sarries as a replacement for retiring captain Steve Borthwick – not exactly a like for like replacement but clearly Mark McCall saw something in big Jim that he liked. His first season with Sarries was a successful one. The resident locks were Alistair Hargreaves and George Kruis. Sarries scraped into the playoffs in 4th place, and Jim was on the bench as Sarries defeated Bath in the final. The following season, Saracens were once again Premiership Champions, this time beating Exeter Chiefs and went on to secure the double with victory over Racing 92 in Lyon. Alistair Hargreaves' injury and the rising prowess of "Kritoje" meant that Jim started rather more games than he might have expected (although once again he was on the bench as Kruis and Itoje were back for the "big" ones.) But still, Jim earned his medals. That season Jim also dipped his toe into the Media world with his entertaining series on Sarries TV "Don't mess with Jim" featuring a series of amusing off-beat interviews with his team-mates
Strangely, Jim's career would probably have passed with little more than a mention were it not for his final season at Allianz and the Rugby Pod. With an eye to the future, Jim and Andy Goode launched a Rugby podcast which rose spectacularly in popularity as the season progressed. Jim proved he was a natural behind the "mike" and this led to appearances as a guest commentator on TV. Jim was teased mercilessly as a "plastic Scot" and gained the nickname of "the melted wheelie bin". He spoke regularly about staying the night with Kelly Brown who reputedly demanded a high rent for the privilege (until Kelly Brown himself appeared as a guest and got his own back!). There was also lively debate as to who was the most Scottish - at least Kelly has a Scottish accent! "Bramilton" was often referred to in the same breath as "Kritoje". There were more and more stories about what Jim and Andy got up to at Leicester along with plenty of tales from behind the scenes at Saracens. Every "guest" was referred to by a description of his manhood – "hung like a squirrel", "hung like a microphone" and apparently there is a photo somewhere of Jim in all his glory resembling the former! On the pitch, he was again invaluable to Sarries as once again Kritoje were missing for long periods of the season due to injury and international call ups. He played in all but 1 game. For a while, Will Skelton joined him in the second row (and ultimately probably took his place in next season's squad). He maintains that his appearance as substitute at Murrayfield secured Saracens' historic European Champions Cup Double against Clermont
Throughout his final season at Saracens, Jim maintained he didn't know what was going to happen next year. He was linked with a move to Irish or even back to France but Jim made it clear he wanted to play at Saracens or nowhere. And in truth I think even Jim knew that in the words of his favourite saying "There are only so many visits you can make to the well. The well is dry". He announced his retirement from playing rugby on 13th May: "The time is right. This will be my last season as a rugby player. I am honoured to have played this beautiful game for so long". Meanwhile Saracens had already announced he would take up a new role with them behind the scenes in Publicity (although typically Jim denied all knowledge of this). Jim was always more of a cart horse rather than a racehorse, a plodder not a sprinter. But now the plod, plod, plod is over, I hope the Pod, Pod, Pod goes on next season.