END OF SEASON POLL 2017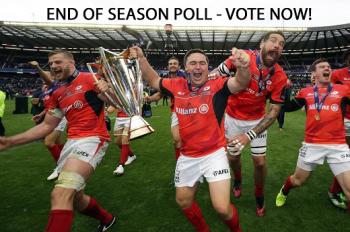 By Darraghgirl
June 12 2017
So after the "phoney" election, now is time for the real thing! Yes it is the Annual End of season Poll! There are a few tweaks to the categories this year just to keep everything interesting. Closing date is Friday 30th June Everyone is welcome to vote in some or all categogies but please send your votes to unofish at hotmail dot co dot uk, DO NOT POST THEM HERE
1. Saracens Player of the Year (2015/16 Alex Goode) Mike Rhodes was the player's choice –will he be yours? This year's field is enormous as so many players have had amazing seasons. Faz is playing out of his skin, Maro goes from strength to strength, what a first year from Sean Maitland. Wiggy is playing better than ever. Mako and Billy have been phenomenal- in fact there is an argument for just about every Saracens' player – but who will you choose?
2. Saracens Young Player of the Year (2015/16 Maro Itoje) Maro is definitely excluded this year having won this for the past 3 years (he's a big boy now) – and anyway there is some excellent young talent coming through:- Henry Taylor, Max Malins, Nick Isekwe, Dom Morris, Ben Earl, Titi Lamositele but who will be your choice for Young Player of the Year?
3. Saracens Old Player of the Year (2015/16 Petrus Du Plessis). Quite a few to choose from in this category too! Last year's winner, Petrus Du Plessis may be moving on but he's had another brilliant season, what about the "melted wheelie bin" himself Jim Hamilton or former Scotland Captain Kelly Brown? Schalk Brits matures with age like a good wine. Wiggy is just getting better and better, Schalk Burger has made a good start to his Sarries' career – who is your Old Player of the Year?
4. Saracens Unsung Hero (2015/16 Jackson Wray) Probably the award no one wants as it suggests a player not being recognised for what he is. How true with last year's winner Jackson Wray – and he has to be in contention again this year. What about Baz Barrington, Juan Figallo or Titi propping up the scrum?
5. Saracens Find of the season (2015-16 Michael Rhodes)So which of the newcomers to the first team has made the biggest impact? Sean Maitland maybe? Schalk Burger? Joel Conlan? What about Nick Isekwe or young Henry Taylor? Will Skelton was useful during his short tenure. Who will you choose?
6. Favourite Saracens Player? (2015/16 Chris Ashton) Last year Chris got the sympathy vote – maybe he will again especially now he's leaving. Which player do you really enjoy watching? He doesn't have to be the most talented but he's the guy you come to see. How about smiler Schalk Brits, one of the Vunipolas, or Big Jim or even Owen Farrell ?
7. Worst Disciplinary Decision of the season? (2015/16 Chris Ashton) I had hoped this category would be for one year only but sadly it isn't to be – and it's Ashy again who has to be the favourite, this time for that so-called bite! But there was also Baz Barrington's unfair dismissal on his 100th appearance and maybe you can think of a few more?
8. Aviva Premiership Player of the Year (non Saracens) (2015/16 Jack Nowell) I guess Nowell has to be in with a shout again. Jimmy Gopperth won several awards this year. Elliot Daly and Nathan Hughes also had good seasons. Who will be your choice for non-Sarries player of the season ?
9. International Player of the Year (must play outside Aviva Premiership) (2015/16 David Strettle). Will you choose another Clermont player? After all they finally won the top 14. Fritz Lee or Morgan Parra maybe? How about New Zealanders Beauden Barrett or Dane Coles. Liam Williams had a pretty good season. Who will you choose?
10. Best Individual Performance by a Saracens Player (2015/16 Itoje's demolition of Bath at the Rec). Who was our big match winner this year? Was it Owen Farrell's conversion against Clermont? Or those try-saving tackles by Mike Rhodes and Will Skelton against Toulon; Rhodes (again) against Quins at Wembley or Exeter at home. Billy's comeback away to Newcastle? I'm sure there are many others you can think of. Who gets your vote?
11. Best performance by an opposition player against Saracens (2015/16 Nathan Hughes) I don't remember anything quite as obvious as last year but Tom Homer (Bath A) Ryan Mills (Worcester A) Tom Marshall (Glos A) & Thomas Young (Wasps A) all come to mind. Can you think of another one?
12. The Albanese Award for the worst performance by an Opposition Player against Saracens (2015/16 Dan Carter) George Ford's abject performance in the home demolition of Bath? Nonu in the home win over Toulon? Or any others you remember?
13. The Martin Johnson Memorial Least Favourite Opposition Player Award. (2015/16 Mike Brown) Who is the guy you love to hate? I get the feeling Alex Waller might get a few votes alongside the usual suspects but who is your least favourite rugby player?
14. Player you would most like to join Saracens next Season? (2015/16 Julian Savea) There aren't many gaps in the squad but if you could sign anyone in the world, who would it be? Some of those All Blacks look a bit useful! Toby Faletau perhaps? Who would be a good addition to our squad?
15. Best Performance by a Saracens Team (2015/16 Victory over Racing in Lyon). I suspect the favourite here will be the victory over Clermont in defence of the European Cup but there were a few other contenders, not least victory over Toulon in Toulon. What was your choice?
16. Worst Performance by a Saracens Team (2015/16 St Valentine's Day Massacre at home to Wasps). There was nothing quite as bad as last year but there were a few abject defeats (away to Gloucester and Worcester in particular) where the team didn't seem to turn up. Which was your worst nightmare?.
17. Favourite away venue This is a bit of a composite- think about the venue, the fans, the food, the drink – put it all together and decide which was the best place we visited last season? Could it be the Cote D'Azur and Toulon? Maybe Dublin or Edinburgh. We always enjoy Sandy Park but what was your favourite awayday?
18. Least favourite away venue another composite but this time which was the worst? Castle Grim doesn't tend to be a favourite and the AJ Bell in December was pretty stark. But which venue will you not be in a rush to go back to?
19. Best Loos a new category but an important one! Do you like the portaloos at Allianz? Or the amazing loos (ladies anyway) at Franklins Gardens? Or is there somewhere else where it is a pleasure to relieve oneself?
20. Worst loos. And where are the worst loos? The awful queues at HQ and Wembley (again I can only speak for the ladies), the rather dodgy offerings at the Rec or was there somewhere else you didn't fancy doing your stuff?
21. Funniest Moment of the Season (2015/16 Billy and the KitKat) Billy has to be favourite again with his prayer for forgiveness before going out celebrating in Edinburgh. But was there something else that made you smile?
22. Best Referee (2015/16 Wayne Barnes) We didn't get the best of Mr Barnes this year so I suspect you may choose someone else? Nigel Owens is always up there. What about one of the French guys – Monsieurs Poite, Gauzere or Garces. Maybe Matt Carley or Luke Pearce from England or maybe someone else?
23. Worst Referee (2015/16 Craig Maxwell-Keys) Last year JP Doyle didn't win! And to be honest we haven't seen much of him this year. Which referee makes your heart sink when you hear his name? One of the younger guys ? One of the foreign guys? One of the older guys?
24. Best Media Performance by a Rugby Celebrity or Broadcaster (2015/16 Will Greenwood) This one has been won by Will Greenwood for as long as I can remember but I think there could be a challenge this year – from Big Jim (and Andy Goode of course) and the Rugby Pod. In fact there are quite a few Podcasters these days – Flats and Shanks maybe. Whose views do you really enjoy hearing ?
25. Worst Media Performance by a Rugby Celebrity or Broadcaster (2015/16 Stuart Barnes) As with the category above, this one has been won by Fatboy for as long as I can remember – and I'm sorry to say that I suspect this year will be no different – but you may know better!
26. Michael Gentleman Award for the Best Contribution to the Message Board (2015/16 Behind the Bench). Once again Gerard (Behind the Bench) contributed previews for every game plus quite a few match reports as well. Where would we be without him? I always enjoy Innings offerings. There are lots of excellent contributors to the message board - whose posts do you like to read? Who deserves this final award?