END OF SEASON POLL 2017 PART ONE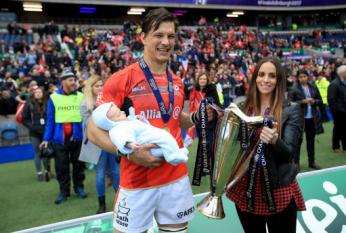 By Darraghgirl
July 7 2017
So the votes are in and have been counted and recounted under the scrutiny of Clara the Labrador, just to ensure everything is totally fair. Here are the results of Part One of our End of Season's Poll for 2016-17.
1. PLAYER OF THE YEAR
A very difficult choice this year – as someone said the whole team could have been nominated (and most of them were). There was support for Captain fantastic Brad Barritt, Jackson Wray (why didn't he go to Argentina?) & Owen Farrell (who managed to win over opposing fans) but by a sizable majority (eat your heart out Teresa May) you agreed with the official choice and your Saracen's player of the year is Michael Rhodes
2. YOUNG PLAYER OF THE YEAR
So with Itoje excluded (and no one did vote for him) it was a choice between the array of young talent coming through the ranks. Honorable mention for Max mallins, Henry Taylor, Nick Isekwe and Joel Conlan but again, by a sizable majority, (and get well soon), your votes for the Saracen's Young Player of the Year went to Titi Lamositele
3. OLD PLAYER OF THE YEAR
Once again we were spoiled for choice this year however 3 players received most of the votes. In 3rd place was the irrepressible Schalk Brits, in 2nd place was the amazing Richard Wigglesworth but by a country mile, your choice of Saracen's Old Player of the Year was the legendary Jim Hamilton
4. UNSUNG HERO
Some interesting nominations in this category (including "Laura Tulloch the lovely physio"). Jackson Wray, Schalk Brits, Chris Wyles & Richard Wigglesworth all attracted support but once again there was no doubt about the winner. Your choice for the Unsung Hero award went to Juan Figallo
5. SARACENS FIND OF THE SEASON
Another tricky one as once again there were a lot of outstanding contestants but in the end it came down to a choice of 3. So in 3rd place was Will Skelton (welcome back), just in 2nd place was Alex Lozowski (why did Wasps let him go?) but the winner was our flying winger Sean Maitland
6. FAVOURITE SARACENS PLAYER
We all have our favourites don't we. As one voter stated "we love them all don't we – how to choose?" But a choice we must make. Honorable mentions for Jacques Burger (still?), Billy, Jim, Brad, Petrus, Owen, Goodey, Bosch …I could go on but the player who is still your favourite (for a second successive year, and yes I think the sympathy vote plus a few tears in the eyes counted) is the one and only Chris Ashton
7. WORST DISCIPLINARY DECISION
I am genuinely sorry this category reappears this year, and with due consideration to Baz Barrington, there could only ever be one winner. You were, of course, completely unanimous in your voting on this one. The worst disciplinary decision of the season was that "bite" involving Chris Ashton
8. AVIVA PREMIERSHIP PLAYER OF THE SEASON (NON-SARACENS)
Some interesting suggestions here. Eliot Daly, Kurtley Beale, Jack Nowell and our (own) James Short all had their supporters. So, in 3rd place was Toby Faletau, in 2nd place was Louis Picamoles but the winner (and you agreed with the official choice) was Wasp's playmaker Jimmy Gopperth
9. INTERNATIONAL PLAYER OF THE YEAR
With honourable mention to Conor Murray and Fritz Lee, there was only one choice. As someone said "no player should be allowed to be so gifted". The winner of the International Player of the Year (and again you agreed with the official choice) is All Black fly half (or should I say first five-eighth) Beauden Barrett
10. BEST INDIVIDUAL PERFORMANCE BY A SARACENS' PLAYER
There were some excellent performances to choose from this season. Marcello Bosch v Glasgow, Jackson Wray against Exeter at Sandy Park and Billy in the ECC final against Clermont are all worth a mention but the 2 performances which stood out were as follows: The runner up was Alex Goode in the ECC Final at Murrayfield but the winner was Michael Rhodes against Exeter at home
11. BEST PERFORMANCE BY AN OPPOSITION PLAYER AGAINST SARACENS
There were a few performances of note. That kick by Henry Slade which took Exeter to the Aviva Final got a few votes. Ryan Mills and Francis Hougard in Worcester's win over us at Six Ways were also worth a few votes as was Jack Nowell in the draw against Exeter at home and Jimmy Gopperth and Thomas Young in the defeat to Wasps but your vote for the Best Perfromance by an opposition Player against Saracens goes to Clermont's Fritz Lee in the ECC Final
12. THE ALBANESE AWARD FOR THE WORST PERFORMANCE BY AN OPPOSITION PLAYER AGAINST SARACENS.
Most of your suggestions involved a certain team from the South West however you also mentioned Finn Russell (Glasgow), Duncan Williams (Munster) and Leigh Halfpenny (Toulon) however the award goes to some or all of the Bath team who were abject at Allianz Park, and in particular to gorgeous George Ford
13. THE MARTIN JOHNSON MEMORIAL LEAST FAVOURITE OPPOSITION PLAYER
Last year's winner mike Brown was up there again as was Ben Foden and George Ford but the winner, by a very big margin, was Northampton's delightful "imaginative" prop forward Alex Waller
14. PLAYER YOU WOULD MOST LIKE TO JOIN SARACENS NEXT SEASON
Quite a wide variety of suggestions here from the All Blacks Israel Dagg, Kieran Read & Waisake Naholo (the fact no one mentioned Beauden Barrett says a lot for our own fly halves), through Toby Faletau (great cover for Billy!) and Finn Russell. But the player you would most like to see at Allianz Park next season is none other than Chris Ashton (it's not too late to change your mind Chris!!)
Part 2 to follow shortly