IT'S TIME TO SAY GOODBYE - 4. PETRUS DU PLESSIS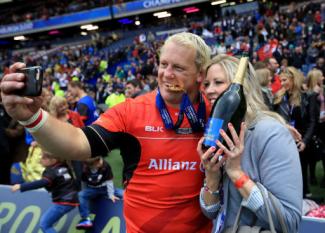 By Darraghgirl
July 20 2017
When Petrus du Plessis joined Saracens in 2010 as front row cover, I don't think anyone expected him to make the impact that he did or to remain with the club so long. It was the early days of Brendan Venter, the first Premiership Final year, and the club had a front row crisis. The legendary Cobus Visagie had retired. In his place, Carlos Nieto, Richard Skuse and Tom Mercey were the tight heads but injury to Nieto reduced cover to virtually zero.
Petrus was plying his trade at Nottingham at the time. Born in Hermanus in South Africa on 31 May 1981, he came to the UK in 2001 at the age of 19 after he was invited to a trial a St Helen's rugby union club. In horse racing terms, he had good breeding (at least by proxy!) His step-grandfather Buurman van Zyl is a legend in Pretoria having built up Northern Transvaal into the rugby powerhouse that is the Blue Bulls during his 13 years as head coach. Petrus must have impressed at St Helens because they took him on and he played 40 times for them. He also had trials for St Helen's Rugby League Club during his time there. Petrus said: "I remember it being quite the culture shock, training in mud-baths every Tuesday and Thursday and then preparing for our games in pokey changing rooms. It prepared me well for English Rugby".
In 2003, Petrus was noticed by scouts from Orrell and he joined them the following season. While at Orrell, he played alongside future stars like Nick Easter, Rod Penny, Steve So'oialo and Alfie Too'ala. The following season he moved on to Sedgley Park where he spent 5 years honing his trade. He made 90 appearances for the club and in his spare time, got himself a First Class Honours degree at Salford University and in 2008, became a qualified Physiotherapist. (Petrus has never been a man to twiddle his thumbs or let the grass grow under his feet!) He moved on to Nottingham in 2009 where he came to the notice of Saracens, much in need of a decent tight head.
He made his debut against Newcastle in 2010 and put in a decent shift. He played well enough to make the team for Saracens' first Premiership Final in 2010 – that heart-breaking loss to Leicester Tigers. The following season he was on the bench for the final against Tigers again and was part of that heroic 9 minute defence, deep into added time.
He went from strength to strength and held his place in a solid front row until the 2013/14 season by which time Matt Stevens and James Johnston had joined the club. Anyone else (afterall he was 33 by then) might have faded into the background but not Petrus. As Matt Stevens retired and Johnston's star faded, Petrus, like a good wine, seemed to improve with age. He was back for the Premiership Final victory over Bath in 2015 and the European Cup Victory of Racing Metro in 2016. He also started the win over Exeter in the Premiership final that year - you can't keep a good man down.
Finally, this last season, age seemed to be catching up with him (he is now 36). Together with a return to fitness for Vincent Koch and Juan Figallo's excellent form, it seemed Petrus' chances were dwindling but he was there when the club needed him. But Petrus wasn't ready to retire just yet! He said: "The main thing is for the next two years to keep playing here. Maybe play another year, and then in my last year focus on which direction I want to go because I still do the odd physio treatment here and there – doing a bit of acupuncture and things like that to keep my licence going. You'll pick it up pretty quickly after you're down.
"And having played and had injuries and being in the sporting environment, for me it's going to help me one day with my career. Then I wouldn't mind doing some scrum coaching too, working with young props, so it will be a combination of all those things together."
He got part of his wish and remained at Saracens until the end of the 2016/17 season when it was announced he would move to London Irish. Petrus scored his only try (actually 2) against Bristol in almost the penultimate game of the season and he came on for the last couple of minutes of the European Final against Clermont to earn another winner's medal (Figallo being out for the season with a foot injury). He was determined not to be forgotton, dying his hair an extraordinary shade of white!
But his rugby career doesn't describe Petrus – he has so many other strings to his bow! He is a physiotherapist specialising in Sport's injuries. He said: "My speciality would be in neck strengthening and things like that so I can stay within the rugby circle. I've got a lot of contacts, I've been in contact with some of the best neck specialists in the country and they are keen to maybe work with me one day."
Petrus has also taken to the screen, appearing in London Fields, based on the novel by Martin Amis, as Marmaduke's carer alongside Billy Bob Thornton and he also joined the cast of Gatwick Gangsters (described as "A tale of love, intrigue, crime, passion, espionage and more importantly a veritable work of art. Transcending zeitgeist to join the pantheon of the gods in eternity") as Big Pete, the Russian Boat Gangster. He has his own page on the IMDb database where he also lists his hobbies as acting, filming, editing and writing, skateboarding, surfing, playing the guitar and staying fit and healthy!
Last summer Petrus appeared in one of a series of Haribo adverts for "Tangfastics" entitled "Changing Room" where adult actors were given children's voices.
As if that wasn't enough, Petrus has an alter-ego, a professional wrestler called "Borislav" who dresses in Lycra! Petrus said: "I do some of the social meetings for the club and basically when I do them I dress up as a Russian alter-ego called Borislav – we did a wrestling scene one day at the front of the meeting. Then off the back of that we also got to know John Layfield, who used to wrestle. He invited us down to the WWE and sorted out for us to go and accept the belt for winning the double so they gave us a slot there in between the fights during the night. There was about ten of us down there accepting the belt which was pretty cool."
And there is yet more – Petrus fancies himself as a pilot!
"One of my friends is one of the head pilots at BA and he has always said to me 'do I want to come down? He said it's actually quite difficult to get on the simulators at BA but he gave me a chance to come down because he was doing some teaching. My dad used to fly and I always wanted to experience it, and the best way to do that is in the simulators. So that's brilliant and I looked at re-training as a pilot but it is very difficult. For my age and where I am in life, I think it is a two-year course and then you've got to do hundreds and hundreds of hours of flying."
Asked who his favourite co-pilot might be, he selected Billy Vunipola. "He's quite calm under pressure and nothing phases him too much. He's a bright young lad".
And his nightmare co-pilot? "We always find the backs the most irritating to be honest so one of the worst ones would probably be Alex Goode – you don't know how to take him or whether he's being serious or not!"
We will certainly miss Petrus next season and not just in the front row! I hope London Irish are prepared for this multi-dimensional character!