IT'S TIME TO SAY GOODBYE - 5. NEIL DE KOCK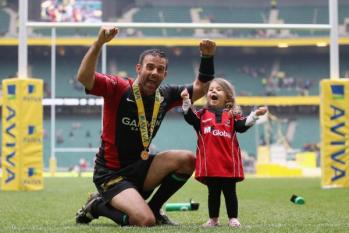 By Darraghgirl
July 28 2017
When Neil de Kock joined Saracens from Stormers in 2006, he thought he'd be in England for maybe 2 years. 11 years later he is finally hanging up his boots and moving back to South Africa. Neil was born in Cape Town in 1978. He comes from a sporty family, his mum was a keen softball player and his dad played rugby, football, hockey and baseball. He has an older brother Grant (who played cricket for Western Province and was once 12th man in a Test match) and younger twin brothers.
South Africa was a very different place in his young days: Nelson Mandela was still imprisoned on Robben Island and South African was isolated in sporting terms. Things changed in 1990 with the release of Mandela which signalled the end of Apartheid and the birth of the Rainbow Nation, something a young Neil de Kock would have witnessed at first hand. Growing up, his hero was South African scrum-half Joost van der Westhuizen (who sadly died in February after a long fight against Motor Neurone Disease) and he always wanted to be a scrum half which his just as well given his relatively modest stature at 5'9".
In 1995, Neil represented Western Province at schoolboy level. He was picked again the following season but fractured his kneecap, keeping him on the side lines for a year. Neil was offered a bursary at Stellenbosch University to study & play rugby alongside a course in Business Commerce with Industrial Psychology. In his second year he was noticed by a coach called Steph Nel who wanted Neil to play professional rugby at Welkom in Northern Free State. In agreement with his father, he agreed to complete his degree though distance learning (even though it took him 5 years) while honing his rugby skills by playing for Griffons in the Currie Cup. He played for them from 1999 to 2000 (alongside future Springboks Lukas van Biljon, Gavin Passens and Dean Hall plus Wasp's Stuart Abbott). He was noticed by a local coach Gert Smal, who was returning to Western Province and persuaded Neil to join him. Neil represented Griffons on 52 occasions. Finally, at the age of 21, Neil de Kock was playing rugby at Newlands, in his home town, Cape Town, in front of 40,000 people and it occurred to him that he could make a career in the sport he loved. Western Province won the Currie Cup in 2000 and 2001. Neil made a further step up the rugby ladder when he was invited to play for Stormers in the Super 12 and he represented them on 49 occasions between 2001 and 2006.
In 2001, Neil won his first Springbok cap against Italy. Sadly this didn't lead to the string of caps he probably deserved due to a knee injury and the form of Bolla Conradie. However he got his chance again in the 2002 Tri Nations, starting 2 games and coming on from the bench in a third (where he scored his first international try against New Zealand). Sadly Neil never made the 9 shirt his own although he did make the 2003 World Cup Squad, starting 1 game and appearing from the bench in 3 more. He also scored his second International try, this time against Samoa. He made his 10th and final International appearance against New Zealand in November 2003.
By 2006, and apparently in the International wilderness, with Fourie du Preez now in charge of the 9 shirt, he decided to try his hand and his fortune in the Northern Hemisphere, signing for Saracens on a 2 year deal under new coach Alan Gaffney (who had replaced Mike Ford). Interestingly the first person to send Neil a welcome message was Nigel Wray. It was also the year that saw Andy Farrell sign for Sarries. The 9 shirt at Saracens was worn by Mosese Rauluni and Alan Dickens alongside first-choice fly-half Glen Jackson. It was a reasonably successful season for Sarries, sneaking into the playoffs by finishing in 4th place at the end of the regular season (before losing heavily away to Gloucester in the semis – the final appearance of the legendary Thomas Castaignede) and reaching the semi-final of the Challenge Cup (only to lose at home to Bath by 1 point). By the end of the season Neil was the first choice scrum half and had begun to strike up a partnership with Glenda. Brendan Gallagher (Daily Telegraph columnist) described Neil as his "player of the season", a man who had done "more than anybody to turn Saracens into a truly competitive side again and garnished everything he does with class and commitment".
The following season Neil was appointed Club Captain. Sadly the club were unable to capitalise on the success of the previous season finishing in 8th position, although the Heineken Cup journey was much better, Saracens losing that memorable semi-final to Munster at the Ricoh. It was also the season which saw Eddie Jones take up the reins at Saracens. Following something of a scrum-half crisis, Sarries signed Justin Marshall on a short term contract as cover. So successful was he that he was retained for the following season as well. Summer of 2009 saw "the night of the long knives" with the arrival of Brendan Venter and Edward Griffiths (and of course Mark McCall as first team coach) and the culling of 18 players. Neil survived the cut and something persuaded him to extend his stay in London. Maybe it was Sarcens' new mantra "to create a family and make memories". He was probably sceptical but he decided to give it a go. 2009 also saw substantial South African investment and the arrival of a number of other Saffers such as Schalk Brits, Derick Hougaard, Brad Barritt, Wickus Van Heerden and Ernst Joubert. As history will tell, 2009-10 was the season it all changed. Sarries made their first Premiership final agonisingly losing to Leicester Tigers at the death.
Richard Wigglesworth joined the club the following season from Sale Sharks as Mark McCall took over as head coach (with Venter moving upstairs). Instead of hostility, Wiggy and Neil de Kock formed one of the Premiership's most enduring partnerships, allowing regular player rotation and almost certainly extending the careers of both men. Sarries once again reached the Premiership final, once again facing Leicester Tigers. Who can forget the infamous coin toss which led to Neil starting the game and Wiggy replacing him after 50 minutes. 'We are very fortunate to have two world-class scrum halves,' said coach Andy Farrell. "A toss of the coin is the only fair way to choose between them".
Neil and Wiggy continued to share the number 9 shirt, posing a problem for young scrum half Ben Spencer who struggled to get a look-in. The retirement of Glen Jackson saw a young Owen Farrell and a not-so-young Charlie Hodgson share the 10 shirt. Neil de Kock's presence alongside a very talented but inexperienced Farrell was invaluable in his development to a truly world-class player. Saracens signed Peter Stringer on a short-term contract in 2011 when both Wiggy and Neil suffered lengthy injuries (in Neil's case a broken arm).
Saracens returned to Twickenham for the 2013-14 Premiership Final (the Graham Hughes game) finishing top of the table at the end of the regular season. Once again the 36-year old Neil de Kock donned the 9 shirt, losing out to Northampton Saints in extra time. Saracens were back at Twickenham the following year and were victorious over Bath. This time it was Wiggy's turn to start with Neil on the bench. Sarries made it a hat-trick of appearances in 2015-16, this time defeating Exeter Chiefs. Again Wiggy started but Neil, now 37, was selected on the bench ahead of Ben Spencer (although Spencer got the bench spot for the European Champions Cup win over Racing 92).
Last season turned out to be something of a transition season for Neil, with him taking a step back allowing Wiggy to be first choice 9 with Spencer an able deputy. Unfortunately for Ben Spencer, an injury kept him out for several weeks, which meant that Neil was back in the team. And of course he didn't let anyone down. He was also to be found supporting Henry Taylor (and Tom Whiteley – although he played much of the season at 10 because of injury to Max Malins) in Storm and Anglo-Welsh League matches. He had to watch from the side lines as Wiggy steered Saracens' European ship to a famous win over Clermont. Although this was clearly difficult for Neil, in hindsight, he described the transition season as "a softer landing" helping him to prepare for the enormous change to come.
During his time with the club, Neil represented Saracens on 263 occasions, scoring 11 tries. He made his final appearance, alongside Kelly Brown against Bristol Rugby in April, although he finally bid farewell to the club by captaining an all star team (including former colleagues Matt Stevens and David Strettle) in the Worldwide Currencies Cup, against a Lift The Weight XV, raising money for Restart Rugby.
And so after 11 years, Neil de Kock will return to his native South Africa. Initially he plans to do a 6 month internship with Remgro, an Investment holding company. He developed his interest in the world of finance during his time with Sarries when he was encouraged to spend time in the City, learning the ropes with Sanlam Private Investments (SPI). (Interestingly SPI have also been sponsoring Tim Streather so maybe his future also lies in the City). Neil does, however, hope to remain in the game in some capacity and I have no doubt, when back in his native Cape Town, the first result he will be looking out for is Saracens.