WELCOME TO OUR WORLD 4 - Calum Clark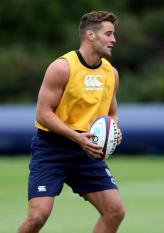 By Darraghgirl
August 21 2017
Calum Clark was born in Stockton on Tees in County Durham on 10 June 1989. H started his rugby career with Leeds Carnegie coming through their Youth teams and making his full debut in 2007. He met up with future England coach Stuart Lancaster who was Academy Coach there at the time. Calum took a Business Management Degree at Leeds University, including a dissertation on Leadership.
He played for Leeds 23 times that season before he was called up to the England U20's in 2008, helping the junior side to the IRB world Championship Final that year (although he also earned himself a red card for head-butting). The following year he captained the U20's both in the Six Nations and again in the World Championships, once again reaching the final. He made a total of 34 Premiership appearances for the Yorkshire side, scoring 6 tries. He still holds the record for the youngest forward to play in the Premiership.
He moved south to join Northampton Saints in 2010 playing for them for 7 years and making 147 appearances. Sadly several injuries meant he played rather less games than he might have, although in recent years he has been relatively injury free. He has scored 10 tries.
Sadly, at least in his younger days, it wasn't Calum's rugby which did the talking on the field, it was his disciplinary record. It started with that red card in the 2008 Junior World Cup and moved on to him receiving a 32 week ban in the 2012 LV Final against Leicester Tigers for fracturing Rob Hawkin's elbow with a deliberate hyper-extension. (He escaped a longer ban –up to 5 years – because the committee felt he didn't intend to cause the injury). He had just been named in Stuart Lancaster's England squad but the ban put paid to any chance of an England cap. (I wonder where we've heard that before?)
Calum, sought help from renowned sports psychiatrist Steve Peters, the go-to man for many sportsmen, from cycling to Liverpool FC and England. Calum described his aggressive tendancies as a "chimp (sic) on his shoulder!" Interviewed in 2014, Calum said: "He was (a) pretty aggressive, (chimp) unwilling to listen, unwilling to learn. I had to be honest with myself, had to take a look in the mirror and be willing to take things on. You look at all the good players and leaders in rugby – Chris Robshaw, Richie McCaw – they seem to be emotionless on the field. Watching and being around people like that has helped me separate the two, being able to be just as aggressive, just as competitive, just as effective but with the emotion kept out of it." Thankfully, in recent years, the chimp has mainly remained in his cage.
Calum was recalled to the England Squad in 2013 but a shoulder injury ruled him out of the National team and surgery kept him on the side lines for the rest of the season. (Saracens' Mouritz Botha replaced Calum in the England Squad.
The following year, Calum was finally forgiven and was made Captain of the England Saxons against the Irish Wolfhounds and the following year he was included in Lancaster's world cup squad, finally winning his only full England cap in the 19-14 victory over France in a world cup warm up in August 2015 and making his debut alongside Sam Burgess (whatever happened to him!) and Henry Slade. At the time, England forwards' coach Graham Rowntree said "What I see now is a real maturity, a balanced character. There's a simmering intensity with him all the time in training. But he's learned control. He can control himself in environments." Sadly Calum's performance in that game wasn't enough to save him. Allegedly Stuart Lancaster "blubbed" as he cut Calum and fellow Saints' player Luther Burrell from the final World Cup Party. Lancaster said: "We go back to when he was 14 years old and I remember his parents driving him down to West Park. That's the nature of being head coach. You've got to make tough decisions and you've got to make decisions you feel are right for the team." He was voted Saints' players' player of the season in May 2015.
During the warm up to the following season Calum was once again on the side lines with another shoulder injury . He was expected to miss about 6 weeks but in the end he was out of the game for over a year, using some of that time to visit his girlfriend Katherine in Sierra Leone (where she was working on a charity project to rehouse some of the local people living in slums). He organised several popular beach coaching sessions and took with him donated Northampton Saints kit, making them the best-supported team in Freetown! "It's the first new clothes some of these people have ever had" Calum said, "So it is quite cool just giving them something in a bag with a tag on. There are probably only 3 or 4 balls in the entire country. Just to take a few balls and a pump that they can blow them up with, and kits that they can make teams with:- it's real basic stuff that we take for granted but it enables them to play". Seeing life in Sierra Leone helped put into perspective Calum's shoulder injury which took so long to mend.
In 2016-17, although now back to fitness, he struggled to maintain his place in the Saints team. Calum is a versatile back rower – he can play both blindside and openside. He can also cover lock. He prides himself on his fitness. "Openside helps me get my fitness into the game, getting to the breakdown quickly. I am able to play at a high tempo and keep it going through the whole game."
Moving to Saracens was a new challenge for Calum. "I am very fortunate to have played for a great club like Northampton. I've had a difficult 18 months on and off the field and I feel like I need a new challenge. I feel very privileged to have been given an opportunity at Saracens. They are always a difficult side to play against and I'm looking forward to taking on a new environment and getting a fresh start in the summer." Mark McCall said "Calum is a very talented player and will fit in brilliantly here. He is still a player with a huge amount of potential and in our opinion he has his best years ahead of him."