SARACENS V SARACENS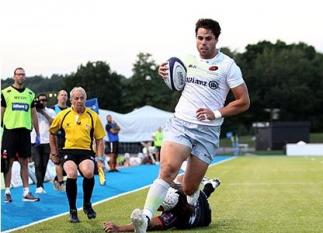 By Darraghgirl
August 26 2017
I wasn't able to go to see Sarries at Goldington Road this year because little DG had arranged to go wedding dress shopping (which for the uninitiated takes all day, includes most of the female members of the extended bridal party and involves a lot of Prosecco) so my first opportunity of watching the team this season was against Timisoara Saracens at Allianz.
Visiting Allianz in summer mode always feels a bit weird – a bit like coming across your schoolteacher in a swimsuit on the beach. No demountable stands, sets of hurdles around the track, the hammer cage set up and even some starting blocks in place. I did wonder if I was still watching the World Athletics Championships at the Olympic Stadium. But no, the guys in the middle were definitely chucking a rugby ball about.
It was a gorgeous summer's evening; warm, a gentle breeze and a beautiful sunset. There were a lot of parakeets flying around (which I don't remember from last year). Someone misjudged the crowd methinks as the queue for the beer snaked round the Olympic bar and out the door (fortunately I was driving so I had my own water). A strongish Sarries' team took the field in the new-look away kit. I have to say I am still not a fan. The green barely shows under the lights (and it looks more like a grass stain anyway – hang on we don't have any grass!) but I did feel the grey "saddle patch" across the back of the shorts made the guys look as if they'd sat in something rather nasty. Timisoara had some big hairy guys in their team (especially 24 and 25 –sorry no idea what their names were!)
After a nice break from Barritt which almost found Maitland, Brits was intrinsic in finding the Scottish wing for the first try in the corner. Lozowski landed an excellent conversion. Goodey almost scored a second when he followed up his long kick which the Timisoara fullback was hoping would go dead only to find Goodey bearing down on him full tilt. He just got his hand on the ball ahead of Goode.
There was lots of nice interplay, much of it featuring Brits (sporting a new version of the scrumcap this season). Koch went off after 10 minutes to be replaced by a fit-again Figallo. Maitland almost scored again but was stopped illegally. He was absolutely on fire; claiming high balls, making breaks. I know it was only a friendly but maybe we won't be missing Ashy as much as we thought with Maitland in this sort of form and Williams to join him on the other wing.
A second try came after 15 minutes and inevitably the scorer was Brits (who got a bit bloodied in the process and was replaced for 10 minutes by Spurling). Again Loz added the extras. Maitland showed more of his skills a few minutes later catching a superb high ball, beating a couple of defenders while running backwards then finding Taylor who scored Sarries 3rd try. Once again Loz was inch perfect with the conversion. The 4th try followed when Sarries won a penalty in front, went for the scrum, Burger came up with the ball and found Wray who dummied to Maitland then scored himself. Another successful kick from Lozowski.
With half an hour gone, Timisoara finally made it into the Sarries' 22. Spurling's little cameo ended (he looked pretty useful while he was on the pitch) and Brits returned. The attack ended when Maitland broke out of his own 22 and stormed up field finding Burger in the tackle but unfortunately the South African couldn't continue the move. Nathan Earl emulated Maitland with a superb take from a high ball. As half time approached, Sarries were camped in the opposition 22. A catch and drive from the line-out was adjudged to be held up. The ball went right to left from the 5m scrum with Goode finding Maitland outside him. He had plenty to do but managed to get the ball down microseconds before being tackled into the corner flag. Lozowski landed the kick from the touchline and Sarries ended the first half leading 35-0 : 5 perfect scores.
Half time saw the big screen finally flicker into life (well about ¾ of it anyway). Sarries brought Spencer on for Wiggy and Ben Earl for Wray. A chip and chase from Nathan Earle didn't quite come off then a break by Taylor should have brought the 6th try but his pass was illegally knocked forward and the big hirsute Timisoaran number 25 went to the bin. Timisoara seemed to be pumped up by this and following a careless pass by Nathan Earle, which almost let their number 22 in to score, Timisoara spent the next 5 minutes camped in the Sarries' 22. It probably wasn't helped by the first wave of substitutions with Bosch, Kropku (an Itoje clone), Gallagher and Thompson-Stringer replacing Taylor, Burger, Goode and Barrington. Then shortly after Koch returned for Figallo, Ellery for Earle and to huge applause, Brits departed for Spurling. A couple of penalties (which give them their due, Timisoara kicked to the corner when they could have taken the points), plenty of physicality and muscle and almost a score for the Romanians but the ball was knocked on and normal service resumed when play returned to the other end. Maitland almost scored again from an Earl pass but the Timisoara scrum half carried the ball over. From the resulting scrum, Spurling scored the 6th try (after a 20 minute scoring drought!). With his final act, Lozowski knocked that one over too – 6 conversions out of 6 and most of them tricky. Hopefully he'll have those kicking boots on next Saturday too.
Another raft of subs with Flanagan, Malins, Tompkins, Tolofua and someone else replacing Day, Conlon, Lozowski, Barritt and Isiekwe (interestingly Tolofua ended up in the back row so at least we know he's versatile, in the Brits mould). Spurling thought he'd got a second but the referee (possibly Foley – not sure) disallowed the "try". Finally Maitland, the last man standing from the starting 15 (if you don't count Koch who had spent most of the match off the pitch) was replaced by Segun. Either he was being given every chance to score his hat-trick or he had done something very naughty indeed to Mark McCall!
So now I had no idea who was who. Most of the team were numberless and it seemed as though Bosch and Spencer were trying to supervise a run out from the Academy. Sarries took 2 tap penalties in their 22 and eventually Thompson-Stringer scored the 7th try. This time Spencer kicked the points. Sadly the half century didn't materialise. With 3 minutes left, Timisoara had a golden opportunity to score (albeit from a forward pass but let's not go there) but Ellery & Malins did just enough to save the day. The game ended deep in Sarries' 22 with a couple of penalties to Timisoara. Ben Spencer decided he'd had enough and kicked the ball into the stand.
So it ended 49-0. Entertaining enough on a summer's evening. Timisoara were a physical team but lacked the finesse to take advantage of any opportunities which came their way. I thought Maitland, Goode, Brits and Spurling all looked good and the tempo of the game changed with the introduction of Spencer. It was great to see Maro Itoje, doing his PR stuff and surrounded by fans young and old at the end of the game – clearly the favourite despite the presence of most of the other Lions.
So it all begins for real next week at HQ against Northampton Saints. The continued absence of Mike Rhodes is a tad worrying – he was such a good player last year. As always, it will be an interesting game!
Oh and we did get a very nice wedding dress!
SARACENS:
Goode, Maitland, Taylor, Barritt, Earle, Lozowski, Spencer, Barrington, Brits, Koch, Day, Isiekwe, Conlon, Burger, Wray.
Subs: Spurling, Tolofua, Thompson-Stringer, Figallo, Flanagan, Kpoku, Earl, Spencer, Malins, Tompkins, Bosch, Ellery, Segun, Gallagher
TIMISOARA SARACENS
No idea!
Scorers:
Tries: Maitland (2) Brits, Wray, Taylor, Spurling, Thompson-Stringer Convs: Lozowski (6), Spencer
View a Printer Friendly version of this Story.
SARACENS V SARACENS
TheSaracens.com (IP Logged)
26/08/2017 18:09
What do you think? You can have your say by posting below.
If you do not already have an account
Click here to Register
.
Edited 1 time(s). Last edit at 2017:09:05:17:54:43 by Darraghgirl.
Re: SARACENS V SARACENS
27/08/2017 07:43
Very informative, DG.
I tried to watch the feed posted on t'other thread. I thought "Christ, this isn't going well". Then I realised that we weren't in black! The feed was so@#$%&that I gave up.
BTW, Ash is on SKY today at 4, coverage from 3:55, on SS Action.
£676.97 (*) donated to the Saracens Foundation due to visits to the Sarries frontpage [
www.rugbynetwork.net
]
Please read and submit articles for publication. (*) As at October 31, 2017.
Edited 1 time(s). Last edit at 2017:08:27:07:46:18 by TonyTaff.
Sorry, only registered users may post in this forum.