EARLY SEASON SALE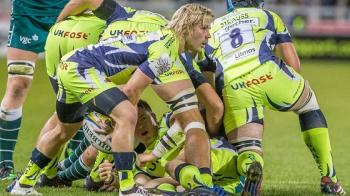 By Darraghgirl
September 20 2017
Week 4 of the new season and finally we get a proper home game back at Allianz. The team have done a few miles over the past few weeks – Twickenham-Bath-Philadelphia and now back home on Barnet's green turf-substitute.
The season is only 3 weeks old but already it's looking decidedly interesting. After Wasp's defeat to Quins last Sunday there are no unbeaten teams. Exeter continue their happy little knack of gaining maximal bonus points which is why they top the league. Meanwhile topsy turvey form has seen Sarries hammer Northampton who comfortably beat Bath who beat Sarries! So what we will get on Saturday is anyone's guess. I would love a return of those sublime 40 minutes at HQ (wouldn't we all) but I fear what we will get is something closer to earth than heaven.
After a sticky start, Sale comfortably disposed of Irish last weekend (who beat Quins, who beat Wasps who beat Sale – see what I mean?) Sale have rocked up a few tries in 2 of their 3 games:- 5 in the defeat to Wasps on the opening day and then another 5 last weekend (we'll forget about that dour loss to Newcastle in between). Denny Solomona seems to have got over his drunken escapade with 3 tries so far and rugby league convert Josh Charnley got on to the score sheet last weekend on his first start of the season for Sale's first win. With the useful boot of A J McGinty to keep the scoreboard ticking over while Wallaby James O'Connor recovers from ankle surgery, Sale have the makings of a decent team!
They do of course have the identical Curry twins (Ben and Tom) to call upon (reportedly Ben's nose sticks out a bit more and he is a bit fatter!). Both are on Eddie Jones' radar with Tom probably marginally ahead of his brother. Sale also have new signings Faf de Klerk and Jono Ross to strengthen the team alongside old hands Josh Beaumont and Rob Weber. There doesn't seem to be room for Sarries' old favourite David Seymour at the moment. Apparently this season Sale are sporting the "Worker Bee" logo on their shirts. Sale Sharks' Director of Rugby, Steve Diamond said "the presence of the bee will bring an already tight knit squad closer together". For those with an eye for fashion, Sale are another team who have opted for the "yuk-green" away strip.
Turning to our own boys, where will the merry-go-round stop in the latest edition of the player rotation policy? I assume we need to build on last week's momentum so would expect a pretty strong team. I would expect to see Goodey still at 15 and I hope we finally see Maitland and Williams starting on the wings together, probably at the expense of Wyles. It's probably Bosch's turn to partner Brad again in the centre and I would expect the half-backs to also be unchanged – Faz and Spencer.
Turning to the forwards, Mako may get a bench spot this week in favour of Barrington. I assume Jamie George will get a second start although I would expect Brits on the bench, and possibly Figallo ahead of Koch. Maro deserves a rest but that will probably depend on whether anyone else is fit enough to partner Isiekwe. In the back row I would expect another start for Billy alongside Rhodes and possibly Wray as Burger may have picked up an injury last week. But who knows?
I for one am looking forward to returning to Allianz at last. It's been too long.