SARRIES STING A WASPS NEST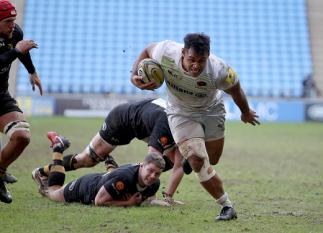 By Innings
January 10 2018
The recent runs of form by two sides confidently looking for top-four finishes was itself enough to suggest that this would be the tie of the weekend. Sarries' heavy-duty pack would come up against one of the most exciting back divisions in European rugby. The Sarries' side, re-building form, would test their recovery in a stadium where Wasps last lost – in a grown-up competition – in October last year.
The most telling fact of all was that Wasps have held together despite an injury list that would fell many a club's record. However, Dai Young was not reduced to lacing up his boots, and indeed, as his style and dignity always suggest, he was never going to claim his selection crisis as a reason either for winning or losing.
The commentators pointed out the usual match-ups to be watched. Would the solid Brad contain the exciting Gabriele Lovobalavu, and would Nizaam Carr continue the excellent work that he has delivered in the absence of Nathan Hughes, whilst setting his stall in the shadow of Billy?
The great question was whether the Sarries defence would manage the Wasps power of attack in the backs sufficiently well to give Sarries the impetus to permit the lesser-rated Sarries offence the chance to exploit the famously leaky Wasps defence. In reality, that simplistic view holds the truth that Wasps attack is up there with Exeter but their defence is down there with Gloucester and Leicester.
This match would be important for both sides. Gloucester and Bath are both pressing hard for top-four places as well, and only a small margin separates them from a chasing pack of dangerous names. How Wasps would have wished to have selection options that included resting George Kruis altogether and benching Jamie George. Instead, they had to shuffle the pack one more time to cover the loss of Joe Launchbury to sickness.
Wiggy starts in his 200th appearance for Sarries, and is creeping towards some extraordinary milestone. In addition to his appearances for Sarries, he has a further 156 senior appearances for Sale Sharks to his name. Not all Premiership, of course, but he is knocking on the door of the all-time record there as well. Apparently it will be possible if he appears in every AV match for the rest of the season and Sarries win the play-offs.
I liked the air of calm assurance as Sarries came onto the field, but was less happy that Sarries missed three tackles in the first 90 seconds. None mattered much, but against a runner like Wade the first tackle must be good if he is not to steal the gain-line and more. However, Cipriani might have had a different perception on two minutes when he found himself the meat in a sandwich of which Vincent Koch and Christopher Tolofua formed the bread. The first two and a half minutes provided opportunity for both sides to try a bit of kicking and a bit of running, but with no stoppage of play it was all a bit shaded to Sarries' advantage. Wasps clearances were all too deep, and gave the Sarries back three plenty of time to clear more challengingly, and Sarries tacklers quickly found their range.
Pressure told, and a loose tackle by Le Roux gave Farrell an good penalty beyond the Wasps 10 metres line. The moves that followed ended with a little grub through by Schalk Burger, a ball worthy of any centre or 10. Within a whisker of a perfect sit-up, the ball just didn't do enough for Nathan Earle, and the moment passes with a Wasps scrum about 10 metres out. A poor clearance by Le Roux, Sarries attack, and a smart little kick through forces Le Roux, covering across well, to accept being bundled into touch. Only twelve minutes gone, and the pace is punishing.
From touch on the Wasps 22, Sarries are slightly awry with the take, but Wasps have knocked on. For the returning Billy, already putting in some high-grade work, a burst through the line-out defence leads to a ball for Schalk to carry forward, attracting tacklers by the swarm. A brilliant off-load out of the back door to Vincent, another last-ditch tackle, more back and forth, Michael Rhodes and others drawing in defenders with every move. Then Wiggy delivers from the base of the posts to Owen Farrell, who draws in the defence. They must either leave him free to run in from five metres or force him to pass. Owen looks like running in, the defenders bite in, and a long overhead pass to Chris Wyles gives the easiest of tries, not least because Wade is missing in action, way out of the defensive line hoping to intercept the pass. 5-0. Owen pulls the conversion right, no conversion and Sarries are definitely playing at the levels that we have not seen for a while. Owen has passed the ball seven times so far, and five, a very high proportion, have resulted in positional or other advantage for his side.
In the flurry of action, both commentators and TV cameras miss the reason for an injury substitution. Lovobalavu goes off with a leg strain and we shall not see him again. Yet another Armitage comes on instead. This is Guy, who followed his brothers through the London Irish set-up before travelling around a few clubs. Aged 25, this is only his ninth or tenth appearance for Wasps, and before that he has scarcely hit the heights that his name might have suggested were his destiny. However, he's a very large young man for a centre, and he will make some telling runs and contributions during this afternoon's work, his first AV appearance.
Almost from the re-start, Wasps are back-pedalling. Sarries heavy men are running, passing, pressing and defending. Dan Robson finds himself in the situation that reminds me of a small cat lost in a dark alley and meeting some very large dogs. He survives the inevitable sacking, ChristopherTolofua this time, but has no support. Holding on, penalty, Sarries lineout. Many phases, a and couple of changes of possession seem to be taking the steam out of Sarries attack, but suddenly a perfect pass from the breakdown by Wiggy to Owen, a perfect pass to the lurking Tolofua, whose immediate backward shovel of the ball behind him would normally be called speculative, and dangerous. And there, looping round with brilliant vision and timing, Alex Goode scoops the falling ball and strolls into the corner. The camera has a wonderful head-on shot as Alex dots down, but there is no Wasp player in shot, only the distant Christopher t. following up his pass and Haskell despairingly flying into touch, his belated cover run useless: well perhaps not useless because Owen's conversion from the widest outside is wayward, to the left this time. 0-10
The commentators suggest that Sarries are cutting Wasps to shreds in this first quarter, and indeed it does seem so.
I notice something about Sarries' line defence and the problems it's causing Wasps. Immediately on breaking forward as a single line, every player goes straight to mark his opposite man, so that although the line remains straight, the outer end gets ahead of the inner, with the result that every Wasps player is passing to a man already under pressure. It forces a forward pass, a knock-on or a tackle offence rather more than Wasps are able to use their speed and skill.
On 19 minutes, a short period of Wasps pressure, with No 8, Carr, completing his 7th carry, sees Billy concede a ruck penalty and Cipriani taking three. 3-10
We begin the second quarter with a poor clearance by Le Roux on his 22. All the flight taken out of the ball, and Sarries capture a penalty from the home side's attempts to recover. In front of the posts, 3-13. Somewhere in all this, Duncan Taylor goes off for an HIA, & is replaced by Alex Lozowski, who will play the remainder of the game.
Now we see a glaring example of Le Roux's over-cooking his clearances. Alex has time to catch the ball, brush his hair, re-tie his laces and check his mobile for messages before setting off up-field and launching a magnificent touch-finder, bouncing through the ragged defence and forcing Wasps back into their 22. At last we see Le Roux find his range, a high clearance, which he reaches in time to compete, but he is not used to succeeding in his follow-up runs, and knocks on in the take.
On 30 minutes, the conclusion of a power-play by Sarries, with forward after forward battering the struggling defence. Twenty-two metres out Billy receives the ball. Standing still, he hitches as though to run, Gaskell and Youngs clatter each other in the space where Billy was meant to be, he arrives as they try to prevent their own collision, and he brushes both aside with ease. A great hold by Haskell denies Billy the try, but not the re-cycle, which ends up with Schalk more or less under the posts. Owen is never missing this one, except that he does. 3-18.
Eight minutes to half time, in which Wasps must prevent further damage. The next period is amazing. Wasps step through the gears, and after some of the play that we ought to have seen earlier, they get a penalty line-out on Sarries' 5 metre line. Driven maul, Schalk enters the fray wrongly. Penalty try, yellow card. Tails up, Wasps run again, and almost at once Owen's tendency to tackle very upright, which always wish he could eliminate from his game, gives a head-high tackle, a yellow card and Wasps have about seven minutes of 15 gainst 13. An immediate try for Le Roux, but no conversion, 15-18.
Half-time cannot come fast enough now, but for Sarries rather than Wasps. We have the break now and both sides can re-set their game plans. I personally am sure that unless Wasps can take at least 14 points from the remaining double-yellow period they will lose.
So to the second period. Sarries are not planning to press the Wasps by defence, but instead they revert to the oldest Sarries DNA of recent times, close control of the ball, ferocious covering for the missing men during Wasps attack. Wasps must be aware that with Schalk and Owen returning with their team having held out, the game will be beyond them.
Jamie George replaces Christopher T, a little earlier than we might have expected. Still seven minutes of a two-man deficit.
Wasps have an immediate penalty, but Cipriani seems too anxious about missing touch and his touch find is at least 20 metres short of an acceptable distance for a kicker of his ability and ambition. Nothing from the line-out, nor from an ensuing scrum. Far too much crabbing by Wasps runners. Seatbelt tackle by Michael Rhodes, penalty, line-out, fast line across to Christian Wade, brilliant cover tackle by Alex, Wasps get nothing, and will get nothing for the two-man advantage.
Restored to full complement, Sarries now deliver a period of real power and dominance. Nick Isiekwe is becoming more a carrier, and Wasps are finding that Sarries now have four main carriers who cannot be left to a single-man tackle, with Schalk, Jamie, Vincent and others all ready to do their bit at the wheel of the heavy machinery.
Wasps do get a moment of their own around fifty minutes, and Ben Kaye comments that Sarries are getting a taste of their own medicine. As Wasps, with the ball for this period, and running it all the time, end up losing about 20 metres, with every Wasp tackler behind his gain line, and the period ends with a Sarries penalty, I find it difficult to think that Dai Young will be thinking that at last Wasps are getting on top. Schalk has done more than can reasonably asked of an old man of 34, and Jackson Wray replaces him now.
Billy busts through Cipriani and Ashley Johnson, the latter unable to get away after falling on the wrong side. It's a bit of a distance but dead in front. 15-21. From the restart, Sarries are less than 100 percent in clearing, and a lovely chip by Cipriani puts Alex into bother, a carry back and scrum 5. Tom Youngs has the opportunity to take advantage of the narrow side, but his awareness of the side-line lets him down, and the danger passes. Wasps now replace their entire front row and Haskell. They new men face an uphill battle, and the replacement of Nathan Earle by Sean Maitland is not going to lessen Sarries' options in attack or defence. In fact Sean's first touch delivers the ball almost to Wasps' line, but they do clear and break out.
The game is going Sarries way now. The differences, and there are several, are typified by the way in which Sarries' carriers are able to deliver clean ball from being tackled, out of hand or laying it back when on the ground. Sarries are therefore always working with more time than the Wasps follow-up players can ever manage. On such phase features half the pack, Brad, and Farrell, always with fast re-cycle, and in the end Alex cannot be covered when he runs a great curving line that flummoxes Gaskell, in under the posts. 15-23 and the try bonus point.
Nick Skelton on now. Maro suffers a rib-tickling tackle, but from a Wasps early engagement, Sarries get a free kick, taken as a scrum, but Sarries mix-up the play from the back, Wade rattles Goode's clearing run, but the phases end when a huge clearance by Goode is mis-taken by Cipriani on his own 22. Before the scrum, prop Harris is replaced by Tom West, a 20 years old debutant. He faces Juan Figallo, replacing Vincent. Mako goes off, as does Wiggy. Richard Barrington looks as though he cannot wait to get into action, Ben Spencer looks calm.
Wasps infringe in the Sarries move from the dominant scrum, Thompson tackling the nine without the ball. 15-31. What affected Owen's first two attempts has clearly long passed.
At the last gasp, a burst through, slick handling, and Ben is there, with work to do, but facing tired legs. 15-38. And that's pretty much that. Sarries have five tries, have taken half of Exeter's lead away, after the latter lost at Newcastle, and Wasps are now six points adrift of Sarries in third.
Sarries are definitely back in business. Wasps were in an injury crisis before this game, so losing three players, two centres and le Roux, to injury today is a serious problem.
As always, a mention of the referee and his team. Excellent.
Sarries will go to Ospreys next weekend with heads up. Wasps will be fortunate to get through their two European games without having to call on the coaches and coach driver to make up their match day 23.
WASPS: Le Roux, Wade, De Jongh (Miller), Lovobalavu (Armitage), Watson, Cipriani, Robson (Simpson); Harris (West), Johnson (Cruse), Cooper-Woolley (Moore), Gaskell, Myall (Rowlands), Haskell (Thompson) Young, Carr
SARACENS: Goode, Earle (Maitland), Taylor (Lozowski), Barritt, Wyles, Farrell, Wigglesworth; M Vunipola (Barrington), Tolofua (George), Koch (Figallo), Itoje, Isiekwe, Rhodes, Burger (Wray), B Vunipola (Skelton)
SCORERS: Wasps (15) Tries: Le Roux, Penalty; Pen: Cipriani Saracens (38) Wyles, Goode (2), Burger, Spencer; Conv: Farrell (2); Pens: Farrell (3)
Attendance: 17,677
Referee: Wayne Barnes (RFU)