TIGERS SHOW SOME BITE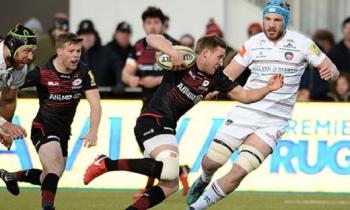 By J O'G
February 26 2018
A late Sunday afternoon kickoff on a cold still day awaited Saracens supporters after the disappointment of the Scottish game the day before. The realisation that seven of the participents of the Edinburgh game would not be here at Allianz along with Williams in Dublin meant that Sarries were already at a significant disadvantage from the game at Welford road which we had narrowly won earlier in the season.
there were immediate similarities with the game up north as from the kickoff Sarries were hesitant at the breakdown allowing Leicester an early victory. The intentions of the visitors were pretty evident too; lots of teams know the way to beat Saracens now. Pin them to their 22; they will kick the ball to you. Collect on the halfway line and keep the ball in hand until you cough the ball up from a knock-on or a turnover on the Sarries 22. Repeat; endlessly until the crowd go quiet and you can score.
Saracens didn't seem to have the same bite and line speed in defence as at Sale last Friday and Leicester made some small gains before finally knocking on. Sarries had a chance to clear and although the scrum was pretty solid, Spencer under no pressure knocked-on at the back; it wasn't his last knock-on of the game either. From the resulting scrum, Tiggers looked solid, passed on or around the 22 for a fair time before they had a ruck just inside. In what seems a common practice this season, a back picked the ball up from the ruck and burst clear with a bit of pace for a try. Manu Tuilangi no less. He was allowed to run round under the posts and it was an easy conversion. Sarries kicked off and made some progress, looking quite good with ball in hand. However in what was to become a recurrent scene in the game allowed O'Connor to pull the ball away. Its an interesting tactic he employed, grabbing hold of the ball and using his weight to free the ball rather than the obvious jackel for a penalty.
Leicester didn't make much of their turnover, and from a lineout shortly afterwards, Isiekwe was taken out in a lineout for a simple 3 points. Sarries also seemed to be back in the game for a little while afterwards, but their intention to kick all afternoon gave back Leicester the ball. It seemed to me Ben wasn't having a good day, all his kicks about 15 yards too long. The wingers simply could not get up to compete and the ball wasn't close enough to the touchline to bundle the catcher into touch. The pressure from Leicester with ball in hand seemed relentless as almost the next ten minutes was played just outside the Sarries 22. If they did turn the ball over, they kicked it away to start the process again. The pressure finally told, with a similar pick and run, this time from prop Bateman who scurried away from his tackler to also run under the posts. 3-14
Again from the restart Sarries seemed more comfortable ball in hand and looked to be making progress when a Leicester penalty was again conceded and Spencer took full advantage. It should be noted that Sarries also conceded a kickable penalty but Toomua missed easily, as he did in the second half from a similar distance. It was a pity that when Sarries conceded a try they didn't give him a more difficult kick instead of the ones almost any of their players could have slotted. The half was drawing to a close and Sarries had the ball. Possibly we could end the half on a high, but again O'Connor ripped the ball to half a decent advance and Tooma showed his silky skills with ball in hand. Combining with Veauna the pair curved and ran in a lovely try from almost halfway. A couple of badly missed tackles in what is normally one of Sarries strengths; the scramble defence. Again under the posts so no worries for Toomua about the kick. Leicester collected the restart and played out the 58 seconds. Before walking into touch.
The general view was we were not the same team as at Sale last week; no or little bite at the breakbown. It was almost that the appearance of Sculla meant that he would weave the magic for the team so they diIdn't have to. The second half when it started was pretty much the same as the first except that Leicester seemed happy with what they had. When they got the kick-back colelcted on the halfway line, they went through the motions seemeingly to make sure the clock wound itself down and they came away with the victory. Finally Sarries got some imputus on around 50 minutes and some ball in the other half. Bosch made a good break and the ball moved around close to the line before a penalty advantage under the posts was given. Sarries moved the ball wide before coming to Nathan Earle on the outside. Was it Eddie Jones who has ruined his eye for the line, or does he think he is playing for Quins already.
Nathan's first attempt was to get his own arm between ball and ground. The days when a try was given if you went over with the ball in your arms and they touched the ground are long gone. Now you actually need to put the ball down. Nathan didn't and got twisted into touch. Stiill back for the penalty and despite my screaming for 3 points from the stand, Brad went for the scrum. It seemed a little odd as Leicester had started to get the scrum ascendancy just before, but the scrum was good and the ball went to the right with Goode coming in to make the extra man before the ball was slipped to Nathan on the outside. He just had to catch it and dot it down; there was no covering tiger. He dropped it, short of the line even. From the resulting scrum, Leicester got a penalty and Sarries match probably went away at that point.
Ten minutes later, Sarries were still trying, when the ball was again slipped to Nathan in space on our ten yard line. Not only did he drop it, but it appeared in trying to kill it, popped it up into Tuilangi's hands. The England (well sort of) centre needs no help and strode to the line before popping to Holmes; not sure why but Holmes ran in under the posts with no defence in sight to make Toomua's kicking haul four of the easiest conversions he will ever have. With the game now lost, Sarries let on the youngsters and there was immediate profit. Not sure if Leicester switched off or they brought some pace to the game, but suddenly holes were appearing and the midlanders appeared out of puff.
In particular Whitely was darting around, looking for holes around the breakdown in a way Ben had not all game. He also was getting the ball away to Malins who was also keen to find gaps. The first was found after five minutes, dancing from a lineout to score a great try. With the kick sucessful, it was 13-28 and those missed points of earlier meaning 3 scores were needed; probably too much. Leicester tried to close out the game, but Sarries were on form now and again a running clearance and another wonderful mazy run by Malins saw him go in under the posts. He drop-kicked that with a certain restart. 20-28 meant the game was lost, but a bonus point wasn't impossible. Leicester came up to halfway as if the forwards were carrying a coffin so slow were their steps, but the ref to his credit told them a restart had to happen.
Sarries collected the ball, moved it around in a couple of phases before breaking clear; in an instant they were up to halfway and it looked suddenly as if the miracle could happen. Unfortunately, the pass that would have put Segun clear wasn't great and no bonus point. The last frenetic 10 minutes made the crowd less unhappy after the game, but I'm concerned that if we go to Exeter with that attitude we will be buried. Still we might have a few back next week. On the downside, Calum Clark looked to have injured the same hand he got away with last week and our new Tongan looked in a bad way. Credit to Spurling who played ¾ of the match at blindside
I'm pretty convinced after that game, that Sarries now have two teams and two gameplans. One for Europe and the warmer weather. This is more expansive, faster pace and looks pretty good. The other is the one we got yesterday by the second team. Gritty, limited and the one Dr Ventner showed us. Everyone knows it now, other teams pay it better than us and we ought to drop it. Playing with the ball in hand against Sale looked way better than kickling it away
Saracens
15 Alex Goode,14 Nathan Earle( Segun 68'), 13 Marcelo Bosch( Malins 67'), 12 Brad Barritt, 11 Chris Wyles,10 Alex Lozowski,9 Ben Spencer( Whiteley 65'), 1 Richard Barrington( Thompson-Stringer 58'), 2 Schalk Brits( Flanagan 67'), 3 Juan Figallo( Lamositele 58'), 4 Dominic Day,5 Nick Isiekwe,6 Calum Clark(Vailanu (17'rep Spurling 28')7 Schalk Burger,8 Jackson Wray,
Replacements. 16 Scott Spurling, 17 Hayden Thompson-Stringer, 18 Titi Lamositele, 19 Mark Flanagan, 20 Sione Vailanu, 21 Tom Whiteley, 22 Max Malins, 23 Rotimi Segun.
Scores Tries Malin (69'& 80')
Conversations Lozowski 2/2
Penalties Spencer 2/2
Leicester
15 Telusa Veainu, 14 Adam Thompstone, 13 Manu Tuilagi, 12 Gareth Owen( Tait 2'), Jonah Holmes, 10 Matt Toomua (c), 9 Sam Harrison( Simmons 65'), 1 Greg Bateman( Rizzo 70'), 2 Tatafu Polota-Nau(Youngs 54'), 3 Logovi'i Mulipola( Cilliers (65'),4 Mike Fitzgerald( Wells 65'), 5 Graham Kitchener, 6 Mike Williams( Hamilton 34'), 7 Brendon O'Connor,8 Sione Kalamafoni.
Replacements. 16 Tom Youngs, 17 Michele Rizzo, 18 Pat Cilliers, 19 Harry Wells, 20 Luke Hamilton, 21 Harry Simmons, 22 Joe Ford,23 Mathew Tait.
Scores Tries Toomua (10'), Bateman(33'),Veainu(38'),Holmes (65').
Conversations Toomalua 4/4
Yellow card Rizzo (79')
Referee: Craig Maxwell-Keys
Attendance 9,744
View a Printer Friendly version of this Story.
TIGERS SHOW SOME BITE
TheSaracens.com (IP Logged)
26/02/2018 17:54
Thanks Jeremy. Excellent summary of a rather disappointing afternoon



Edited 2 time(s). Last edit at 2018:03:13:19:08:34 by Darraghgirl.
Re: TIGERS SHOW SOME BITE
27/02/2018 14:31
Thanks Jeremy, less Wrist-cuttng than I expected!
£721.05 (*) donated to the Saracens Foundation due to visits to the Sarries frontpage [
www.rugbynetwork.net
]
Please read and submit articles for publication. (*) As at October 31, 2018.
Sorry, only registered users may post in this forum.