HOW DEEP IS YOUR SQUAD?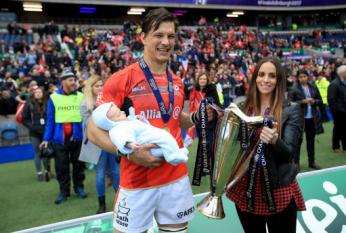 By Darraghgirl
March 13 2018
It's that time of year when we need theodd filler to stop the site from dying so here is a little diatribe on our squad depth. One thing that has become apparent this season is that no matter how deep your squad is, when you add in injuries and International call-ups, it is never deep enough! I have looked at some of the playing stats across the 17 Premiership and 6 Champions League games Sarries have played this season and it makes interesting reading.
32 players have started a game for Saracens this season plus another 11 who have come on from the bench – a total of 43 players who have had to be good enough to compete at this level! Of the 32, 19 were forwards and 13 backs. Only 1 player has started all 23 games (and I think finished them all as well) – Alex Goode. Where would we be without him? Ben Spencer has featured in all 23 games as well – starting 12 and coming on from the bench in 11. Next come Chris Wyles (started 20 + 2 from the bench) and Barritt (started 19). Other players who have been almost ever present are Loz (12 starts, 10 from the bench), Figallo (10 + 12), Isiekwe (17+ 4) Wray (18 +2), Burger (13 + 6) and Koch (13 + 6). At the other end we have seen very little of Billy (4 starts) Rhodes (5 starts and 1 from the bench) and Duncan Taylor (6 + 3).
4 players have always started when available – Goode, Barritt, Itoje and Billy. Interestingly some of our back-up players have had rather more opportunity then I remembered: Hayden Thompson Stringer has been on the bench for 11 games, Tolofua for 13 (+ 3 starts) Nathan Earle for 10 (+7 starts) and Ben Earl for 8 (+ 1 start).
THE FORWARDS
Front Row
In the starting 15 we have used 3 hookers and 5 props. Our first choice front row (assuming that is Mako, Jamie George and Koch) have started 7 games – won 3 lost 3 drawn 1. Interestingly Mako, Jamie and Figallo have started 4 games – and won them all! When Jamie starts at hooker we have won 9, lost 3 and drawn 1, when Brits starts we have won only 2 out of 7 and when Tolofua starts we have won all 3. Brits edges it with tries though having scored 5 to Jamie's 4. Koch has 4 tries, Mako 3 and Baz 1 so the front row have contributed 17 tries!
Our most successful pair of props are Mako and Figallo (won 5 out of 5) followed by Mako and Koch (w 4 lost 3 drawn 1) then Baz and Koch (won 2 lost 2) and Baz and Figallo (won 2 lost 3). The only other prop to start is Hayden Thompson Stringer (just once with Koch – a win).
This suggests our most successful front row is actually Mako, Jamie and Figallo.
Second Row
5 different players have started as locks: Maro, George Kruis, Isiekwe, Dom Day and Skelton. Interestingly "Kritoje" haven't started a single game at lock - although Maro has played at 6 alongside "Krisiekwe" 6 times (won 5 lost 1) and "Kruiday" twice (won both). When Maro plays (anywhere) Sarries have won 9, drawn 1 and lost 2. Only 4 of those games have been at lock: 2 wins, 1 draw and 1 loss. "Krisiekwe" at lock have won 7 and lost 1.
When Kruis doesn't play we have won 4, lost 2 and drawn 1. When he does play we have won 10 and lost 6. Isiekwe has a 12-4 winning record (although 2 of the defeats occurred when he played at 6). Day has won 2 and lost 3, Skelton won 3, lost 4 and drawn 1. The locks have contributes just 1 try – from Kruis.
Back Row
9 men have started in the back row. Our first choice back row is probably Rhodes, Burger and Billy. Sadly, that combination played only twice, winning both games. Billy and Mike Rhodes were rare sightings this year. In their absence, Wray, itoje, Clark, Kruis, Isiekwe and Earl all attempted to fill the void. Rhodes made 5 appearances (3 wins, 1 loss, 1 draw) and Billy just 4 (3 wins 1 draw – when he departed rather early). Jackson Wray was the usual replacement for Billy (won 10 lost 7 plus 1 start at 7 – a win). Burger was the only other option at 8 (2 starts, won 1 lost 1). The 7 shirt was largely shared between Burger (11, won 7 lost 4) and Clark (10, won 6 lost 3 drew 1) – Earl and Wray each had 1 start. Itoje mainly carried the burden of the 6 shirt (8 times, won 7 lost 1) along with Clark (6 times, won 3 lost 3), Isiekwe (won 1 lost 2) and Kruis (1 loss). When it comes to tries, Wray has 2 and Burger, Earl and Clark 1 each but otherwise the back row haven't crossed the whitewash this season.
10 different back row combinations have been tried throughout the season and apart from the "dream team", the commonest pairings were Itoje-Clark-Wray (won 4 lost 1) and Clark-Burger-Wray (won 3 lost 3).
And so to the BACKS
Back Three
As previously mentioned Goodey has been the only starting full-back throughout the season so let's move to the wings where we have started with 4 players: Wyles, Maitland, Earle and Williams. Arguably our 2 best wings are Maitland and Williams – they played together just once this season, in the draw against Ospreys. Maitland has made 11 starts at 14, + 2 from the bench and Williams 7 starts at 14, 1 at 11 and 1 from the bench. Our most regular winger has been Wyles (20 starts + 2 from bench). The other winger is Earle (7 starts +10 from the bench). Maitland and Wyles have started together 8 times (won 4 lost 4) whereas Williams and Wyles have started together 7 times (won all 7). Earle and Wyles have started 5 games (won 1 lost 4) and Maitland and Earle once (win). When it comes to tries, the back 3 have contributed 26 tries this season:- Wyles has 7 Maitland, Earle & Goode have 5 each and Williams has 4. So it looks like the best wing combination is Williams-Wyles.
Centres
We have started 5 centres this season: Barritt, Bosch, Tompkins, Taylor and Lozowski. Barritt and Bosch have started the most games (13 games won 7 lost 5 drawn 1). Barritt & Taylor have started 5 games (won 4 lost 1), Barritt & Tompkins 2 games (won 1 lost 1), Bosch and Lozowski 2 games (won 1 lost 1) and Bosch and Taylor 1 game (a win). The centres have only contributed 5 tries – 3 from Barritt & 1 each from Bosch and Tompkins. (although Bosch has also landed a couple of monster kicks)
Half backs
Wiggy and Spencer have shared the 9 shirt between them (Spencer 12, Wiggy 11) while Faz and Lozowski have largely shared fly half position (Faz 13, Loz 9 Malins 1). Spencer has won 8, lost 4. Wiggy has won 6, lost 4 drawn 1. Farrell has won 9, lost 3 and drawn 1 while Loz has won 5 and lost 4. (Malins played 1 lost 1). The most successful combination is Farrell/Spencer (won 5 lost 1) followed by Farrell/Wiggy (won 4 lost 2 drawn 1). Loz and Spencer have won 3, lost 2 and Loz and Wigg won 2 lost 2. Malins and Spencer played just once, a defeat. Half backs contributed 17 tries. Spencer is the club's top try scorer with 8. Lozowski has 3, Malins has 3, Wiggy 2 and Farrell 1.
Well they say you can make statistics prove anything!
One last point: arguably our strongest team would be: Goode, Maitland, D Taylor, Barritt, Williams, Farrell, Wiggy (or Spencer), Mako, George, Koch, Itoje, Kruis, Rhodes, Burger and Billy. You won't be surprised to hear we haven't fielded that team once this season. The closest we have got is 11 of the 15 – which we have managed twice. We won both games!
But despite having to dig very deep into our reserves, we are still the only English club in the quarter finals of the European Cup and we sit 3rd in the League. That says something.