MARO FINDS HIS MOJO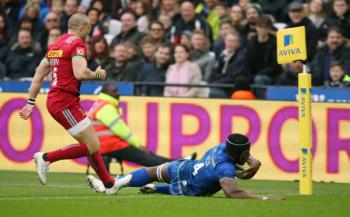 By Darraghgirl
March 25 2018
Back in 2012, I took part in the Olympic Park 5 mile run. Towards the end we ran along a corridor under the stadium to the sound of Chariots of Fire then we ran out into the stadium itself and completed the last 300m on the hallowed track. A few months later, Usain Bolt and Jess Ennis followed in our footsteps. It was a day I will never forget and the reason why, for all its faults, I love the Olympic Stadium (it will always be that to me, whatever its official name is). So I can see why with a big crowd in, it would have inspired the players. Perhaps they were a bit too awestruck because sadly the game never reached the heights of its billing.
The headline act was someone called Tokio Myers who apparently won a talent show by turning his back on his audience and playing the drums. I kept waiting for something to happen but it never did. It was a bit of a metaphor for the game really.
Both teams welcomed back some of their Internationals. Quins started with Care, Robshaw and Brown with Marler on the bench while Sarries brought Itoje, George and Wiggy into the starting 15 together with the Scots/Welsh wing combination of Williams and Maitland (I think for just the 2nd time this season) along with Mako on the bench. Farrell and Kruis were ruled out with what is hopefully tactical injuries. Schalk Burger also returned from injury. There were some interesting match ups: the 2 current England scrum halves opposing each other, Marler and Mako to come off the bench together, Loz and Smith – 2 men who may be part of England's future and of course the England full-back up against the best full-back in England.
Tom Foley had the whistle, not a sight to uplift the heart with the prospect of flowing rugby and sadly that was what came to pass. There was barely a completed scrum throughout the match and the entire "spectacle" lasted 2 hours despite the fact there were no significant injury stoppages.
Sarries ran out in blue which was a bit of surprise until I remembered something buried deep in my brain about a "special edition" kit for the game. It wasn't right. They are the Men in Black not the Men in Blue – it was a bit too close to the corporateness of our sponsors Allianz.
The obligatory fireworks and lack of breeze meant that the first few minutes of the game were glimpsed through fog but Sarries won an early penalty which Loz kicked confidently through the uprights. A good sign as Loz is real confidence kicker (and in fact he only missed one very tricky conversion all afternoon). From the restart Joe Marchant showed a fine turn of foot down the left wing almost into the Sarries 22 before the danger ended with a knock on. A bit of pantomime with a long clearance from Lozowski which landed deep in the Quins 22 and watched by Visser it appeared to be heading over the dead ball line. Instead it bounced a few inches short then bounced back in play again. Perfect!
Quins messed up a lineout which led to a lovely break from Maitland into Quins 22 set up Sarries' first try. The ball was recycled delightfully through the backs over to Goodey who delayed his pass out to Williams just long enough to beat the Quins defence. Williams knows exactly where the touch line is, he kept his feet just the right side of the whitewash and touched down in the corner. A lovely touch kick from Loz made sure of the full 7 points and Sarries led 10-0
Sarries then defended well as Quins retained possession for around 20 phases almost exclusively between half way and Sarries' 10m line. 2 penalties followed, the 2nd of which Catrakilis kicked over for 10-3. The scrum farce then followed – free kick Quins, free kick Sarries, penalty Sarries, penalty Quins – this one taking it to 10-6. It also saw the departure of Catrakilis with a thigh injury. It was sad to see him leave the scene so early after the season he has had. Catrakilis' departure though saw the arrival of the "wonderkid" Marcus Smith.
Saarries scored their second try soon afterwards, this time a lovely effort by Maro Itoje. A scrum in Sarries territory (for once completed) saw Maitland carry the ball well into Quins half. Wiggy recycled and offloaded to Itoje whose long legs carried him through a rather surprised Quins defence to score in the other corner. There was a lovely touch where he pretended to fall asleep on the turf, putting 2 fingers up to Sir Clive who dared to suggest he was tired! Loz couldn't quite land the conversion this time but the score was a healthy 15-6.
Sarries continued on the attack as the clock wound down towards half time. Barrington and Wray combined well to win a penalty in the Quins 22 which was put in the corner but despite a succession of pick and drives, Matthews managed to turn the ball over although Smith's clearance kick only staggered as far as the 22. Quick thinking by Goodey saw a short lineout and another Sarries penalty. With the clock almost dead Loz took the points, another tricky kick confidently landed, and at half way Sarries had a comfortable 18-6 lead with the promise of more to come in the 2nd half.
It was Quins who started the 2nd half better. Pressure from Alofa found them on the Sarries' try line with only Lozowski's body between Quins and a score then a lovely break from Smith into the 22. He punted the ball ahead but was just beaten to it by Liam Williams. Sarries spent some time in the Quins 22 with Maro finding himself on the wing and again making good ground but nothing came of it. There appeared to be a clumsy attempt to intercept by Quins but Mr Foley felt it was fair and waved play on. From his own 22 Visser set up a kick chase deep into Sarries' territory and he seemed certain to outpace Jackson Wray but Lozowski appearing from nowhere came charging over to the rescue and got his hands on the ball first.
Time for the front row to change as Mako, Brits and Titi took over for Sarries and Marler came on for Quins along with Clifford (after a long absence for Wallace) and Saili for Roberts. Saili and Smith combined well to win Quins a penalty in front of the posts but they opted for a scrum. It appeared that Sarries had defended well but Horwill snuck over for the try. The crowd thought the pass from Care was forward and bayed for Mr Foley to consult Graham Hughes but in vain. The big screen TV could have been more helpful to the home side but declined to show the right angle and the try stood. Smith made a right hash of a fairly simple conversion. He's a promising young man but his kicking today was poor. So the score stayed at 18-11.
More change of personnel –Blair Cowan replaced Dom Day and Spencer came on for Wiggy. Meanwhile another kicking error from Smith when his attempted clearance was charged down by Isiekwe. The ball didn't quite bounce for him but in the end Sarries got a penalty which Loz again kicked to stretch the lead back to 10.
There was an interminable scrum which was reset and reset before eventually it was Sarries turn for the penalty. A gorgeous attack involving lovely hands from most of the team saw the ball make its way out to the left wing, ably flicked on by Barritt to Brits outside him. All Schalla had to do was catch the ball but he spilt it with the try-line begging. Nobody knew better than Brits that it should have been try number 3.
An enforced change saw Barritt leave the field to be replaced by Malins. Sarries were definitely now on the wrong end of Mr Foley and several penalties were conceded as Quins lumbered their way towards the Sarries' 22 and eventually over the try line by Saili but helped by an almost unanimous shout of "Forward" from the assembled crowd, Mr Foley disallowed it. Sarries expertly defended the attacking maul which followed forcing a chip which Alex Goode took in the in-goal area and touched down. Pedantry from Mr Foley who was adamant the mark was called so the drop out was refused. (Quick google-search of The Laws by the assembled – yes Mr Foley was technically correct, if you call for the mark in the in-goal area it stands).
One last change as Burger was replaced by Earl and the game entered its final 10 minutes. Any hope of 2 more tries effectively went when Malins was rather harshly sin-binned for what Mr Foley deemed a deliberate knock on, (harsh because the earlier offence by Quins went unpunished and Malins seemed to go for the ball). Maybe Mr Foley was fed up with an awful lot of back-chat from both teams – but then he didn't really ever convince either side (let alone the 55,000 odd amateur referees in the stands) that he knew what he was doing.
Sarries defended well with 14 and Quins never looked like encroaching on their lead. In fact it was Saracens who troubled the scorers with another Loz penalty taking the score to 24-11. Malins returned for the last few seconds and that was that.
Itoje was a revelation and deservedly won man of the match. No sign of fatigue today –on the contrary he appeared to have imbibed a certain beverage that gives you wings!
So 4 more points to add to the total. A bit disappointing because at half time it was looking good for a try bonus but somehow everyone seemed to lose their way in the second half and sadly what remained was pretty dreary.
As for the head to heads: I think Wiggy just edged it over Care, Loz played one of his best games for the club and although there clearly is magic in young Marcus Smith, he needs to learn to kick! And although Brown had a decent game, there was no doubting the identity of the best fullback on the field!
Still I enjoyed my visit to the Olympic Stadium. The stewards on the way out seemed quite surprised at the good-natured banter from the spectators of both sides (but then I guess if you're used to the fare offered by West Ham supporters it was a pleasant change). Stratford is also a much easier journey than Wembley and I was back home in plenty of time to celebrate my daughter's birthday.
So now it's all eyes on Easter Sunday and a trip to Dublin. Saracens will need to raise their game several notches from today if they are to compete with Ireland's finest but a few of the guys have a score to settle and you know, it might just happen!
Saracens
Goode, Williams, Bosch, Barritt (Malins), Maitland, Lozowski, Wigglesworth (Spencer), Barrington (< Vunipola), George (Brits), Figallo (Lamositele), Itoje, Day (Cowan), Isiekwe, Burger (Earl), Wray. Not used: Wyles
Harlequins
Brown, Alofa, Marchant, Roberts (Saili), Visser, Catrakalis (Smith), Care, Lambert (Marler), Gray (Ward), Sinkler (Collier), Matthews (Luamanu), Horwill, Robshaw, Wallace (Clifford), Chisholm Not used: Lewis
Scorers:
SARACENS (24) : Tries- Williams, itoje; Conv- Lozowski; Pen: Lozowski (4)
HARLEQUINS (11): Try- Horwill; Pens- Catrakilis (2)
Att: 55,329
Referee: Tom Foley (RFU)