GARDENS PARTY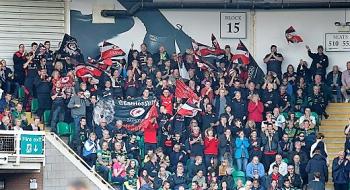 By Innings
April 8 2018
Franklin's Gardens has always been a favourite away visit for me. I appreciate the ground and facilities, and most of all I appreciate that wherever you sit, there are enthusiastic, knowledgeable and friendly supporters around you. Sometimes the games are close, sometimes one side seems to have the upper hand.
I travelled today in hope – expectation is rarely in my match-day attitude, never has been since one game when a certain win at home against a struggling London Irish turned into a collapse. Sarries were likely to want to make a point about their Premiership ambitions after losing their European crown, and the chance of a low mood after last weekend seemed slim. I was looking forward to seeing how Saints would go: a season of six wins from 18 Premiership games surely cannot end as six from 22.
With the Gaffer and head coach Alan Dickens committed to putting out their strongest side, at least until safe from relegation, the Saints team sheet was as expected. A few absences through injury or illness, but a respectable XV, albeit supported by a bench a bit light on star dust. Sarries were not going soft on any side at this stage, and every heavy gun, bar Alex Goode, was present. After playing, if I read correctly, in every minute of every Premiership and European game this season, Alex should be somewhere very restful for a few days. The ominous look of a bench that included a starting B&I Lion, an 80-cap back-row Springbok, the most recent starting 9 for England and a Scottish international centre was never offering easy options for Saints once changes began.
The game divides neatly into three parts. They are 10 minutes, 30 minutes and the second half. Very different games were played in each period.
For ten minutes, we saw a classic game of courteous refusal to score. Sarries missed an easy run in on the right when the simple pass right for a certain score was turned down in favour of a pass to the inside, where Saints defence was clustered. Not to be outdone, Saints moved fast upfield, catching Sarries napping, and had a certain try in the naughty corner. However, the spirit of mutual tolerance prevailed and referee Craig Maxwell-Keys blew for a knock-on instead. I can only presume that the shock possibility of scoring a try against Sarries so filled the offending Saint Teimana Harrison's head that he forgot that crossing the line with the ball is an essential part of scoring.
The end of the ten-minute opener saw us at 0-0, with the tantalising fact that it could have been 0-7, 7-7 or 7-0. The preliminary courtesies out of the way, the game started in earnest. Exactly on ten minutes, Saints fullback Ahsee Tuala was unable legitimately to handle Juan Figallo in a breakdown, Owen Farrell kicked for a good line-out position, some really excellent soft handling in close exchanges gave Sean Maitland an opening, taken but covered. He delivered a perfectly weighted inside ball to Alex Lozowski, who drifted in, untouched, to open the scoring. A Saints' penalty gave a toe-hold. Owen took one back. The driven maul seemed to be a practised part of both sides' repertoire, and Saints duly scored as the result of some excellent work by first-time Saints starter, hooker Reece Marshall. With that converted and a penalty shortly after, Saints found themselves 13-10 ahead. The Gardens woke up and got behind their team somewhat more energetically that I had heard at two recent trips to Northampton. There would one more score before half-time. Owen turned down a simple three pointer, put the ball into the corner and the pack, plus many backs trundled Schalla over for 13-15 at half-time.
During the oranges, I overheard two Saints supporters, both old enough to be wishing that Tim Rodber was still playing and working the breakdown. One felt that Saints were playing well enough to compete. The other is less hopeful. For him, Saints are playing at their current best, but he senses that Sarries have not yet found the gearbox. He fears that this will not be Saints' day once Sarries will find second or any higher gears. He justifies this remark with two observations. One is that whereas Saints are scarcely crossing the gain-line with any carries, Sarries always make ground, get quick ball back and repeat the movement. The other is that Sarries forwards are so pressing the Saints defence that Saints backs are being pulled inward, giving Sarries openings put wide. Both points are completely valid, and probably are the main causes for Sarries to have an optimistic expectation, even before we think about the benches.
The second half was something of a revelation. There is no point in listing the fact that on average Sarries scored a try every five minutes, nor that Owen would take the extras from five of the seven. However, a couple of the tries were little gems and deserve mention.
A driven maul seemed certain to rumble over, (Is it a legal requirement of match reporting that driven mauls always rumble? Was I wrong to write earlier that one trundled?), but the ball fell out of the back, free for a Saints defender to gather it and close the door. However, a stunningly quick reaction from Ben Spencer saw him collect and lean forward unopposed to score.
Williams was able to terrorise Saints whenever he started a run, and his reward of a solitary but excellent try was scant personal reward. However, his contribution to the speed and flexibility of the back division made several other scores possible. In the end, he was undoubted MotM
Remarkably, of the seven backs positions, five scored tries, with a sixth from bench wing Nathan Earle. Three forwards also featured, giving a remarkable tally of nine tries, nine separate scorers of them.
As the game was winding down, with a frantic last momentary threat by Saints, my mind began to wander. There would be no need to worry about getting out of the car park, the stands had been emptying for several minutes already, so the car parks would also be a little emptier than usual straight after the game. The I realised why I was perplexed, a question had been in my mind for some long part of this game: What was George North doing? He prowled and prowled, up and down, back and forth, for much of the game, but why? Was he waiting for the pass that never came? Was he hoping that someone would notice that he was on the field and invite him to join in the game? Finally, I had the answer: he was, like many supporters, looking for an early exit.
I add one last thought. There has been much talk about the lack of depth in the Sarries centre. Today I saw one of the best instinctive centres that Sarries have had since the days of MTC (Mercurial Thomas Castagneide for recent arrivals). Alex Lozowski was brilliant. Not only does he force defenders to come to him, thereby relieving pressure on Brad, who immediately becomes a more mobile and threatening carrier, he is a brilliant decision-taker when deciding how to bring the back three into the game. I don't think it purely coincidental that Liam Williams looked so good today, Alex put a lot of good stuff on his plate. All three wings also scored, surely a mark of a good 13.
I still cannot work out what happened today. Were Saints really that awful? Were Sarries really that good? Whatever the reason for the disparity, the awful truth is that very few Premiership sides put fifty points on another Premiership side, whether domestically or in Europe. For Saints to suffer that shameful statistic five times in a season, four times at Sarries' hands, suggests something more than a difficult season. To put some perspective on that number, London Irish, almost certainly for the drop, have not suffered a single fifty-pointer this season in the Premiership.
Referee Maxwell-Keys had a generally OK game, but I was entirely at one with one set of howls from the crowd when at least three Sarries forwards were blatantly offside in a move that ended with one of the many tries. It is difficult to police everything when so much is happening at pace, but isn't there a TMO to jog the referee's ear on such occasions?
So, with three games to go, Sarries have a home game in the play-offs in mind. However, the chasing group want to have some say in all that, even if Sarries have their own fate in their own hands. They are to play Bath and Gloucester at home, and Irish away. Bath, in eighth, will need a win at AzP next week to have any hope of top four. Tigers in third and six points adrift of Sarries, will fancy a five-pointer at home against Saints. Wasps, in fourth and also six adrift, entertain Warriors, and for both sides a result is highly important, one for top four, the other to guarantee Premiership rugby next term. Falcons, now fifth and only two adrift of fourth, have a tricky Derby assignment in Sale, who also want top four, from which they are only three adrift at the moment. At the end of the weekend, results could have clarified the situation or have made it even more tense. Has there ever been a run-in when so many teams were still looking for top four and already thinking heady thoughts about the delights of Clermont – my all-time favourite European experience – or Dublin, or one of another half-dozen cities?
Northampton Saints
15 Ahsee Tuala (Foden 71'), 14 Nafi Tuitavake, 13 Rob Horne, 12 Piers Francis, 11 George North (Collins 63'), 10 Stephen Myler, 9 Cobus Reinach (Mitchell 56'); 1 Campese Ma'afu (Van Wyk 67'). 2 Reece Marshall (Clare 67'), 3 Kieran Brookes (Painter 60'), 4 Api Ratuniyarawa (Paterson 63'), 5 Christian Day (c), 6 David Ribbans (Nutley 22'), 7 Jamie Gibson, 8 Teimana Harrison.

Replacements: 16 Charlie Clare, 17 Francois van Wyk, 18 Ehren Painter, 19 Michael Paterson, 20 Ben Nutley, 21 Alex Mitchell, 22 Tom Collins, 23 Ben Foden.
Tries: Marshall (27')
Conversions: Myler 1/1
Penalties: Myler 2/2
Saracens
15 Liam Williams, 14 Sean Maitland, 13 Alex Lozowski, 12 Brad Barritt (Taylor 48'), 11 Chris Wyles (Earle 66'), 10 Owen Farrell, 9 Ben Spencer (Wigglesworth 53'); 1 Mako Vunipola(Barrington 63'), 2 Schalk Brits (George 53'), 3 Juan Figallo (Longbottom 56'), 4 Maro Itoje, 5 George Kruis (Day 66'), 6 Nick Isiekwe, 7 Blair Cowan (Burger 60'), 8 Jackson Wray (Cowan 73').
Replacements: 16 Jamie George, 17 Richard Barrington, 18 Kieran Longbottom, 19 Dominic Day, 20 Schalk Burger, 21 Richard Wigglesworth, 22 Duncan Taylor, 23 Nathan Earle.
Tries: Lozowski (9'), Brits (35'), Spencer (43'), M.Vunipola (50'), Williams (58'), Wyles(61'), Maitland (64'), Wray (69'), Earle (80').
Conversions: Farrell 5/9
Penalties: Farrell 2/2