SARRIES HOME AND IRISH HOSED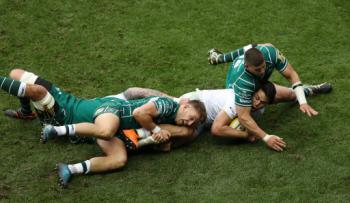 past present future
By Innings
April 30 2018
Forgetting that an away game at London Irish involves a fifteen-minute drive, rather than well over an hour, I arrived very early at the MadStad. Rather than go early into what is a cold place on a warm day, and a fridge on a cold and windy one, I spent a few minutes in the car looking at the odds quoted by the bookies for today. There were differing opinions: some had Sarries at 1-25, others are 1-33, odds on that are more or less saying that the result is as certainly a foregone conclusion as anything in sport can be. On that basis, quoting Irish at only 10-1 for the win seemed less than generous.
A steak and ale pie, well up to Sarries' own standards, and a cup of hot chocolate even before the game gave me the warmth needed to go down to pitch-side to watch Sarries early starters in warming up. There was a lot of kicking practice, much needed with the wind swirling all over the place. Schalla was his usual self, pausing to pose for the usual crop of demands for autographs or selfies – we really are going to miss this guy when he moves on. He must be one of the best face-to-face ambassadors that rugby has ever had.
London Irish were marking the centenary of the foundation of the Royal Air Force and Royal Air Force Benevolent Fund. Collecting buckets in evidence and a spirited Air Force Cadets band before the game began. They added some much-needed atmosphere, which was otherwise dispirited almost throughout the afternoon.
And so, having put off writing about the rugby for as long as I dare, to the game. It would take 80 minutes to describe just how poor a spectacle this game was going to be. I have rarely seen two sides trying so hard for such little achievement as the first half produced. At least things did perk up a little later on.
Sarries were in their own half for about a minute of the first ten. The first several of many driven mauls end up with a man in the bin, 0-3, and a maul that actually works, 0-8. Not for the last time, Owen Farrell is off-target for the extras that he would normally nail every single time. He makes up smartly with the decisive moment in a sweeping attack that has space out wide. His pass cuts out half the cluster of Sarries runners, as well as all the Irish defenders, leaving Duncan Taylor an easy enough run in. There may be some risk of a TMO referral, so the conversion shot is take very hurriedly, perhaps the extras matter a great deal less than hanging onto the try.
Scarcely has the buzz, if the subdued crowd can be said to have enough interest to call it a buzz, when Brad Barritt drops a pass that had a try written all over it. It is a try indeed, with Irish winger Cokanisigi collecting and brushing past the Sarries defence for a dot down under the posts. 8-13 and the crowd remembers that they are supporters and show their appreciation.
At about half an hour, there's a stoppage involving treatment for Duncan. We know nothing but he walks off, and as I'm sitting immediately behind the away team dug-out (this is a football ground), I can see that he is obviously deeply upset about the event. The dreadful C-word comes unwanted to mind. I am seated beside the Irish concussion monitor – no idea that such a part of the medical set-up exists – but I don't like to ask him what he thinks, he's already been more than generous with his time in explaining how the role works.
A simple penalty gives Owen an easy 3-pointer, which is really needed right now to calm nerves, However, within minutes, Maro has proved that today is not his day, with what may be his third penalty, this time for a deliberate knock-on. The resulting corner kick, maul and drive in under the posts brings the gap down again, 14-16.
Half-time cannot come quickly enough: both sides are playing dire rugby, and the score, for each side, would be much greater if the error count was not so horrific. As I take another hot drink, it really is not warm, late-season rugby weather. I find myself reading the menu for the food stalls at MadStad on football days. One item on the menu is the offer of two steamed fun-buns for £2.60. I don't know what fun-buns are today, but I know what they were when I was still playing rugby thirty years ago.
Quite well into the second half we can see that the Irish efforts in the first period are taking their toll, and gaps are opening up here and there. Penalties are going against Irish now, and there is no plan for Owen to take points in threes. Kicks to the corner are the rule, and with about 20 minutes gone Sarries have converted two of them into tries, one from a driven maul, scored by Michael Rhodes. A little banter between Michael and Jamie George as they walk back after the try has been awarded. Was Jamie saying that those tries are reserved for hookers? Even worse for the hooker trade union, what did Jamie think about Marcelo Bosch, on for Duncan, scoring minutes later from another, similar set-up only about two minutes later? Now we're cooking, The TBP is taken, and at 14-30 all is well.
Billy comes on now, to a generous round of applause for the crowd, supporters of both sides are glad to see a genuine world-class player back in action. Another penalty line-out is muddled by miscommunication between Schallla and his jumpers, we've just had a complete change of front row, but Richard Barrington collects and has a little to do as he barges through for the fifth try. 14-37.
Irish are now frankly shot. Under their own posts a little chip to clear should have been a huge clearance boot. A moment, one of few, of real brilliance sees Owen and Alex Goode coming in to take. Owen arrives first, and pops the quickest of passes to Alex, running a clear line that takes him clear through and under the posts. 14-44.
Time is up. But Sarries are playing a penalty advantage. Kick to the corner, a bit of pushing around, a moment of instinctive interplay between Billy and Schalla and a try in the corner. 14-51 at the death.
My MotM was probably Jackson Wray, with another utterly professional, and error-free contribution.
Ian Tempest managed things as well as anyone might ask, given the importance of the game for both sides. Irish desperately needed to offer some hope to their supporters for the new life ahead of them, again, and Sarries do need home advantage. Tempest was sound, clear and consistent, and three yellow cards were more about the players under pressure than about his lack of control
So Sarries have a home play-off date and Irish are hosed for seven tries, from seven different players. But, and it's a big but, Sarries will not be lifting the big cup if they play so loosely when the big names come calling. I thought they left at least three and perhaps five tries that they could and should have scored, and the penalty count, especially by Maro, would have given Exeter's driving maul a field day.
I was not sorry to leave the MadStad. A dull place built for 24,000 people is even duller when only 7,628 are there. Irish deserve better, and I hope they'll be able to get the MadStad incubus off their shoulders and settle in a happier place.
London Irish 15 Greig Tonks, 14 Joe Cokanasiga, 13 Tom Fowlie, 12 Johnny Williams, 11 Alex Lewington, 10 Theo Brophy Clews, 9 Piet van Zyl ( Steele 62'); 1 Ben Franks, 2 David Paice (Porecki 56'), 3 Ollie Hoskins (Du Plessis 56'), 4 Josh McNally, 5 Franco van der Merwe, 6 Jake Schatz, 7 Blair Cowan, 8 Ofisa Treviranus (Basham 77')
Replacements: 16 Dave Porecki, 17 Harry Elrington, 18 Petrus Du Plessis, 19 Sebastian De Chaves, 20 Josh Basham, 21 Scott Steele, 22 Luke McLean, 23 Aseli Tikoirotuma.
Tries: Cokanasiga 31', J. Williams 40'
Conversions: Tonks 2/2
Yellow cards: McNally (12'), Cowan (72')
Saracens 15 Alex Goode, 14 Liam Williams (Wyles 72'), 13 Duncan Taylor (Bosch 35'), 12 Brad Barritt, 11 Sean Maitland, 10 Owen Farrell, 9 Ben Spencer (Wigglesworth 55'); 1 Mako Vunipola (Barrington 58'), 2 Jamie George (Brits 58'), 3 Vincent Koch (Figallo 58'), 4 Maro Itoje, 5 George Kruis, 6 Michael Rhodes (Isiekwe 51'), 7 Schalk Burger (B.Vunipola 60'), 8 Jackson Wray
Replacements: 16 Schalk Brits, 17 Richard Barrington, 18 Juan Figallo, 19 Nick Isiekwe, 20 Billy Vunipola, 21 Richard Wigglesworth, 22 Chris Wyles, 23 Marcelo Bosch.
Tries: Barritt 22', Taylor 27', Rhodes 51', Bosch 57', Barrington 72', Goode 79', Brits 80'
Conversions: Farrell 6/8
Penalties: Farrell 2/2
Yellow card: Itoje (40')
Att: 7,628
Referee: Ian Tempest (RFU)