RUGBY'S BACK!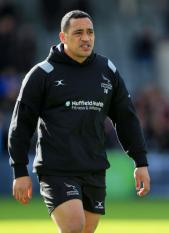 By Sara'sman
August 28 2018
In a moment of weakness having noticed that a fellow Tyke (albeit of Welsh rather than Cockney extract) was writing the match report, I foolishly offered to provide some ramblings about our opening game in the now Gallagher Premiership. With Newcastle hosting all 3 (post Brexit!) European finals a brace of victories on trips beyond the Tyne could bookend a rewarding season. I'm greedy though and hope for this followed by a couple more wins. I wonder if Newcastle would prefer to be aiming for a Challenge Cup final in their own city; in this sense at least perhaps their "rise" came a season too soon.
As the final Round 1 match and the first clash between two of 17/18s top four, the contest may provide some insight into two of the new season more intriguing questions: will Newcastle be capable of sustaining the outstanding results Dean Richard's side achieved in 17/18, and what of the Champions - are they improving further or are there signs of decline?
Watching either Leeds or Sarries I've visited Kingston Park more often than any other non-Saracens Premiership ground. If you've not made our longest journey then you're missing a gem. The welcome is as warm as you'll find and the stadium has accommodation for all-comers: a modern all seater West with excellent sight lines, an old fashioned East with clubhouse and mix of terraces and seats (sadly the jacuzzi has gone), a passionate and noisy covered South Terrace, and my favourite, the exposed, cheap North Terrace complete with arctic wind (but impressive plans to expand and enhance both capacity and facilities). And a pitch that mirrors our own 3G, though Geordie black replaces Allianz blue.
Whether solo or with friends I've shared many a beer with the home fans. It has helped that there have been plenty of ex-Sarries (Saul, Cato, Powell) or former Carnegie players to mull over. Two of the latter provide interesting material. Joel Hodgson went walkabout: Falcons and back via Saints and Leeds, never quite a 9 or a 10 until his return "home" where, under the tutelage of Dean Richards and the increasingly impressive Dave Walder, he has settled as a fine diminutive Fly Half (many on here had him as MoM in Falcons' defeat at AP in 16/17).
The second is Ryan Burrows, who thoroughly merited his selection at No. 8 in the 16/17 Championship Team of the Season and as one of three nominations for Championship Player of the Season. Despite several offers from Premiership clubs Ryan showed exceptional loyalty to Leeds during his 6 seasons, and was outstanding in so many of the matches in which he played. That he can't gain a place in the first choice XXIII at Newcastle highlights both the Falcons strength and the ever increasing gulf between the two Leagues, something we may well exploit in Round 2.
A tale (with poetic licence!) of a solo trip I made to KP around 4 years ago. I watched the game in the interesting company of a Falcons supporting Prop (temporarily exiled from the South Stand I recall) who played at a decent level and coached locally (Tynedale?) including Dean Richards' son. He had nothing but praise for the big man, his demeanour when watching his son train, his patience, his knowledge, his conversation and most of all what he was doing for Newcastle, faith that has been amply rewarded from promotion in 2013 steadily progressing to last years top 4 finish. Although he was expecting Sarries to win, he waxed lyrically about Sinoti's dancing feet (I'd already spotted him on TV but didn't dare mention this!) and explained that an on fire TH (Brookes) would demolish the "weak" Vunipola. I've never subscribed to the "Mako can't scrummage" brigade and confidently suggested that he would be proven wrong, that I would trust his judgement as to the "winner" and that post match the incorrect of we two should buy t'other a pint. At half time he asked what I'd like - Mako absolutely mullered his opponent.
Predicting teams in a new season is always difficult. I'm hoping to see the hypnotic feet of Sinoti, the bludgeoning pace of 2018 Premiership Player of the Season Goneva and the wise old head of Flood in a threatening Newcastle back line. Whether ex-Tyke Green can again disrupt our line-out, if fellow ex-Tiger Mulipola can continue to thrill around the park, and which of the excellent Wilson/Graham/Welch is the best flanker. The sad retirement of the promising Scott Wilson due to his neck injury, aged only 24, is yet another reminder of the dangers that every rugby player faces in their chosen profession. Very best wishes from us all Scott. A possible Falcons XV may be: Hammersley, Goneva, Williams, Matavesi, Sinoti, Flood, Young; Mavinga, Socino, Mulipola, Witty, Green, Wilson, Graham, Welch.
Unavailable for Sarries are Kruis, Clark, Berger, Vunipola B, Bosch and Williams, probably Conlon too and Figallo after his greatly improved 68 minute stint for the Pumas. Perhaps we'll start: Goode, Maitland, Taylor, Barritt, Lewington, Farrell, Spencer; Barrington, Tolofua, Koch, Skelton, Itoje, Rhodes, Earl, Wray, with a bench of George, Vunipola, Lamositele, Isiekwe, Vailanu; Wigglesworth, Lozowski and Strettle.
A repeat of the score (7-29) in the corresponding Round 3 fixture last year, played in a humid Land of Trumps would be very welcome, though I think the game will be close for a good hour. Can't wait!