Memoirs of the Frozen North - An Editor Writes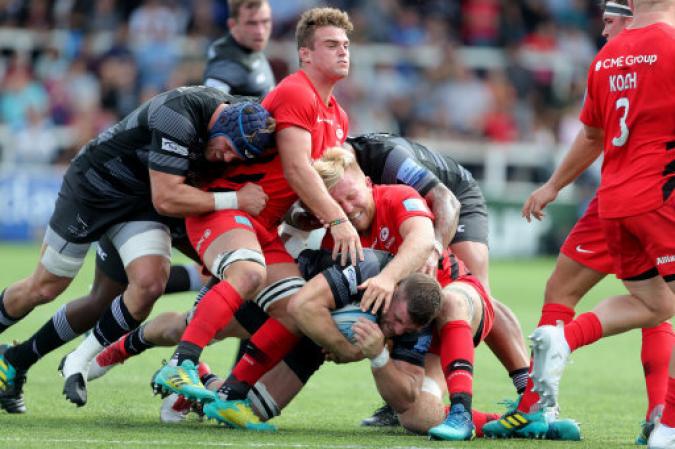 By TonyTaff
September 4 2018
Being exiled in the Frozen North, I await with bated breath the confirmation of Sarries away fixtures against Newcastle and Sale. The prospect of playing at Kingston Park before the permafrost had set in was enticing. (The point about permafrost is that it's permanent, so doesn't 'set in'. Ed) (You're fired, Ed) Are you talking to yourself?
Anyhoo, it turned out that the only affordable train to Newcastle left Leeds before any Sunday connecting services got into the regional metropolis, so I resolved to watch the match at home. Then, the offer of a ticket to a music festival arrived. Never one to turn down the opportunity for excess, your correspondent decided to go to the festival, watch the match on the phone, and then try to piece together an article...
... I trust that your expectations have been lowered!
There wasn't much background noise while the Dean interview was aired, but he was so dull that I recall not a word. Subsequently, Small came on, by which time a band was warming up. It went something like: "whisper, mumble, whisper, Ben Spencer, mumble, whisper, bug, whisper." Consultation of the new, improved, BT Sport app confirmed that Wiggy was going to start and that a bloke who is younger than my kids was on the bench. God, that makes me feel old!
The weather in West Yorkshire was balmy with a moderate easterly wind. According to the commentators, a veritable easterly gale was blowing at KP. Saracens were playing into the wind in the first half - in your correspondent's experience, the KP wind has a tendency to change ends at half-time! The match started with Falcons pressing Sarries and Goneva prominent, not for the last time; Alex Goode couldn't resist the temptation to kick the ball out of the ruck, Mr Tempest spotted it, and Toby Flood converted the penalty with the help of McGuigan's steadying finger. Sarries then lost a lineout which brought more pressure, numerous defenders strayed offside and Flood and his hooker repeated the act. 6-0 and it looked as if the champions were the ones playing in black!
A Sarries secondary shove generated a penalty for which Mr Tempest promptly blew, terminating a promising attack from the men-in-red; Faz added the three despite the efforts of the home wind. 6-3.
Then, the player-formerly-known-as- Big-Will broke the line, Loz relieved him of the onus of running 60 metres, the ball gets recycled and Jamie George shows Stretts how to finish off a try with the hapless youthful debutant, name, steamrolled. The touchline conversion was nailed by the golden-boot holder. 6-10. Falcons' discipline now deserted them, and Sarries enjoyed a period of dominance.
Faz tried a drop goal which missed and Goneva feinted to touch down. He then jogged to the 22 before setting off to run to the Sarries' line. Mr Tempest was having none of this. This then triggered a quasi-philosophical debate in the commentary box, however, Al Eykin didn't have the help of Wittgenstein or Russell, he had to make do with Dallaglio and Monye!
Mr Tempest was quickly back in the home crowd's bad books when penalising the Newcastle scrum and delivering a school-masterly lecture to Will Welch on the subject of driving straight. Mr Tempest then started to penalise the visitors, though it didn't seem to endear him to many of the crowd! Eventually, Falcons opted to kick for goal and Flood, again aided by his No 2, kicked the goal. 9-10.
Alex Goode equalled Kevin Sorrell's record for Saracens caps in this game, but it wasn't to be his best performance. Ben Earl, however, was making number of telling interventions and looks to be a great prospect. One such break, just before half-time, went through a number of pairs of hands and ended with Lewington, on for the injured Maitland, touching down under the sticks. Farrell converted. HT 9-17.
Barely had the second half started, and Strettle was off for a HIA. He was not to return. Enter Tompkins for a rare Premiership appearance. With both wings crocked, Lozowski moved out.
At a breakdown, Will Skelton failed to roll and Mr Tempest blew. Then Goneva dived in violently, but Mr Tempest merely reversed the penalty, with no card brandished. Perhaps the home team were in credit with sir by now.
On 51 minutes Sarries replaced both props and the revitalised Skelton. Rather less planned was the replacement of Brad Barritt by the replacement scrum-half, Tom Whiteley. The Sarries backline now had a most unusual look about it. Little did we guess what was to happen to it as the match rolled on.
On 55 minutes, Mark Wilson burst from a breakdown to score, but Flood missed with the kick. 14-17. Alex Sanderson was none too pleased with this defending. Shortly after, Sarries were attacking when Farrell spotted an opening on the blind side to put Lewington for a brace. Farrell hurried and missed the kick. 14-22.
Next up, Nick Tomkins charged forward into Toby Flood with his forearm raised. The crowd bayed. Endless replays shown on the big screen served to raise the level of indignation of the home fans, but when the card came, it was yellow. Mr Tempest had once again found leniency, but this was to be a decision with consequences. As Brad Barritt was now ready to return from his HIA evaluation, the commentators were in some confusion as to who was actually on the park for Sarries. Your correspondent thinks that it was a simple reversal - Barritt for Whiteley.
Sarries now brought their 14-man game to bear to considerable effect. However, eventually, The Falcons fullback made a telling break to the Sarries 22, where Alex Goode stemmed the tide illegally and was justly sent to the bin also. Kick for touch and an excellent driving maul gave Wilson his second try and Flood kicked from the touchline. Perhaps the wind had dropped? 21-22.
The 13-man routine hadn't worked but Tomkins now returned and the 14-man game sparked into life. Jamie George broke a tackle and trundled to within inches of the line. The ball was recycled, a falling Barritt was just short when he flung the ball out. The recently rested Tomkins was on hand to gather and dot down. Farrell converted and now teh hosts were two scores back. 21-29.
Chipi had gone off crocked, so Koch returned. The scrum improved. The final act was a scrum penalty to Sarries which Farrell dawdled over but converted. 21-32.
The score flatters Sarries. Newcastle are impressive opponents and will take some scalps. Who knows how important the bonus point will be? Can the level of penalties conceded possibly be sustainable. Where will Sarries get some tightheads from? More questions than answers!
NEWCASTLE FALCONS:
Hammersley, Goneva, Harris, Matavesi, Radwan (Tait), Flood (Hodgson), Takulua, Mavinga (Brocklebank), McGuigan (Socino), Mulipola (Payne), Green, Witty (Cavubati), Wilson, Welch, Chick (Graham)
SARACENS
Goode, Strettle (Tompkins), Lozowski, Barritt (Whiteley HIA), Maitland (Lewington), Farrell, Wigglesworth, M Vunipola (Barrington), George (Tolofua), Koch (Figallo), Itoje, Skelton (Isiekwe), Rhodes (Vailanu), Earl, Wray
NEWCASTLE (21) Tries: Wilson (2) Conv: Flood; Pen: Flood (3)
SARACENS (32) Tries: George, Lewington (2), Tompkins; Conv: Farrell (3); Pen: Farrell (2)
Yellow cards: Tompkins, Goode
Attendance: 7015
Referee: Ian Tempest
View a Printer Friendly version of this Story.
Memoirs of the Frozen North - An Editor Writes
Discussion started by TheSaracens.com , 04/09/2018 20:16
TheSaracens.com
04/09/2018 20:16
Thanks TT - I particularly loved the way this report arrived in short episodes!
Just goes to show the lengths your Eds will go to, to get a match report done!



Edited 2 time(s). Last edit at 2018:09:13:12:08:51 by Darraghgirl.
Sara'sman
04/09/2018 21:29
"This then triggered a quasi-philosophical debate in the commentary box, however, Al Eykin didn't have the help of Wittgenstein or Russell, he had to make do with Dallaglio and Monye!". Brilliant!

If you'd ventured 10 miles across the Wharfe to the posher realm of North Yorkshire TT my jalopy, as Ms Chase used to say, would have happily wafted you off to paradise/KP.
Impressive account given a small screen at a loud festival!
TonyTaff
08/09/2018 08:19
Quote:

Sully08
Impressive account given a small screen at a loud festival!
During the second half, I had to endure a band that made Nickelback seem tuneful. The alternative was to listen to the witless Monye and Dayglo! The beer was sh!te too!
£721.05 (*) donated to the Saracens Foundation due to visits to the Sarries frontpage [
www.rugbynetwork.net
]
Please read and submit articles for publication. (*) As at October 31, 2018.
So you had a good time then, TT?

Successful hills are here to stay
Everything must be this way
Gentle streets where people play
Welcome to the Soft Parade
Sorry, only registered users may post in this forum.