THE BEAR NECESSITIES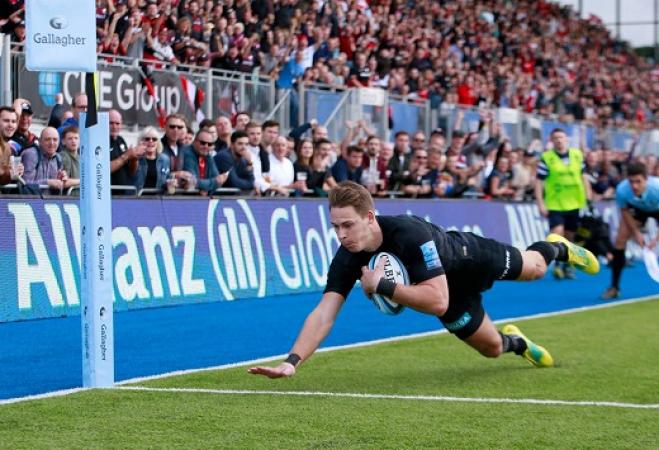 By JO'G
September 10 2018
It was an odd first home game; I've been so used to starting at the double header with it often being until the end of September before a visit to Watford or Azp. I was also fearing the worst on my new seat; I went straight to it to see that the view was pretty similar and only 18 seats away from my old one. Just outside the 22 from just inside the ten yard line. As the crowd filled up, the number of familiar faces, all waving was reassuring. Not sure about the fireworks as Sarries came to the pitch though; should only be for the European matches. It was an overcast day but still warm enough to wear a short sleeved shirt. It was windy though and it looked as if Bristol would have the advantage in the first half.
Sarries started brightly, taking the ball through Vailanu who spent most of the first half taking the ball with a boom at the Bristol defenders. It wasn't long before a couple of passages of play took Sarries into the Bristol 22; quite some achievement given the breeze. I noticed that the Sarries tactics were on each forward carry to angle the drive back towards the last breakdown; making it easy to clear players out, but also to draw the Bristol defenders in to the centre of the pitch. After about five carries, the ball was switched wide where there was a 4-2 advantage. A long pass by Farrell (anything Cippers can do) to Goode committed the last man and Gallagher had an easy run in.
It seemed to be an easy start, made worst for Bristol by kicking the restart dead and being penalised from the scrum. In fact Bristol had a bad game at the scrum, being under pressure at their own ball and giving away I think 4 penalties. Sarries kicked for the corner and looked as if the second try was on, before Vailanu ran away from his support and was turned over. The stiff breeze enabled Bristol to get into the Sarries half easily and Sheedy made an excellent chip just over Lewington's hands to fall into Leiua's hands for a walk in to the corner. Generous applause from the home supporters for a good piece of skill; but at 7-7 we suddenly had a game.
Vailanu's forceful running had suddenly turned from a strong bonus to a liability as each Sarries advance up field suddenly became a Smith masterclass in turnover demonstration. I was expecting after watching the Bris-Bath game last week for Sarries defence to crush the visitors' adventure, but after a few moves from side to side, the booming boot became yards. Goode was able to kick or run back quite easily but always losing 20 yards each time. Two simple penalties were given away around the halfway line, but Sheedy found it well within his range with the helpful wind. Suddenly Sarries were 7-13 down.
Although it seemed Bristol were in charge, that wasn't the full story as Sarries made fairly easy yards with ball in hand and used the breeze to collect kick returns. Bristol struggled in the scrum and lost a couple of lineouts. It was at the breakdown though that Bristol and Smith were winning the game. After a dozen phases of fairly easy yards there was a turnover to put Sarries back in their own 22. I never felt though that Saracens were in danger of losing; it was just harder work than it needed to be. Finally they put enough phases together to win a kickable penalty and Faz slotted it over.
Shortly afterwards a period of sustained pressure in the 22 gave Sarries the equalling score just before half-time, although to be fair they should have scored. Unfortunately, from the kick-off Vailanu dropped the ball and a scrum ensued. Bristol took a lot of pressure at the scrum, but got the ball to their backs with an overlap and span the ball wide where Leiua ran outside of Goode facing an impossible 2-1. The conversion from the touchline missed and it was 13-18. Something needed to be addressed from the management team at half time.
Sarries came out strongly with the wind behind them and Bristol were unable to clear their lines. There was a clear change of tactics with ball in hand, not trying to go too deep but keeping the runner within easy reach of the clearout players. Bristol struggled to get any turnover ball in the second half and within five minutes in a move very similar to the first try keeping the ball in the middle of the field, there was an initial break left and then the switch right led to an easy run-in the corner for Lewington. His third of the season.
Five minutes later came the deciding point of the game; Wray took a good pass off Goode and was progressing towards the try line when George Smith came in to make a tackle. There had been a similar almost no-arms tackle in the first half which had gone unnoticed by the officials and this looked much the same. The difference here was that Jackson Wray's head resembled a crash dummy and he dropped the ball on impact. It sort of looked like a clash of heads; but you can't make a tackle by just standing in someone's way. Actually the officials didn't seem interested in the whole thing, going back for the knock-on.
However the baying home crowd (who had seen the replay on the big screen twice) and potentially the TMO made the referee look again. I'm still not sure, because the big screen at the far end of the ground is a bit smaller this year and not so easy to make out details. The effect on Jackson's head though (he went off to be replaced by big Will) could not disguise that something made contact and it appeared to be Smith's shoulder. He was given a red card, which may seem harsh, but it did tick all the red card boxes. Shoulder too high, player hit on the head, goes off the pitch as was knocked slightly unconscious.
Bristol were hit hard as Smith was one of their best players; in the next ten minutes the game was lost to them. Sarries had a scrum and Billy V; now returned from injury picked up off the base. He had an interesting tactic as he approached the line, deliberately picking out a defender and running straight at him. As he hit, he rolled and dropped over the line for a try. A few minutes later Liam Williams, another returning from injury was given space on the right and he made no mistake. Lewington was possibly miffed, as he probably expected Gallagher to make way. It was 30-18
As is normal after the fourth try being scored, Sarries seemed to switch into defensive mode and invited Bristol to attack them. They made good work of it, getting close to the line and seemingly over, but the TMO judged them to be short. Sarries then effectively turned over the five yard scrum and suddenly were back on halfway. Bristol though kept trying, but it was Sarries who scored after almost all the substitutes were on the pitch. There was a penalty and a kick to the corner. The maul progressed well, Billy drove on almost to the line, but the slight figure of Liam Williams dived over to ground on the line. The TMO took some time to confirm this and Faz converted.
Despite Bristol being out of touch now they didn't give up and a nice chip and chase from just outside the 22 looked doomed, but the perseverance and good footballing skills of a forward Haining who kicked on twice under control to crash over. It was Bristol's last score and with the game nearly over, Sarries seemed galvanised to get to fifty. First of all there was a training ground move, with a breakdown on the left. Wiggy ran forward and pulled in the cover before passing almost backwards to Faz. He chipped right to the corner flag where there was no cover and Liam Williams collected his easiest ever hat-trick. From the kick-off Rhodes collected and broke free but Sarries were unable to take advantage
I was very impressed with Bristol; it seems unlikely that they will go down and I'm not sure I fancy the return visit to Ashton Gate if Sir Charles is back from injury. They won't lose anyone to international appearances and Worcester look under pressure already
Saracens: Goode; Gallagher, Lozowski, Barritt (capt), Lewington; Farrell, Spencer; M Vunipola, George, Koch, Itoje, Isiekwe, Rhodes, Wray, Vailanu.
Replacements: Tolofua, Barrington, Lamositele, Skelton, B Vunipola, Wigglesworth, Tompkins, Williams.

Bristol Bears: O'Conor; Morahan, Hurrell, S Piutau, Leiua; Sheedy, Uren; Lay, Thacker, Thiede, Holmes, Latta, Luatua (capt), Smith, Lam.
Replacements: Malton, Woolmore, Afoa, Joyce, Haining, Randall, Madigan, Pincus.
SCORERS
Saracens (44): Tries: Gallagher, Lewington, Vunipola, Williams (3); Conv: Farrell (4); Pen: Farrell (2)
Bristol Bears (23): Tries Leiua (2), Haining; Conv: Sheedy; Pen: Sheedy (2)
Red Card: George Smith
Attendance: 8,736
Referee: Andrew Jackson
View a Printer Friendly version of this Story.
THE BEAR NECESSITIES
Discussion started by TheSaracens.com , 10/09/2018 12:47
TheSaracens.com
10/09/2018 12:47
Thanks as always Jeremy
The cupboard is bare for next week against the Old Enemy
It's not on TV so PLEASE is there anyone going to the Gardens who could do a report?
And anyone who could offer a preview?



Edited 2 time(s). Last edit at 2018:09:17:22:49:01 by Darraghgirl.
Colonel1960
10/09/2018 12:54
Lol, very biased, but not a mention of the thuggery from Skelton on Hurrell on 52 mins, that was far far worse than the Smith incident. All officials colluded to miss it mind...
missed by the reporter too; but I find I have one eye when I'm doing a report

to be honest, I would have given Smith a yellow.
Darraghgirl
10/09/2018 22:29
Flats said it was a definite red on TV tonight!
TonyTaff
11/09/2018 08:44
The TMO DID get involved, and I agree that it did constitute a red, for the first two criteria mentioned - I don't like outcome being used as a criterion as a) it can be arbitrary, and b) it will encourage the feigning of injury.
Something has to be done about the TMO/Ref consultation being conducted while replays are displayed on the big screen - this encourages the home crowd to get worked up (we were on the receiving end in week 1). It is tantamount to throwing the officials to the lions in the colosseum!
I would go to the American Football approach, where an official consults the replays on a pitchside screen (or perhaps, these days, a tablet brought onto the pitch). By all means, put the conversation on reflink, but leave the officials to make their decisions in peace. Only then does the TMO decide which images, if any, can be released to the big screen.
£721.05 (*) donated to the Saracens Foundation due to visits to the Sarries frontpage [
www.rugbynetwork.net
]
Please read and submit articles for publication. (*) As at October 31, 2018.
Quote:

Darraghgirl
Flats said it was a definite red on TV tonight!
On flats and thanks he said that tv asked him for an opinion and he said on what he had seen it was not a red. Then the tv showed him the view from behind the posts not shown on the big screen or on tv
Having seen that it was an easy choice for a red he said but he understood why it wasn't being shown on tv
I suspect it will find it's way on utube eventually
Sorry, are you talking about the Smith or Skelton incident?

Successful hills are here to stay
Everything must be this way
Gentle streets where people play
Welcome to the Soft Parade
SarrieSaint
11/09/2018 20:41
Excellent report and reflects well the game I watched with one exception.
"Vailanuís forceful running had suddenly turned from a strong bonus to a liability"
I've watched the game a couple of times now and I agree in as far as we were conceding penalties but the issue lay mainly with his support (or lack of it) and their slow reactions and poor decision-making which was an issue throughout with Mako (twice) and Isiekwe also getting turned over. Unless he has been told not to break from the back of the scrum or from a set move at the lineout then he was doing absolutely the right thing. making hard yards and committing defence. It's the responsibility of his teammates to support and through the first half they didn't do that quickly or efficiently enough unfortunately.

I think Northamptons backrow is poorly balanced but with Brusscow, Harrison and even Haskell they will have numerous jackal options if Sarries don't support and clear properly.
WimbledonBris
12/09/2018 00:04
For anyone interested, Smiths red card for a dangerous tackle was dismissed by the disciplinary panel and he is free to play again straight away.
TonyTaff
13/09/2018 17:31
No doubt, there will be a link to the RFU report of the findings shortly!
£721.05 (*) donated to the Saracens Foundation due to visits to the Sarries frontpage [
www.rugbynetwork.net
]
Please read and submit articles for publication. (*) As at October 31, 2018.
Sorry, only registered users may post in this forum.