THE OTHER MATCH REPORT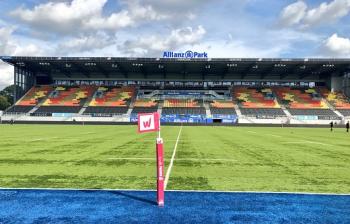 By Dynodragon
September 16 2018
New season, new hope. Saracens faced the team they scored a bucket load of points against last year, a real eye opener to how both teams have progressed. Sarries with their usual powerful team chocked full of internationals and young guns determined to continue their unbeaten start to the season.
Sarries dominated the territory and possession to start the game but could not make great inroads against a robust and organised defence meant the first 30 minutes went scoreless, eh you sure I know your thinking right now. Oh this is the match report of Saracens Women's team against Worcester at Allianz. Was it not obvious?

Whilst scoreless Saracens turned down a penalty straight in front 20m out to kick for the corner which shows the mindset of this team but they lacked execution to make the opposition pay but on the half hour the Sarries scrum finally got on top and the match changed when Poppy Cleall powered over from a couple of metres out. From the resulting restart quick hands fed Marlie Packer to burst through the unorganised defence and Sarries were off again. The best move of the game came when captain Lotto Clapp beat several tacklers on a 50m run and a couple of phases later Poppy made use of the overlap to go over again. Another try from Packer and Sarries went in 19-0 up.

The second half started with a quick Sarries try to put the match out of Worcester's reach and Poppy collected her hat-trick (The back row accounted for at least 35 tries last season, so Billy and the boys have some catching up to do) t the usual raft of changes. Worcester scored a consolation try went Saracens ruck defence went missing a couple of metres out, sound familiar? The final score was Sarries 43 Worcester 7.

A couple of incidents tell of the players own disappointment at their performance not quite being what they hoped for, one when Packer before a scrum used a few choice words to indicate to her fellow forwards that improvements were needed and another 12 minutes from time that they should aim for 3 more tries, they got 1. But BP achieved so onto the next game.

Worcester have a reputation for being tougher than their record suggests and this was definitely shown, there is no relegation for the next 2 years and they must used this time to improve their attack as it's too slow and predictable.

The match day experience wasn't great unfortunately, Sarries have announced that they will be increasing the profile of the Women's team this year and there is a great deal of work to be done. No screen, malfunctioning PA system meant we were unsure of the teams lineup's before the game and that Worcester had a played sin binned until halftime, no music. Obviously with a crowd of only about 200 economic factors apply but with unrestricted seating come and enjoy the premium seating you used to view from with the men's game.
SARACENS: McKenna, Lingham, Cattell, Casey, Clapp, Vistisen, Gulliver; Perry, Evans, Botherman, Green, Stodter, B Cleall, Packer, P Cleall. Subs: Rettie, Duffy, Searchy, Newman, Swords, White, Wardle
WORCESTER: Laflin, L Thompson, Varley, Hart, T Thompson, Scholes, Bradley; Leatherland, Davies, English, McGuire, Snead, Thomas, O'Donnell, Bennion. Subs: Gondwe, Ferguson, Churm, McBrien, Davey, Bradshaw, Bailey
SARACENS WOMEN 43: Tries: P Cleall (3), Packer, Cattell, Lingham, Vistisen Conv Cattell (4)
WORCESTER VALKYRIES 7 Try O'Donnell; Conv: Scholes