A WIN IS A WIN IS A WIN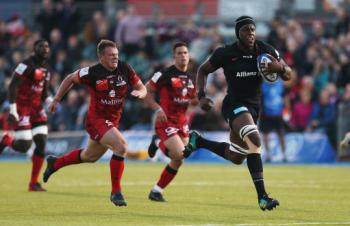 By King Zak
October 21 2018
After the previous games against Harlequins and Glasgow, this was a much tamer affair, allowing for the occasional bit of running rugby to make an appearance. Unfortunately for both sides, this frequently ended in a handling error or taking the wrong option.
The loss of the Vunipola brothers obviously has a huge impact on how Saracens play and their effectiveness. As BT Rugby Tonight highlighted; win ratio with Billy, 91%; without him, 68%. We should perhaps expect something slightly less dominating and controlled than we are used to. That was very much the way Saracens played, seemingly choosing to fling the ball wide at every possible opportunity, often with limited accuracy.
Lyon, for all that was said in the build-up about missing players and potential 'lack of interest' following defeat at home by Cardiff Blues the previous week, certainly didn't lack for commitment in defence but seemed limited in attack, save for Saracens former nemesis Rudi Wulf.
Farrell had given Sarries the early lead with a simple penalty and it was perhaps no surprise that the first try of the afternoon came from a turnover. The fact that it was Itoje who effected said turnover again should be no surprise, the pace he showed to out sprint the entire Lyon backline from inside his own half certainly was. As he hurtled towards the try line, I was reminded of that wonderful comment by the late, great, Bill McLaren (famously describing Doddie Weir on the rampage), "he's like a runaway giraffe". All arms and legs pumping, he gleefully dived to score under the posts. I was expecting some elaborate celebration following last week's in Glasgow, but I think he may have been a bit out of breath! Farrell added the simple conversion for a 10 - 0 lead.
The second try was, again, not without its good fortune from a Saracens perspective. Spotting space behind the Lyon backs, Goode chipped through perfectly from just outside the Lyon 22m line towards the left-hand corner. Jamie George went hurtling after it (more rhino than giraffe). Doussain had seen the danger and responded well to get across and cover the bobbling ball. I suspect he was slightly distracted by George powering towards him and fumbled the ball in an attempt to pick it up. It fell invitingly for the on-rushing Maitland to pick up and fall over the line. Another Farrell conversion and Sarries were ahead 17 - 0, without ever getting out of second gear.
Lyon got on the scoreboard with a penalty from Beauxis on the half hour, and although there was a lot of 'huff and puff', the game never properly burst into life. The one area of concern for Saracens during the first half was their scrum. They were consistently under pressure on their own ball and it's credit to Jackson Wray that he was able to somehow get the ball away safely - sort of! Whilst the passing and ball retention had left something to be desired, the kicking out of hand by Farrell was of the highest class. His ability to gain field position and territory must be deflating for the opposition and a real boost to his own set of forwards. He frequently put penalties from the halfway line to within 5 metres of the opposition try line. As with the previous week though, the inability to convert this excellent position into tries must be a growing concern.
From the restart, spotting three defenders in the backfield for Lyon, Farrell chose to run from deep. Quick, accurate, passing found space for Maitland on the left wing, still inside his own 22. His burst of acceleration took him to halfway where he kicked ahead. It was a perfectly weighted kick and it was all Buttin could do to carry the ball over his own line and concede a 5m scrum. Given the problems Sarries were having at scrum time, it was possibly a better option than running into touch for a line out. Unfortunately for Lyon, a penalty infringement then gave Sarries the opportunity to set up a 5m line out. As we often see, the backs joined the ensuing maul and Brad 'Iron Man' Barritt was driven over for the try. It was interesting that referee George Clancy chose to ask the TMO "any reason I can't award the try?". Had he asked, "try, yes or no?", it would not have been awarded as there was no TV evidence of a grounding. Farrell again added the conversion; 24 - 3, 35 minutes to go, sit back and wait for the bonus point try. However, the lack of accuracy that marred the first half, continued in the second.
The game followed the same pattern, Sarries playing deep in Lyon territory, yet rarely looking like scoring. The closest they came to creating a try was when Toby Arnold hacked though a misplaced Farrell pass. As he chased his own kick downfield, the 'stupid shaped ball' decided to bounce back over his head, allowing the retreating Goode to make the tackle. It was a fortunate bounce for Saracens who have made a habit of creating tries for the opposition in recent weeks.
Lyon did however get their try after 68 minutes. A quick tap-penalty from scrum half Doussain enabled replacement hooker Lacombe to burrow his way over from close range. Beauxis slotted the simple conversion and, with 12 minutes remaining, Lyon were somehow within two scores. Another Lyon score now would have certainly led to a very nervous last few minutes.
A couple of bonus point try opportunities came and went for Saracens. Firstly, the 'Giraffe' was on the rampage again, morphing into the Rhino as he bulldozed his way through the Lyon defence. His inside pass found Farrell who looked likely to score but was well tackled and lost the ball forward.
Then, replacement wing Lewington, on for the impressive Maitland, looked like he may have created the fourth try, but his attempted pass inside to Wigglesworth went several feet forward. I was somewhat surprised that Clancy didn't go back to this forward pass as Lyon attempted to run the ball from their own 22, eventually resulting in a knock on. He didn't, Sarries were awarded the scrum and a sweeping move off first phase saw Farrell put Lewington into space as the winger ran diagonally across field. He simply went flat out for the right corner and just managed to beat the defender to score the bonus point try. Farrell missed the conversion, but it was job done, 29 - 10, 5 match points!
The final action probably summed up the game. Seguret made a fabulous line break and as replacement scrum half Delord ran in to score, he inexplicably chose to kick to the left wing towards Cretin, when just 10 metres from the try line. Once again, the bouncing ball eluded the Lyon man and Sarries were able to avert the danger.
All in all, not a game that will live long in the memory. There were some typical line breaks from Goode, weaving his magic through a congested defence and Liam Williams aerial ability is certainly 'something special'. I can't recall seeing any Saracens player so dominating of the high ball - simply outstanding. Maro was his 'annoying' best and I thought he was in line for another MoM award. This honour went to 'Captain Fantastic', Brad Barritt. I think it was quite fitting that in a game that never really fulfilled its promise, someone as resolutely solid and reliable as Brad, without ever appearing to do the 'flashy' stuff, should be given the award.
Many of the players can now look forward to a few weeks off to rest and recover. For those going on international duty, no such luxury - please all come back safe and sound!
Saracens: 15 Alex Goode, 14 Liam Williams, 13 Nick Tompkins, 12, Brad Barritt (c), 11 Sean Maitland, 10 Owen Farrell, 9 Ben Spencer:
1 Richard Barrington, 2 Jamie George, 3 Vincent Koch, 4 Will Skelton, 5 George Kruis, 6 Maro Itoje, 7 Michael Rhodes, 8 Jackson Wray
Replacements: 16 Christopher Tolofua, 17 Hayden Thompson-Stringer, 18 Titi Lamositele, 19 Ben Earle, 20 Schalk Burger, 21 Richard Wigglesworth, 22 Marcelo Bosch, 23 Alex Lewington
Lyon: 15 Jean-Marcellin Buttin, 14 Toby Arnold, 13 Rudi Wulf, 12 Adrien Seguret, 11 Alexis Palisson, 10 Lionel Beauxis, 9 Jean-Marc Doussain:
1 Hamza Kaabeche, 2 Jeremie Maurouard, 3 Clement Ric, 4 Felix Lambey, 5 Etienne Oosthuizen, 6 Dylan Cretin, 7 Patrick Sobela, 8 Deon Fourie
Replacements: 16 Virgile Lacombe, 17 Albertus Buckle, 18 Richard Choirat, 19 Francois van der Merwe, 20 Carl Fearns, 21 Pierre-Louis Barassi, 22 Xavier Mignot, 23 Quentin Delord
SARACENS (29) Tries: Itoje, Maitland, Barritt, Lewington; Conv: Farrell (3); Pen Farrell
LYON (10) Try: Lacombe; Conv: Beauxis; Pen: Beauxis
Att: 10,000
Referee: George Clancy