TIGERS LOCO - BEATEN BY KPOKU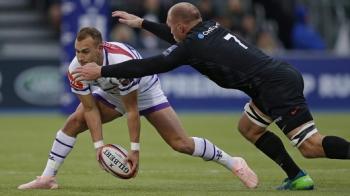 By Barty II
October 29 2018
Sorry this review is late but it's taken me three days to write that pun. Some concerns about our lack of available players during the international break may be put to bed this week, after a number of our young guns impressed in a tight victory over Leicester on Saturday. To be honest, it was pretty scrappy and neither team really had much rhythm battling a cold, swirly wind, so full credit to the boys who battled for a full 80 minutes. As a summary, I brought a mate to the game who'd never watched a live rugby match in his life, and by the end of the game he was pretty much an expert in how to force a penalty for holding on to the ball in a ruck. All the forwards were excellent – Woolstencroft, Burger and Kpoku particularly successful in disrupting the breakdown and stopping the Tigers momentum.
Leicester got the first points on the board with a Joe Ford penalty, but a team effort from the pack saw Sarries respond almost immediately. Solid work from Joel Kpoku on the ground led to a penalty which Malins dispatched into the Leicester 22. Woolstencroft's first meaningful line-out was accurate in the tricky wind, as it was all day, and a long driving maul crept towards the line with Schalk Burger stretching to dot down. Conversion missed by Malins.
The rest of the first half was disrupted by several handling errors. A good break from deep at full back by Matt Gallagher came to nothing, before Leicester's danger-man Telusa Veainu was forced off with what looked like an ankle injury. Sarries conceded a scrum penalty which was dispatched by Ford and Leicester now led 6-5 with a quarter of the game gone. The restart was knocked on, and from the scrum the ball was worked out to Obatoyinbo, showing an excellent turn of pace as one of a number of debutants. He was brought down five metres out, and Leicester's defence held firm against a barrage from the forwards, the ball eventually being knocked on. Shortly after though, Leicester were guilty of not rolling away in the tackle and Malins straightforward penalty regained the lead for the Men in Black.
Three times more Sarries threatened a breakaway try. First Sione Vailanu showed his attacking potential, breaking a tackle sprinting at least 20 metres before offloading to Whiteley, but the lack of further support led to a Leicester penalty. Ali Crossdale picked a gap to sprint half the length of the pitch but was forced into touch by the covering defence – he's got some serious gas and could be a good prospect if he can bulk up a bit! It was then Titi Lamositele's turn to pick a great line and smash his way into the 22, but again the Leicester defence turned the ball over. In between all this, Ford had notched another 3 points and the lead changed hands once again.
However, on the stroke of half time, another pinpoint Woolstencroft line-out was dropped into the hands of Vailanu, who fooled everyone with a show-and-go and had a clear run to the line from 10 metres out. Another missed conversion, but at the break we now led 13-9, and would play the second half with the wind in our favour.
For a third time, a penalty for holding on was dispatched to the corner, and a Woolstencroft line-out found its man. Phases of patient build-up followed, and despite Whiteley firing a pass a good five metres away from a player on either team, the ball was eventually worked under the posts, where Joel Kpoku showed his strength to bulldoze through for a debut try. A moment of magic almost followed – with a penalty advantage, Malins kicked high to the corner, and Elliot Obatoyinbo leaped high above Jonah Holmes to catch, and toppled over just short of the line before scrambling over. The TMO was called, some were baying for a penalty try for Holmes' presence causing Obatoyinbo an awkward landing. Would have been very harsh as Holmes would have needed to evaporate to avoid the flying winger. As I was in the stands I didn't hear the referee's judgement, but probably a combination of a slight knock-on and a second movement to get to the line resulted in no try, but the penalty advantage brought a further three points.
That was to be Elliot's last action, as the bench was emptied, Henry Taylor coming on for him and Whiteley interestingly moving to the wing. The front row was also replaced, but Joe Gray only lasted two minutes before failing an HIA. Taylor made an immediate impact in both attack and defence, pressure from a delicate chip forward led to another penalty conversion, before an outstanding try saving effort to place himself under the ball and prevent it being dotted down over the line on the hour mark.
The next fifteen minutes were all about keeping the Tigers at bay. The excellent but exhausted Kpoku and Vailanu were replaced, but prop David Feao scored a close range converted try to reduce the gap. A bit of handbags followed, Tigers obviously have a long memory as Calum Clark's mere presence on the pitch was enough to cause some aggro. Clark himself would likely admit that it's fair enough though… Up the other end, another holding-on penalty, this time good work from the aforementioned 'pure evil' as he seems to be known on the Tigers board, gave us some breathing space. Tigers responded quickly though, and a penalty was kicked to the corner before Harry Wells squeezed in for a try on the touch line. Conversion missed and the score 29-21 with ten to go.
Sarries defence held firm, and in all honesty we probably should have got a fourth try for a bonus point. A big hit from the combination of Ralph Adams-Hale and Jack Nay turned the ball over when pressure was on, before Matt Gallagher's long range boot led to a line-out inside the Tigers 22. This came to nothing but a penalty was won on the opposite side. However, from feet away from the touchline, Max Malins somehow managed to skew the ball behind the dead ball line instead of for a 5-metre lineout.
In truth, the half-back pair of Whiteley and Malins didn't have their best game, but there was plenty to be encouraged by. Although not mentioned in any of the key moments, Dominic Morris had a solid game at 12, and the entire pack was outstanding in engineering three tries and regular turnovers. Both teams showed they have a number of emerging talents for a future England boss to keep an eye on, and several players showed they'll be able deputies while the internationals are away.
Final Score: Sarries 29 – 21 Leicester
Saracens Team:
15 Matt Gallagher; 14 Ali Crossdale; 13 Marcelo Bosch; 12 Dom Morris; 11 Elliott Obatoyinbo(Taylor 53'); 10 Max Malins; 9 Tom Whiteley (c) 1 Hayden Thompson-Stringer(Adams-Hale 53'); 2 Tom Woolstencroft(Gray 53'-55');3 Titi Lamositele(Judge 53'); 4 Dom Day; 5 Joel Kpoku(Nay 64'); 6 Calum Clark; 7 Schalk Burger; 8 Sione Vailanu(Reffell64')
Replacements; 16 Joe Gray; 17 Ralph Adams-Hale;18 Christian Judge; 19 Jack Nay; 20 Sean Reffell; 21 Andy Christie; 22 Henry Taylor;23 Reuben Bird-Tulloch
Leicester; 15 George Worth; 14 Telusa Veainu(Holmes 15'); 13 Matt Smith(Owen 71')'); 12 Tom Hardwick; 11 Jordan Olowofela;10 Joe Ford; 9 Ben White (c); 1 David Feao(Ma'afu 41'-46');2 Jake Kerr (Polota-Nau 71');3 Joe Heyes(Gigena 64');4 Cameron Jordan; 5 Harry Wells; 6 Sam Lewis( Tuilagi 64'); 7 Tommy Reffell; 8 Thom Smith (Mapapalangi 60')i
Replacements 16 Tatafu Polota-Nau ; 17 Campese Ma'afu; 18 Facundo Gigena; 19 Valentino Mapapalangi; 20 Fred Tuilagi; 21 Felipe Ezcurra; 22 Gareth Owen;23 Jonah Holmes.
SCORERS:
Saracens (29) tries: Burger, Vailanu, Kpoku; Conv: Malins; Pen: Malins (4)
Leicester Tigers (21) tries: Feao, Wells; Conv: Ford; Pen: Ford (3)
Referee: Christophe Ridley