SQUEAKY BUM TIME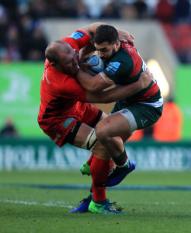 By JO'G
November 26 2018
Woke on Sunday with a bad back; keen still to get to the game, but with it on TV decided to be sensible. Still looked like a cracker with both sides losing a few players to International duty; Sarries with a few more injuries though. With Lozowski returned to us there were only 17 Sarries players unavailable for the game.
The game started all Leicester; agressive up front and keen to run the ball. A good first set of possession from the kick-off around 20 phases in all before Tiggers got a penalty in front. They did little with the advantage before coming back for the 3 points.
Sarries got the ball back from the kickoff but got turned over by Bateman; the first of two decent turnovers in the first half well inside the 22. However Leicester were unable to do much with the ball Saracens defence being strong on all fronts. A nice turnover by Wray got the ball moving but when another ruck came in the Tiggers winger used his feet well to hook the ball back; back and sideways, but still back. As the attack looked certain to succeed, a great initial tackle by Malins and then Lozowski got under the ball to deny the try. It went to Rose as TMO and he judged it was short. From the 5 yard scrum the ball stayed in the Sarries half until Tiggers looked certain to score with a 2 on 1 on the outside. There was a great tackle from Lozowski, then in the ruck, Owen picked from the middle, without regaining his feet fully. Sarries were able to kick clear as a penalty was awarded. Made me laugh that Healey said it was just a tackle not a ruck so should have been allowed, with around five players over the ball.
Sarries worked their way with another penalty into the tiggers 22, but again were turned over. And as Leicester again worked their way forward, looked dangerous. With men outside Ford kicked through, the ball got a deflection, bobbled up into Spencer's hands and he ran 60 yards to score. A good conversion to make it 3-7. Then Malins gets involved, Brad feeds him into a hole. Slips a tackle and accelerates and then lines up a pass to Lozowski. It gets closed down and Malins steps back the other way. Surrounded by 5 defenders he pulls back and throws a 30 foot pass to the other wing and Lewington walks in; 3-14. A few minutes later Sarries get the ball back and move along the line; the defenders are pinned giving Lozowski a run round the outside. He skates round as good as Strettle to score under the posts; 3-21
The rest of the half is uneventful but there are a couple of serious injuries. In the first Worth came to claim a Spencer box-kick, but ran into Dan Cole; shoulder to his head. To add insult to injury, Cole is deemed to have made the tackle, Sarries scrum. In the second Youngs turned what seemed to be his knee and hobbled off to great applause. For Sarries, Jackson Wray didn't come out for the second half. However, it looked nailed on for a bonus-point win at half time. It didn't quite work out like that.
As the game restarted Tiggers started to win the collisions and Sarries started to give away penalties. Four in two minutes meant there was a lineout in the corner and a final warning. Sarries did what I think is the sensible option and gave away a converted try rather than a yellow card. Suddenly at 10-21 there was a game. Sarries managed some phases; enough to get a penalty which Spencer put over to extend the lead. At this point the game rumbled into a classic Sarries defensive performance with Tiggers rumbling away and not making much progress. However there was a good run round the outside and the contentious part of the game. There was an inside ball and Earl stuck his hand out for the pass. Personally I thought the ball actually went backwards, but it had yellow card all over it. The only decision was whether there should be a penalty try or not and it was actually in Leicester's advantage that it wasn't. First there was a play where Goode stepped out of the line to be blatantly offside for an interception. There was talk of a second yellow, but at the following lineout Shalk Burger took out one of the lifters and he got it instead.
Down to 13, Leicester kicked to the corner again and got the try against just 6 forwards. Ford kicked the conversion and suddenly it looked like Tiggers were going to do the same as they did against Worcester and come back from the dead. The kick-off was taken and they ran downfield quickly. If Sarries were down to 13 men, then Tiggers certainly wanted to take advantage. Move the ball left then right and then back left again to open up the same sort of hole as for the Earl yellow card. With one man less, Goode had to step up into the line leaving the hole behind for the grubber through. It bounced up nicely for Smith to dot down. However Ford was not able to add the conversion and Leicester were still behind.
Queue the Sarries 13 man rush. Grab the kick-off, go through the phases and run down the clock. This they managed effectively until there was an offside and Spencer had a kick from in front. Game management now as Earl was back on. Could Spencer drag it out until Burger returned. It seemed not as he waited for the minute, but then as he ran to kick one of the Leicester defenders ran out thinking it was a conversion. Kick was quickly retaken and Burger was back on. 22-27 was the final score as Sarries defended on the 22 as Leicester pressed but could not make any yards. A slight scare at the end as Burger broke a finger / wrist and walked off. This meant at the last scrum Brad had to pack down and Tiggers won one against the head as the ball shot out the side (not Brad's side though). One flurry of Tiggers possession and the match was over when Earl made up for his yellow card with a penalty won for holding on.
Altogether an odd match, Leicester had all the stats, Sarries managed to score enough points in a 10 minute window of excellence to win the game. Could easily have gone the other way, but to my mind Leicester seemed bereft of ideas out wide. They could only clatter through the middle and that won't work against Skelton and Rhodes who were excellent. Burger was also great. I just wish Ben Spencer would spend less time appealing for things and more time focussing on where the ball is. Three or four times we lost the breakdown as he wasn't focussing on the ball.
Still upwards and onwards with 36% of the season over and unbeaten so far. Looking forward to Wasps next week, although we could do with a few wingers back.
Leicester Tigers
Worth (Smith 28), Thompstone, Owen, Eastmond, Holmes, Ford (Hardwick 72), Harrison (White 63); Bateman (Gigena 78), Youngs (Kerr 36), Cole (Cortes 78), Spencer, Kitchener (Wells 58), Williams (Fitzgerald 55), O'Connor, Kalamafoni. Replacements: Kerr, Gigena, Cortes, Wells, Fitzgerald, White, Hardwick, Smith.
Tries: O'Connor 47, 67, Smith 70; Cons: Ford (2); Pens: Ford
Saracens
Goode, Lozowski, Tompkins, Barritt, Lewington, Malins, Spencer; Barrington (Thompson-Stringer 63-65), Tolofua, (Woolstencroft 50), Judge (Sasagi 57), Day (Clark 50), Skelton (Kpoku 69), Rhodes, Burger, Wray (Earl 41). Replacements: Woolstencroft, Thompson-Stringer, Sasagi, Kpoku, Clark, Earl, Whiteley, Gallagher.
Tries: Spencer, Lewington, Lozowski; Cons: Spencer (3); Pens: Spencer (2)
Sin bin: Earl 64, Burger 67
Attendance: 20,700
Referee: Karl Dickson RFU
View a Printer Friendly version of this Story.
SQUEAKY BUM TIME
TheSaracens.com (IP Logged)
26/11/2018 08:46
Thanks Jeremy. Even knowing the result I was behind the settee!!



Edited 2 time(s). Last edit at 2018:12:06:18:14:00 by Darraghgirl.
Re: SQUEAKY BUM TIME
26/11/2018 10:13
Spot on about Spencer. He was glaringly abroad a couple of times, both when he was busy telling the referee and 14 other players what to do, as a result of which he failed in his day job of managing to collect the ball and play it. A serious weakness that a better side would exploit far more effectively.

Innings

Points win matches: tries win hearts and minds.
Sorry, only registered users may post in this forum.