Match Preview - High Stakes Derby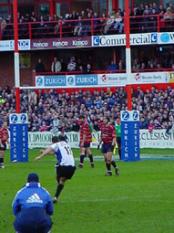 By Ed Scott
February 16 2012
No matter what the sport, there is nothing like a local derby, with bragging rights and the pure joy of victory often considered to be more important than the points on offer. This weekend sees one of the great clashes, Bath versus Gloucester at The Rec.
Undoubtedly the fixture creates an extra edge, but in reality, it's a key game for both teams in terms of the league. A win for Gloucester could see them (depending on other results) push into the playoff places, where as a victory for Bath (if they deny Glos a losing bonus point) would see us leapfrog them in the table, driving us closer to that vital Heineken Cup qualification spot.
Bath enter the game with renewed confidence, a four game winning streak, and an unbeaten home record in 2012. That said, this game will by far and away be the biggest test this team will face so far this year. Bath have only beaten Gloucester twice in the last eleven meetings in the Premiership and only once in the last three seasons - a depressing statistic.
Gloucester play an exciting and fast brand of rugby under Brian Redpath, with some excellent young outside backs in Trinder, May and Sharples. Their game is built on a strong scrum, spearheaded by the underrated (well, certainly by England) Nick Wood. Gloucester also have the hard hitting old(er) heads of Fuimaono-Sapolu and Tindall in the centres and the extraordinary talent of Qera in the backrow. While I write all this, I find it difficult to believe that Gloucester have lost seven out of 14 league games this season, including falling to Newcastle and Worcester away from home. In fact the Cherry and Whites have won only one Premiership game on the road this season.
Another bonus point victory was secured by Bath on Saturday, but there is still much work to be done. We were 8-14 down at half time, having dominated the majority of the first half and then simply switching off. I said in the preview last week that Bath need to learn to play for 80 minutes and they didn't (I often wonder whether Brad and SIM actually do read my previews!). Newcastle were not diverse enough to be able to exploit this, but Gloucester are. We cannot rely on 15-20 minute bursts to give us 2-3 tries. Teams like Gloucester have better defences and we do not want to be chasing the game.
With that, Bath can only really play what is in front of them, and so far this year they have been (mostly) effective at doing that. Newcastle came with a limited game plan and Bath at times got drawn into it. They did however execute when they needed to and continue to put ticks in the W column. If we had taken a straw pole on the site before the game, I think the majority would have been more than happy with a four point win. So I say let's be pleased with the result and glad that the team and coaches know that they still need to be much better.
For me there are three keys to this week. The first is one that has been heavily discussed all season, the scrum. Gloucester have dominated this aspect of the last few games against us and we should be working hard for at least parity in order to give the backs a decent platform and not give away easy points. Much of the scrum is won in the hit and I sincerely hope our boys are beasted on this during training. The second area is the breakdown. Gloucester have a great backrow and we must fight to win that battle. François Louw has been like a one man wrecking machine here of late, but the key is decent body positions, good numbers and more importantly, pure aggression - we need that fast ball.
The final elements are the number tens. Both products of Bath's academy, young, with bags of potential. Burns is slightly more seasoned, but Heathcote is learning fast and seems to have nerves of steel. It is here where our backrow (and Claassens) need to look after Tom, whilst giving Freddie a horrible return to The Rec. I think if we can put him off his game, then we can make life very difficult for their backline.
Team selection will be an interesting one. Carraro is waiting in the wings to return, and I think we could do with his lines of running and big defensive hits. For me, Banahan is better on the wing and although form would not dictate, I'd be tempted to move him out at the expense of Woodburn and bring Carraro into 13. This sounds harsh on Woodburn, but he still has much to learn and was a little exposed in defence on Saturday. I understand that Bendy is still not quite right so expect Vesty to take the full back slot once more with a fit again Jack Cuthbert replacing Nick Scott on the bench.
Up front I would expect the same eight to start as they did against Newcastle with the exception of a possible change at loosehead. I wonder whether Bell and Flatman may be kept on the bench to provide some scrum ballast, depending on how Catt and Perenise get on in the tight. Both Moody and Hooper are now back in contention and are likely to take the places of Mercer and Ovens on the bench. I can understand the decision, but it's harsh on the youngsters who have been superb of late.
This week is a real test for Bath. Have they truly turned a corner or been flattering to deceive? If we analyse the game at face value, it's a home match against the team one place above us in the table who've only won once in the league away from home this season. If we aspire to be a top four team, then surely we should assume a win is on? The fact of the matter is that there are a whole heap of variables that come into consideration and no one really knows what to expect.
Me? I ask for passion, heart and commitment. We need to hit Gloucester like a steam train and keep the fires burning hot until that final whistle. I think we're capable of winning this game but lapses in concentration will be punished and could be impossible to come back from. I think if we win this game then there is a good chance we'll win the next three, whilst a loss could allow doubts back into the changing room. Time to step up, silence the critics and prove that we're once again a force to be reckoned with in the West Country.