Stuck in the Mud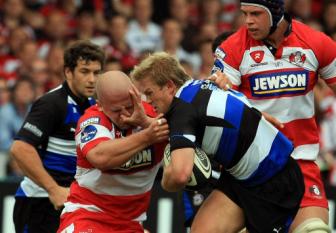 By Nick Marshall
February 19 2012
Bath v Gloucester is a massive fixture and the build up this week really got the juices flowing, everyone was up for this game. The weather was not ideal for either side, traditionally in the last few seasons Bath have been totally unable to play in wet conditions but one feels we may be adopting a more rounded game. Gloucester will have also been disappointed to see the rain, with the back three they possess, they must want to play in the southern hemisphere!
With Gloucester kicking off, the game got underway. The very early exchanges were dominated by perhaps the most exciting part of the game, a 30 man fight! Ryan Caldwell and Jim Hamilton, two of the more fiery and tattoo-ridden players had a bit of a set-to and with it being a derby, everyone piled in. Punches were mainly thrown by Caldwell, Hamilton, Nathan Catt, Scott Lawson, Matt Banahan and Eliot Fuaimaono-Sapolu - but the two protagonists were binned. Although strangely Gloucester were awarded the penalty, perhaps the original call of a scrum to Bath may have been best call to make...!!

Once play got back underway again, the handling errors and kicking ping-pong commenced. This kicking game of chess was frankly of very poor quality until Lee Mears found some space and showed what a classy player he is, he found himself and Tom Biggs in a two on two position, threaded a clever grubber kick through for Biggs to chase. Biggs skinned Sharples on the outside (no mean feat), poked the ball on and dived on the ball, sending the crowd into raptures. Barkley missed the conversion narrowly, 10 minutes in, Bath 5 - 0 up.

As the half continued, so did the kicking. Freddie Burns kicked intelligently, looking to turn the Bath back three - in particular targeting the space in behind Woodburn (something that Jimmy Gopperth also did very well). It was clear that Gloucester had spent some time looking over the video of their win at the Rec last year which was played in very similar conditions, it was in that game where Bath just had no answer to Gloucester's clever kicking game. In this game, our defensive positioning was good, Sam Vesty in particular read the play very well but to be perfectly honest, his kicking was the worst I've seen from him - he just couldn't find touch and when he did, he kicked it out on the full!!

Gloucester then bounced back when Freddie Burns sliced through the Bath line, he took advantage of a mis-match of him against Nathan Catt, he then passed onto Eliota F-S who drew Vesty to put in Mike Tindall. Tindall then carried right up to the Bath try line, ignoring men outside him, Tindall went for the line but was stopped short by a strong challenge from Olly Woodburn. The ball was recycled quickly and a fine pass from James Simpson-Daniel put Nick Wood in to touch down. Burns missed the conversion - 5 apiece.

Gloucester then enjoyed much of the territory, which is vital in such poor conditions. They knew that if they pegged Bath back in their own half that they'd just be able to contain Bath, a rather South African approach to the game! This is what they did, and they won a penalty on the Bath 22 from a scrum, but from right in front of the posts, Burns missed! But Burns converted a few minutes later to make it 8-5. Barkley then had the perfect chance to bring it back level, but he rather uncharacteristically missed. Just on half time, Biggs was pinged for a high tackle, which Burns slotted to make it 11-5 at half time.

The early stages of the second half were fairly quiet, until Olly Woodburn made a break after a clever move at the tail of the lineout. Bath really should have made more of the resulting pressure, but they were awarded a penalty under the posts after a Gloucester player went off his feet at the breakdown. Barkley slotted the kick to make it 8-11. Bath then had another penalty, which was taken by Tom Heathcote, due to Olly Barkley nursing a knock. Heathcote coolly kicked the three points to bring the game back to 11-11.

With 20 minutes to go, territory and possession were crucial, but sadly for Bath, Gloucester enjoyed the better of both. After being awarded a penalty for Matt Banahan not rolling away, young Ryan Mills stepped up and kicked the three points from in front of the posts on the 22. Despite being an easy kick in terms of field position, it was a very good kick if you think of the pressure!! The last 10 minutes were fairly uneventful and Bath were unable to unlock the Gloucester defence.

In summary, neither team were particularly good - the conditions didn't really allow them to be. ERE will no doubt be filled with doom and gloom and how bad the team is and how players must go. But that would be unfair, Bath kicked poorly and lacked execution but the spirit shown was excellent. Gloucester's kicking was tactically far more astute and we were unable to maintain a grip on the game. It's still a new side, key players are just coming back into the fold again and I think as fans we are going to have to be patient with this side. We've had no luck with injuries and perhaps some bad luck with referees but sometimes it is possible to be beaten by the better side, and today Gloucester were more precise. I for one greatly look forward to seeing how we respond to this next week at Exeter, with the likely return of Carl Fearns and Lewis Moody, it will be interesting to see what team is picked.