Post Match Thoughts on Exeter v Bath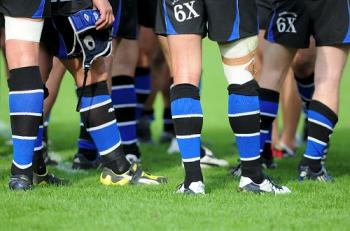 By Ziderman
February 28 2012
Zideramn has pulled together his various post match postings to give us a match report/review a few days after the event
It's easy to see why so many teams trip up at Sandy Park, not only by failing to cope with the Chiefs direct style of play, but also to silence their 16th man - the crowd.

The first half saw both teams trying to out muscle each other via Route 1, with us showing a little more intent to get the ball wide. The Chiefs pack was very solid in the set piece, giving Catt and Perenise a hard time in the first half and had dominated the early part of the half; however, they were more effective in open play. What did go well for us was the line out, in not only having a solid foundation, but by disrupting theirs and stealing the odd one here and there. As usual, the kicking game was generally far too long. The emphasis/directives to both teams seems to be to kick it as far down field as you can, with the Chiefs Mieres kicking longer than most! Barkley missed two shots at goal early on, but looked out of sorts at the tee. He did however, show that he has an eye for space and gave a long cut-out pass to Biggs to send him clear to the line. Unfortunately, Mr Rose saw it differently and adjudged it forward. I was level with play on the far side and it looked good from where I was and I've seen 'worse' allowed to continue. Our main problem was getting sucked into the Chiefs fairly limited, but dogged game plan and eventually their pressure told, with Mieres slotting over 2 penalties just before half time.

The second half saw an improvement in our fortunes, as we started the lively of the teams, directing play according to how we wanted to play the game. Shortly after coming out, Heathcote made a scything break, which set the tone of how we wanted our attack to go. Our off load game picked up and we made good ground when we managed to spread the ball. As the game went on and the pace quickened, the early Chiefs dominance at the scrum went to parity, with us coming out on top in the last quarter. Messers Beech and Bell added more bulk up front and kept up with the 'athletic' bar set by Catt and Perenise! Caldwell gave his all and went off to a well earned rest, allowing Skirving to move up to partner Attwood, who equally had a very good game, which made for the welcome return of Carl Fearns to the fray. Fearns helped secure the upper hand at the scrum, who along with Louw, who yet again sets the standards required, were wining the breakdowns. Skirving and Taylor, who someone close by described as a machine, were not overtly visible, which meant that they were in those dark places that are often overlooked, but absolutely vital for keeping one's shape. Special mention must go to Heathcote, who not only stepped up to the tee, was sharp with ball in hand, but was absolutely rock solid in defence. He stood his watch in his channel and along with Barkley and Carraro, blunted the Chiefs attack. If the Club has the faith to put Heathcote in the driving seat at 10, then they need to have the confidence in letting him be the No 1 choice kicker. On last night's evidence he's more than up to the task. On balance, Biggs and Banahan had more of the ball to work with and as such looked sharper, with Banahan both looking for work and being brought into the game more from the wing, than when he plays at 13. Mears and Vesty were both solid and assured, using their experience to make the right call. Claassens had a much better game, in that he didn't try to do it all himself, allowing Heathcote more of a say at 10. He was sharp and made a try saying clearance from a Chiefs kick ahead. Barkley's kicking radar was off and he looked like he'd played himself to a standstill when he went off. Vesty filled is space and allowed Cuthbert to come on at 15. With 3 minutes to go the Chiefs had a penalty just inside their half, which they kicked up to the area of our 22m line. They were sniffing out a last surge to win the game when Attwood (Thanks for reminding me Tom S) stole their line out. The relief was palpable, but what was good was the way that we closed the game out.

Overall, the win was built on a rock solid defence and nobody was off their game. It was a scrappy first half, mainly down to the fact that we let the Chiefs dictate the style of play and we were in danger of getting sucked into it. Had we not upped the pace in the second half, the result could have been in the Chiefs favour. As previously mentioned, not many come here and win and Bath showed a fair bit of 'dog' to get a much needed and well earned win. The team can take a great deal of heart from this and many Chiefs supporters conceded that we were the better team on the night. I'm sure that it was a very happy bus ride home!!

As for Sandy Park, for a crowd of only around 9000, they make some noise. It was like a classic western ... "in'juns - 1000's of them ... circle the wagons quick ... this ain't no pow-wow". They were both friendly and knowledgeable of their rugby, making the trip down to Exeter a happy memory for all the right reasons.

One thing that they've got absolutely right at Sandy Park is the hog roast and NB should take note. It was huge and had to be served in a tray ... if they'd added a bit of veg and gravy - you could call it a Sunday roast!!

Bring on Wuz.