Con Te Partiro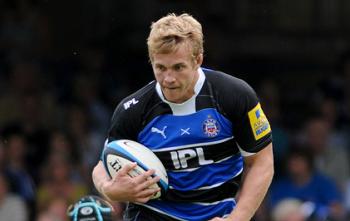 By Andy Dowthwaite
April 1 2012
A fairly comfortable day at the Rec for the visitors as the eight men of Northampton scored two tries and set up plenty of opportunities for Ryan Lamb to kick three penalties and a drop goal. Bath offered some individual flashes of resistance but offered little real collective threat and never looked like challenging for even a losing bonus point.
Bath 6 – 26 Northampton
Bath didn't start off too well gifting possession back to Northampton at our first two line outs and after these gifts the Saints pack didn't take long to live up to their reputation of probably the strongest set of forwards in the premiership. An attacking scrum after five minutes and five metres from the Bath line set the tone for the first half of the match. The formidable pair of props, though taking a lot of the plaudits, are however just a part of powerful pack that exert enormous pressure on the opposition. Just too powerful as a collective, Bath were forced into giving away a number of penalties, not Flats' binding, but, from pressure that after a number of penalties and collapses resulted in an almost inevitable penalty try (actually think it was Davey Wilson's side for the coup de grace).
Their pack then proceeded to dominate possession for the rest of the first half, to the extent that I don't think we spent any time in the Saint's 22 for 30 minutes. A grubber kick from Stephen Donald was our first visit, he collected the ball himself, broke forward and released Ryan with a well-timed pass. This was our only visit to the 22 in the half, but, unfortunately Ryan carried well but was unable to find Dan Hipkiss with the pass close to their line.
A flurry of possession just before half time saw us gain three penalties around 35 metres out, with Guy Mercer making an impression on the breakdown. Stephen Donald missed the first kick (the easiest in front of the posts) but then slotted the next two first from the right then the left. At only 6 -10 at 35 minutes the score was flattering to say the least given their forward dominance. Whether it was our defence in open play (which was our strongest facet of play – Carl Fearns, Simon Taylor, Dan Hipkiss, Banners and Bendy all prominent), or the fact that the Saints backs, even though they had plenty of ball and classy passing moves, were actually fairly toothless. One opportunity after a Foden high ball which he collected himself, eventually set Diggin free on the left. The winger seem to hesitate went wide instead of inside to his support runners and was forced into touch by the cover defence. Foden was very accomplished but Ashton looked like a disinterested passenger, probably preparing himself for his time as a Saracen.
At the start of the second half we were able to maintain much greater possession. Unfortunately, listening to Mallinder after the game the Saints view was that Bath weren't offering much of a team threat and by pushing the wings up they would be able to comfortably contain Bath. And so it turned out, much greater possession but little real threat that had only a couple of highlights;
A fast flat pass from Donald created space for Banners who broke the line, but chose to kick forward with players outside him. This was a good well placed kick to the try line, and though it has worked well as a tactic earlier in the season for Biggsy to run onto, on this occasion Ashton was able to win the foot race and knock the ball out of play. Surely a penalty but with the ref 40 yards back and the TMO not able to give it the result was a scrum, and that's enough about that.

On the other side of the pitch Bendy was set free in space by Guy Mercer, showing good hands and composure, only for Ben Foden to make a fine cover tackle.
Having huffed and puffed to little effect and with Guy Mercer in the bin for not rolling away (no complaint with the decision but he was just trapped by players on top of him) the eight men of Northampton mounted a rolling maul. We had shown fairly good defence against this for much of the game, with two players working together hitting it early to stop it quickly, but on this this occasion it was set up and once moving was unstoppable with Andy Long (he of the blatant stamp on Simon Taylor) scoring the try. And frankly that was the last play of note even with over 10 minutes to go.
A number of individuals played well in parts. Bendy was assured, Carl Fearns looked like he is getting up to speed, Biggsy spent all day chasing and Ryan doesn't show any signs of having played every premiership game this season. Simon Taylor put in his usual high tackle count supported by Dave Attwood, and Guy Mercer had a good day (sin bin included). As a team the Northampton backs made little headway despite a significant amount of possession as a consequence of the usual solid organised defence. Unfortunately the same old problems blighted us again, we struggled at the line out, we were dominated at the scrum (though not the only team to suffer that) have a poor kicking game/chase and have no discernible attack except individuals in broken play.
With the coaches and team openly stating that 6th place was our minimum target for the end of season what difference were they expecting or planning to bring about an improvement? Of the teams placed above us we have only beaten Exeter and a weakened Leicester this season and frankly we didn't ever look close to winning yesterday. We have decent players who give it everything, but not only have they failed to gel as a team but they seem to be going backwards in overall performance and tactics. Something has to change for next season as this season we will be lucky to make seventh and with these players that is not good enough.
Final words are for Andy Beattie – thank you for the enthusiasm and commitment. 10 great years.