Match Preview - Never Say Die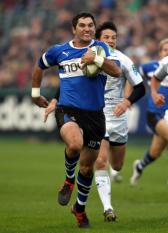 By Ed Scott
April 11 2012
After a week off that they didn't earn, Bath return to action this Friday night with a clash against Sale at Edgeley Park. Amazingly, Bath are still in the hunt for the final Heineken Cup place, and a win over Sale would push us into 7th in the table. Now all the English teams have crashed out of Europe, this will not be enough though and Bath will have to rely on the results of Gloucester to see whether they can scrape 6th spot.
For me, Bath will need at least 10 points from their last three games. The fact of the matter is, that although the season is pretty much lost, a win on Friday keeps a glimmer of hope alive that we might yet play in Europe's premier competition next season. These ten must come from four on Friday, Five against Wasps at home and then a losing bonus point at Leicester (a highly optimistic goal!) Right now I would like to say that I am merely pointing out facts rather than what I think will happen. If Bath play anything like the way they did against Quins and Saints, then they'll be lucky to get 2 points from the last three games. Sharks on a Friday night is a very difficult place to go and win, Wasps performed very well on the weekend and are fighting for their Premiership lives, and Leicester are practically a division above us when it comes to playing them full strength at Welford Road.
It's difficult to know what to expect, or what even to want from Friday night. It is now public knowledge that the coaching staff at Bath will be a different group next season, and as such I think most fans have written the McGeehan era off and hope for better things in the 2012/13 season. For me, while Bath are still playing and the season isn't over, I still hope (probably stupidly) for victory. Perhaps, like often happens in Football, when a manager leaves it has a galvanising effect on the team themselves. I'm aware the the current set up remains until the end of the season, but the nature of the news may spur the players into action. The bottom line is that the changes were going to happen anyway, but have been more public off the back of a terrible performance at home to Northampton. At some stage however the players do have to take a level of responsibility for what goes on, on the pitch.
Sale play almost all their home games on a Friday night and this week is no exception. I know there are reasons behind this (linked to football I think) but I sincerely hope that this does not continue when they move grounds. The bottom line is that it doesn't allow for free flowing rugby and is likely to suit them well on Friday in particular which looks set to be wet. With Bath's weakness in the scrum clear for all to see, the conditions will make it very difficult for us. Ironically, in this fixture last year, Sale were low on props and their youngsters ended up being given a free lesson by Duncan Bell et al. I can't see this being the case on Friday, with Andrew Sheridan likely to make life very difficult for whoever plays at tighthead for Bath.
I will move onto team selection. The problem that we have is that only one third of the team is automatic selection on form. The second third is based on availability (i.e. we have no other options) and the final third is a collection of players who haven't performed. The issue has almost become, who hasn't been so bad, rather than who is playing well!
I am going to select the following: 1) Catt 2) Mears 3) Wilson 4) Attwood 5) Caldwell 6) Ovens 7) Fearns 8) Taylor 9) McMillan 10) Heathcote 11) Biggs 12) Donald 13) Williams 14) Banahan 15) Abendanon
For me Bell will be on the bench to hit a tiring Sheridan (or younger replacement prop) if need be, as well as Batty over Dixon. Dixon has not been great and Batty needs game time. He plays well in the open but is always rusty when he finally gets a chance. If we are going to take Ovens from Bristol, then he needs to play. Skirving has done enough this year and again, we need to look to the future. Others disagree, but I think Williams is more of a 13 than a 12, and on a wet night we will need a kicking option there. I've gone for Donald (who might actually be fit to play this week unlike against Northampton) at inside centre. He's big, runs straight and is a good distributor. I just get the feeling that Olly Barkley isn't right for the team at the moment, hopefully a proper pre-season will sort that out. Donald has taken huge amounts of stick, but I think we need to remember that about half the games he has played for us he's only been about 60-70% fit so has played out of necessity. I know that he isn't perhaps happy at Bath, but I believe he is a professional and will give 100% if asked to play.
If there is any hope of a win on Friday, we are going to need to grind it out. I'd love to suggest that we throw the ball around with complete abandon, but I'm afraid that is only going to compound the issue. We need to take Sale on up front and play an intelligent and accurate game. The Bath forwards need to pick and drive at pace and create space out wide. I'm not talking about them finally lining up outside the ruck two minutes after the tackle is made and then getting knocked back before the gain line, but a rapid attack of the fringes at the heart of the breakdown. The backs need to run decent decoy lines (which we seem to never do), and avoid crabbing across the field ball in hand.
As ever, I have some hope and as Andy Dufrense (Shawshank Redemption) said "Hope is a good thing, maybe the best of things, and no good thing ever died" Perhaps some of that attitude and we might just end the season with a mild smile on our faces.