Match Preview - Time To Say Goodbye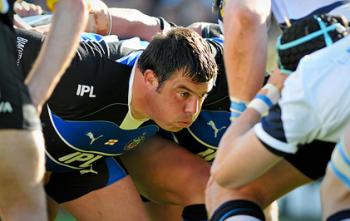 By Ed Scott
April 19 2012
The last home match of the season is a fixture against our old friends Wasps; a rivalry that stretches back to the John Player Cup finals in the 80s. Over the last few years, there have been some cracking games between the two sides, but this has some extra spice. Bath face a side with the threat of relegation and bankruptcy weighing heavy on their (once great) shoulders. Although in many ways a shadow of their former selves, Wasps are a team fighting for their Premiership survival and will arrive with all guns blazing.
For the record, I would like to state that I would take no pleasure from watching Wasps get relegated because of their financial woes. In fact, it makes me extremely grateful that Bath have had the good fortune to be backed by Bruce Craig and previously Andrew Brownsword. On the other hand, if they go down as a result of their performances on the pitch, then that is sport, we're not responsible, and I'm sure they will bounce back. As such, this is a game I want to win just like any other.
Saturday is a huge game for Wasps. With a win almost guaranteeing them Premiership survival, they have everything to gain and a lot to lose. If Wasps take nothing from the game and Newcastle get even a point from their Friday night clash against Saracens, there will be a winner takes all final game of the season between the two sides at Adams Park. A situation that must petrify Wasps, but one that the neutrals and organisers of the Premiership would surely love to see.
Bath themselves have a lot to prove. After an improved but ultimately disappointing performance against Sale last Friday they have nothing left but pride to play for. I have not interest in talking about the permutations of a place in Europe. Other results for Sale and Gloucester went our way in the previous weeks, we failed to capitalise and now simply do not deserve to be in the Heineken Cup next season.
I sincerely hope that the players feel they owe the fans something, because no one can claim that this season has been anything less than a huge let down. Although we can certainly lay some of the blame at the feet of the coaching staff, the squad themselves also have to take some responsibility, and at times this season have let themselves down by failing to even execute the most basic of tasks on the field.
Wasps are probably the only other team in the Premiership who have had a worse injury and retirement record than Bath this year. They have lost many key players including their Captain John Hart last week, who has been sadly forced to retire. With the added danger of imploding financially, the pressure is really on. The question is whether they will rise to the occasion, or capitulate under the pressure like Newcastle did on the last game of the season at The Rec in 2011. One thing is for sure, if they bring the kind of performance they produced against Biarritz and Bath play anything like they did against Northampton, Wasps will be travelling home a happy bunch.
The dangers in the Wasps team are likely to come from their backline, and in particular their back three which must be the fastest in the Premiership. Christian Wade has proved more than capable of taking the step up to 1st XV rugby and stands a chance of ending up the Premiership top try scorer this season. Varndell and Haughton are no slouches and will be highly dangerous if gifted the ball in space. I also rate highly the young Elliot Daly who has real potential.
Ironically, where Wasps are strongest they are also probably most susceptible. The backline are not the biggest and the back three, although rapid, can sometimes struggle in defence. Their forward pack is solid but I would expect us to have the edge when it comes to the back row battle, although I do like the Australian, Poff, at openside. Much of the success of Wasps' survival lies in the hands of fly-half Nicky Robinson. I thought he was a highly astute signing, but seems to have struggled with form this year, particularly when kicking from the tee. When he clicks however, he really is superb and will be a real danger.
Rightly or wrongly, I don't expect too many changes to the Bath team that faced Sale. Tom Heathcote was effectively targeted by the Sharks and took a knock. I've a feeling that it was 50:50 between a blow physically and a blow to his confidence, but it seems likely that the much maligned Stephen Donald will play on Saturday after a requested half for United on Monday. Donald has taken a bit of unfair stick for my liking and I really hope he gets a chance to prove the doubters wrong before the end of the season. I just feel that we can be rather fickle. He was lauded after his performance and leadership skills against Montpellier, but has been injured pretty much ever since and definitely played when he shouldn't have. I heard that he was barely capable of running in the week leading up to the Saints game and yet started. He clearly wasn't as fit has we needed when he arrived and hasn't quite had the time to adapt. Coupled with what sounds like a lack of direction from our 'Head Coach' he deserves to be given a bit of time.
In the back row I would start Josh Ovens at six and keep Fearns at seven. I don't think that Fearns is our openside should Louw be fit, but he was phenomenal last Friday and could give some of the Wasps backs a very uncomfortable day if he pulls out another performance like that. With Caldwell and potentially Mercer injured, Spencer or Skuse may get a chance to impress from the bench, with either Taylor or Skirving at eight.
Another great hope for the side should also get a slot on the bench this weekend, Kyle Eastmond. Watching the live streaming against Somerset for United, he managed start a game without getting injured(!) and even lasted a half before being replaced. He is clearly still very raw but has great pace and should be given a 15-20 minute run on Saturday. The only other real change I expect to see is the inclusion of Duncan Bell on the bench. Many supporters have called for him to play more this season, particularly when our scrum has been retreating, but the club and now Belly himself, have decided that youth and dynamism is the future. Yes, there is lots of sentiment in my inclusion of Bell, but if I thought for any moment that he wouldn't more than hold his own and perform well then I would suggest that he walks around in his suit afterwards. If Andy Beattie was fit I would suggest the same for him, as he is also a man who never gave less than 100% in the BB&W. They have both given the majority of their playing careers to Bath and I for one (alone or not) with be upstanding if 'big Dunc' takes the field. I apologise for singling players out when others are departing, but everyone is allowed a bit of bias at some point surely?!
In 27 years have never attended a Bath game which has meant nothing to me, and this week is no different. I know that there isn't a tangible goal to aim for as far as the season is concerned, but they are our team and I would hope that the desire to win is more than enough for everyone. The wet conditions may not quite suit, but quite frankly, let's throw the ball around and give us all something to cheer about.
If Carlsberg made rugby results..............a try in the corner for Ding Dong to win it at the death - it's nothing less than he deserves.