ERE is dead, long live... Come On My Lovers!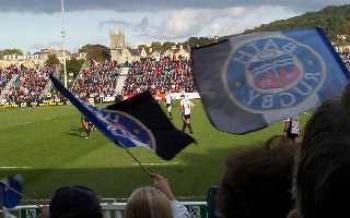 "Come on my luverrrrrs"
By Stuart Anderton
May 9 2012
After Glen decided to hang up his message board boots and retire the ERE brand back to Radstock, a new place for Bath fans to hang out on Sports Network was urgently needed. And here it is!
Welcome to Come On My Lovers.
Why the name? 20 years ago alongside the the shouts of "Every time, referee, every time" from the Flowerpots was a lone voice, I believe her name was Doris. She would call out "Come on my lovers" in a proper old Bath accent whenever here wa a break in play. Sadly she passed away several years ago.
For me, the name recalls those days when we were all members not season ticket holders, and everything was a bit more homespun, but also a bit more fun.
I hope the message board can also reflect that.
I'd like to take this chance to thank Glen for being really supportive of making this change. On the shoulders of giants....
Stuart