Demolition Derby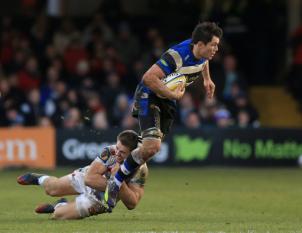 Louw: severe loss
By P G Tips
February 22 2017
Sunday's Bristol- Bath Premiership clash threatens to be "Demolition Derby" day for Bristol – and perhaps even for Bath. Bristol, having won only two Premiership ties are six points adrift of fellow strugglers Worcester, with the tougher of two daunting run ins to come. While Worcester seem to be improving, one more heavy defeat could put Bristol's hopes of league survival through the crusher. Conceding eight tries to Leicester is hardly ideal preparation for a derby meeting with old rivals eight places higher in the table. For Bath, it is not so much aspiration as squad continuity which has been wrecked recently by yet more ill luck with injury. Just as the backrow resources were starting to look luxurious, the Rec outfit lost two hookers to fractures within forty eight hours and were forced to field a makeshift and callow backline by injuries to Tapuai, Fruean and Wilson. The game seems destined to be car crash viewing for somebody, but for whom?
Bristol's extensive squad is not without experience, but many of their veteran players are in their career twilight. There is young talent too – notably prop Ford-Robinson and fullback Woodward. For much of this season though Bristol have been unable to settle on their best combinations in key areas, disrupted by injury and forced into rethink by heavy defeats. The optimism of wins in November and December has drained away during the 6 Nations period, just when they might have hoped for some better fortune. Indeed, the last meeting between the two Avon rivals sparked a series of pile ups. Since shipping 57 points at home in the Challenge Cup Bristol have conceded a further one hundred and eighty four in five matches in all competitions – ninety two in a brace of Premiership clashes.
DOR Todd Blackadder expects Bath to be "much better against Bristol at Ashton Gate." Hopes of Bath repeating the mid January thumping of their nearest neighbours rest on finding a backline and a game plan that suits the fit resources available. Even in the forwards, an area of strength against both Saints and Quins, there are threadbare patches at hooker and second row - where a loose forward may need to deputise as Tom Ellis did last Saturday. Barring further, bizarre, injury curses they should have enough edge up front to take the win, but revitalised invention may be needed to forge a try bonus point. The direct running of the last 20 against Quins is the likely starting approach, probably supported by driving mauls from the lineout. If these can bring a couple of early scores, the more expansive play seen against Bristol and Pau last month may be used in the second half. Bath might have wanted to rest some leading players for sterner challenges ahead, but Blackadder will have little chance to do that. The two week bans handed out to Louw and Fotuali'I are a severe blow – removing the leadership and tactical nous so key to success against Bristol.
Bristol will be desperate to win to stop the wheels falling off their season completely. They have the added incentive of putting a dent in Bath's Premiership ambitions and will sense a chance to do some damage. Expect them to steel themselves for head on collision to try to buckle Bath's young midfield. It should be Bath though who produce just enough to shunt Bristol's battered fortunes closer to the breaker's yard. They will also keep fingers crossed against any further injuries.


Possible Teams:
Bath: Catt, Batty, Lahiff, Stooke, Ewels, Denton, Ellis, Grant. Cook, Priestland (Capt). Davies, Jennings, Clark, Rokodoguni. Homer.
Replacements: Obano, Van Vuuren, Knight , Douglas, Z Mercer. Homer, Hastings, Atkins.
Bristol: Bevington, Hawkins, Cortes, Evans, Sorenson, Lam, Robinson, Crane. (Capt). Cliff, Jarvis. Varndell, Tovey, Hurrell, Wallace. Woodward.
Replacements: Perenise, Jones, Ford-Robinson, Phillips, Eadie. Mathewson, Henson, Piutau