Keep The Faith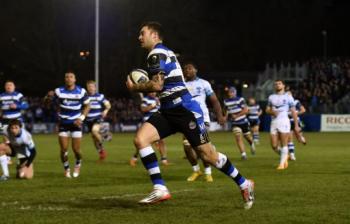 Banahan: return?
By P G Tips
March 22 2017
Bath seek a miracle on Sunday but it will take more than faith to get it. Highflying Saracens lost their last encounter with Bath and will be desperate not to succumb again. Bath have struggled in the Premiership since that heady December day, losing 5 of 7 matches and fading to fourth in the table, 10 points adrift of Sunday's hosts in 3rd. The self-belief and determination of the opening months of the season seems to have drained with the seemingly non-stop injury list and even 4th place is now under threat from improving rivals. Saracens, enjoying home advantage and welcoming back half their top pack from 6 Nations duty look set to heap more misery on the men in Blue, Black and White. Bath can claim their own returners of course, but will they be sufficient reinforcement to see off the threat? A meeting between these two clubs is as much a clash of faiths as when the original Saracens under Salah-ud-Din confronted the Crusader Christians. The Saracens credo has for years been a defensive one: percentage, pressure and pragmatism to wear opponents down then force penalties to build a score. Tries as often as not are scored as the result of that defence: the stifling "wolf-pack" approach forcing opposition error to exploit in counter attack. Bath by contrast have set out their stall on a more attacking "ball-in-hand" philosophy, a promise of faith made by Bruce Craig when seeking a new DOR last summer. The free flowing style is part of the Bath legend and, when it works is delightfully potent: bitter rivals Leicester and neighbours Gloucester among those on the receiving end of hammerings in recent years. However, in 2015 that all came unstuck in the Premiership Final – Saracens grit grinding down Bath's flair. Should we expect the same this weekend?
The bookies, and Saracens themselves will certainly think so. Clear favourites for the bookies, Saracens have not lost at home in the premiership this season, despite a close call or two, Exeter's draw the best result for a visitor to Allianz Park. With the Vunipolas, George, Itoje, Farrell and Maitland all available after international absence to join Brits, Hamilton, Brown, Wray, Barritt, Bosch and Ashton they have power, pace and points potential in all departments. Even if forced to rest some of their stars, they can boast an experienced, athletic pack and choose from up to 5 quality goal kickers- Goode, Bosch, Farrell, Lozowski and Malins.
The Bath faithful's trust in the new coaching regime has been tested in recent months, the kick-chase game in particular getting some understandable criticism. If ball in hand is really "the Bath way" why kick so much? And, if kicking is to work it has to be better executed, with more conviction in the team response. With their internationals returning, Bath will be a tougher proposition than the team who slumped so lamely at Bristol and should be stronger than against Wasps. It is vital for Fotuali'I and Ford to win territory for Bath with their kicking rather than give free passes for Saracens counter attack. Charteris, Faletau and Louw will bring a harder edge of experience up front while Joseph and Watson sharpen the cutting edge considerably. Perhaps the best news though, is the availability of Matt Banahan, offering physical presence and strike power from the bench and one of the "heartbeats" of the team. This is the crunch time of the season, Sunday's match the first of the last 5 with "The Clash" against Tigers looming two weeks later. Lose heavily against Saracens and Bath will find it hard to recover in time to do a number over their old rivals, as has become the end of season fashion for the past six years. That context is urgently significant. Tigers, breathing down Bath's neck in the race for 4th, can sneak ahead if they win Saturday's derby at Franklin's Gardens – Bath will be hoping that Saints can do them a favour there. Saracens too sit on a knife edge, only a single point below Exeter – they will want to swap places to get home advantage for the playoffs. Then there is the small matter of Lions places for the star players or England's Argentina tour for wannabes. There is no end of juicy sub plots or pressure to make this a must win encounter. A win on Saracens plastic playground may be unlikely, but Bath must get something from the encounter – be it points, performance or pride.
Bath have had a two-week layoff and a chance to rest and recharge their batteries. Blackadder wants his men to rediscover enjoyment in playing and names that as the "missing ingredient" recently – the secret to turning the corner. Bath fans will say a heartfelt "amen" to that – supporters want to enjoy the end of season run in too. They must keep the faith. To repay that faith the team must put in a performance, win or lose, to justify faith and build belief for the crucial final four matches.
Possible lineups:
Bath:
Catt, Batty, Lahiff, Ewels, Charteris, Denton, Louw, Faletau. Fotuali'I, Ford. Watson,Tapuai, Joseph, Rokoduguni. Homer.
Replacements: Obano, Charles, Knight, Ellis, Z Mercer. Cook, Priestland. Banahan
Saracens:
M Vunipola, George, Figallo, Itoje, Hamilton, Brown, Wray, B Vunipola. Wigglesworth, Farrell. Ashton, Bosch, Barritt, Maitland; Goode,
Replacements: Barrington, Brits, Du Plessis, Flanagan, Rhodes, Spencer, Lozowski, Taylor.