Capital: Clash and Claws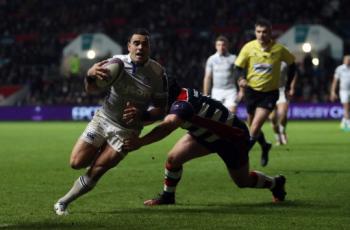 Fotuali'i: key
By P G Tips
April 5 2017
Bath face Tigers in a "home" clash at Twickenham this Saturday. The switch of venue is not to some fans liking- cost is one objection, the other surrender of home advantage when hosting such bitter rivals. Tigers may have the better league record in recent seasons but the last 6 home AP games have all been won by Bath- initially close affairs, but latterly more convincing. While last season's final day win merely blunted Tigers' claws, the Rec matches the previous season saw two clean kills yielding fine trophy memories, the beast's skin metaphorically mounted on the wall and made into a fireside rug. Time was when an annual Twickenham trip was a Bath habit- a winning one. In a dozen golden years, ten RFU cups were won, three of them against Tigers. The last of those was two decades ago, which explains the angst about ceding real home advantage. Is the capital trip then just vanity, a fantasy of a Big Top environment to tame the tiger in? Or will the big game bring the best out of the Blue, Black & White?
Leicester, after stuttering in the early season have won 4 of their last 5 AP fixtures and overtaken Bath to take a place in the top 4. They lead by 3 league points, with superior points difference and having dispatched Saints two weeks ago at Franklin's Gardens seem ready to pounce on vulnerable opposition. However, recent success cannot hide the club's evident issues. Their DOR for Saturday, Matt O'Connor, arrives this week and will be the third of their season. They sacked defence coach Scott Hansen early in the season but still leak tries as three early strikes by Northampton proved. There are signs also that the Leicester squad, now strengthened with some exciting southern hemisphere backs, are not yet completely comfortable with the all court game favoured by the last DOR Aaron Mauger and hinted at by Richard Cockerill after the Quarter Final rout at the Rec in May 2015. All this speaks of Leicester's own "clash" – an internal conflict of style and direction with rumours of factional infighting. They have the firepower to play the wider game – Veianu, Pietersen, Betham and Tait all potent runners and Youngs a constant threat at the fringes of forward effort, but many supporters (and it seems some players) are calling for reversion to more conservative tactics. With playoff places likely to be impacted by the result it would be no surprise if they opted for them.
Bath seemed to rediscover their mojo last week against Brive, then almost lost it for twenty minutes after grasping the try bonus. A depleted pack held out against the route one drives of titan opposition determined to bludgeon their way to triumph, then found a final, stylish try to put the result beyond doubt. For most of the first half and two ten- minute spells of the second, there were encouraging signs of the game which shredded Tigers twice in 2015. For all the footwork, pace and flair of Rokodoguni, Joseph and Watson, another steely performance from the pack will be needed to repeat last Saturday's sparkle in a Twickenham showdown. Refreshing the selection cannot come to the rescue –at least not in the front five, the return of Stooke balanced by the loss of Charteris for three weeks. Bath will have to make do with those fit and available. Backrow news is better, although Francois Louw is a doubt with a hamstring niggle. Faletau and Fotuali'I will be key to Bath's game, for their ability to make something of bad ball as well as good and Ford (making the right noises about motivation and desire) must start: as much for his tactical kicking to turn Tigers' defence as for his distribution. If the best the forwards can hope for is parity, Banahan may continue at centre where Brive found him a real handful – to give go forward and shore up the midfield defence. Leicester may hope for the edge up front, but away from Welford Road it is not guaranteed and Bath can bring dangerous loose forward and back reinforcements from the bench. They must look to spring surprises both early and late – perhaps off first phase.
There is much to savour in this game. 50% of Upper Tier revenues will go to charity (33% to Help for Heroes, 17% for Bath Rugby Foundation), the weather is due to be dry, bright and still and JP Doyle will take the whistle, hinting at an open game. For edge, there is the enmity of three decades or more, two coaches on a knife-edge, rumoured player division and unrest at Welford Road and a training ground bust-up at Farleigh House. Add to that the delicious subplot of the close season fly half swap – The Ford v Burns show a game within a game.
Some may condemn "The Clash" as an away fixture which should be at home. Bath have shown tremendous spirit and fight in several away matches that mattered this season – Northampton, Exeter, Bristol (ECC) and at times, such as the home Newcastle and Sale matches and last weekend, produced thrilling tries. If they can summon up the spirit of those games they can take the tiger by the tail, twist and make Twickenham feel like home.
Bath:
Catt, Charles, Knight, Ewels,Stooke , Z Mercer, Louw, Faletau.
Fotuali'I, Ford. Watson, Banahan, Joseph, Rokoduguni. Homer.
Replacements: Obano, Graham, Palma -Newport, Ellis, Denton. Cook,
Priestland.Tapuai,
Leicester: Genge, T Youngs (capt), Cole, Barrow, Kitchener, Fitzgerald,O'Connor,Hamilton. B Youngs, Burns, Thompstone, Tait, Mermoz, Pietersen; Veainu;;
Replacements: McGuigan, Rizzo, Cilliers, M Williams, McCaffrey, White, O Williams, Roberts.