The Good, The Bad and The Ugly: Season Review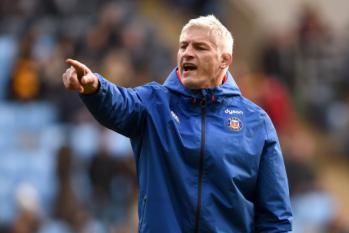 Blackadder: execute plan
By P G Tips
May 9 2017
So, Saturday's fairy tale happy ending did not materialise. Tigers wrapped up a Playoff place at Sixways, while Bath failed to win at Sale, letting slip the slim chance to make the Top 4. What then, to make of Todd Blackadder's first season? Beginning with hope, joy and expectation, it soon developed as many plot twists and improbable characters as a spaghetti western. For me, it was a case of "The Good, The Bad and The Ugly".
The Good
European Qualification
At least we got that- the minimum expectation of a club with Bath's ambition, squad and facilities. Despite some late season angst it was not really in doubt but the seeding will make for some tough ties in 2017-18.
Strength in Depth
After the short sightedly restrictive selection policy of the previous coaching regime, Todd's willingness to trust the whole squad was refreshing. Of course, some brave selections were enforced by injury, but so many stepped up to show what they can do that sensible rotation is now a real possibility for next season. Perhaps more significantly, there should be no reason for ambitious but frustrated talents to seek greener pastures as Fearns, Woodburn and Devoto did in the past two seasons.
Emerging Talent
See above. Ellis, Mercer, Dunn and (to slightly lesser extent) Clark have been a revelation. Eddie Jones has certainly noted the three forwards. Add to these the impressive development of Ewels, signing of Underhill and potential of Jack Walker – Bath have found a rich seam of precious young mettle (spelling deliberate).
Unity
Unsettling departure and recent rumour notwithstanding, this year's seems a happier squad, newcomers have integrated well and there is a clear game plan.
DisciplinThe yellow card blight of last season was banished and the penalty count much reduced. It is hard to play winning rugby on the wrong side of the Ref – however wrong the ref may be in the first place (another topic entirely, down to the confused lack of synergy in modern rugby law making).
The Bad
League Position
5th may be better than some feared after last year's debacle, but after the first third of AP games Bath were 2nd. It is the manner of missing out that hurts and disappoints: all the final four fixtures were winnable, yet it was the notionally tougher ones that Bath won while the "easier" two opponents found the motivation, form and dynamism to restrict Bath to a single league point. The result is we are "Second best of the second best" trailing Leicester by 5 points, but the leading 3 by 18 or more.
Declining performance
A real concern. Only one defeat in the opening seven fixtures, followed by the second and final thirds of the season where more were lost than won. A flourish at the end has become expected at Bath, even in poorer years and this year's lame ending was as deflating as the opening games were encouraging.
Away Form
This one vies with the decline as the worst aspect. Again it is not so much losing away as how defeat is snatched from the jaws of victory. Early season signs were good: a first win at Northampton in 16 seasons, patiently battling to a dramatic triumph at Exeter and an injury ravaged team sticking it to Gloucester in the last 10 minutes all brought smiles to supporters faces. These are not easy places for the visitor, so subsequent failure at Newcastle, Bristol, Worcester and Sale became all the more galling as a result.
Decision Making
Too often deserted the team's leaders at key moments. Was it the co-captain thing or confidence problems at 10? Too many leads squandered. A big improvement needed next year.
Bristol
Beaten by a team staring relegation in the face. Bested at the breakdown, missed an easy penalty and allowed Gavin Henson to dictate the play and result. Nuff said!
The Ugly
Ford Factor
Not an anti George rant-I have been an admirer of his talent and play since his Leicester debut aged 17. He stands comparison with Bath's other creative fly halves: Barnes, Catt, James. He may well outdo all of them on the international stage. His future has this season been a distraction – at times for him, for the squad and the fans. It seems there is still a negative legacy from his father's era as coach. We as fans now seek a messiah, risking unreasonable expectations on his successor. Time to move on.
Challenge Cup Semi
Nine sublime minutes put Bath in charge. Fitter than their opponents they simply needed to play the percentages deep in opposition territory. Instead, four minutes of madness and a winnable final was surrendered.
Kicking Strategy
Not the strategy itself, but poorly executed. A main factor in away defeats to Newcastle & Stade and at home to Exeter. To work it needs good chase follow-up, stern defence and most of all, accuracy. And against weak, under –confident attack what is wrong with forcing a lineout deep in the opposition 22 to force turnovers with press defence?
Defence
Again, not the system – second best in the league and real improvement on last season– but the slips at crucial times –especially Exeter at home and Stade.
Injuries
Not in "The Bad" list, as it must not be an excuse, but not since 2004, when 10 different players were pressed into service at full back has one position been so plundered – 7 hookers in a single year. With the range of other injuries suffered, it is no wonder that performance was so inconsistent. We hope for better luck from September.
The hope for next season? An injury free pre season and quick start; swift integration of Freddie Burns; continued development of the club's young talent and better execution of the Blackadder "cunning plan" in attack.