Premiership Playoffs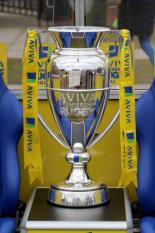 Premiership Trophy
By P G Tips
May 16 2017
The playoffs are upon us and English rugby's focus over the next two weeks will be on the scrap for the title. Once again, Bath sit this one out and watch from the side-lines. As in 2014, Bath came close to qualifying after a promising start to the season, and having beaten three of the four semi finalists, will be able to view the final two fixtures as a yardstick to aim for next season. For the fans, there is no other top class rugby until the Lions first fixture, so how do we expect the semi finalists to fare – and who do we hope will succeed?
Semi Final One – Exeter Chiefs v Saracens
Exeter will be many neutrals favoured team in these rounds. Their story is romantic, in going from promotion to their second successive playoff in 7 seasons, and their all-action style is appealing to the eye. They have added the pragmatism of the rolling maul and miserly defence in the last two campaigns to the multi –layered, multi-phased attacks on which they built their rise up the table. Rob Baxter has added alternative options to this distinctive style- they are quite capable of a devastating kick-chase game, or –as against Northampton, dominating possession and territory by keeping the ball in hand through direct driving forward play and charges by the midfield. They may boast few "superstars" but a wealth of hard carrying forwards and some of the tournament's trickiest backs (Nowell, Slade, Woodburn) should ensure they will take some beating at Sandy Park. Rob Baxter, admirable coach and one club man has rightly won plaudits from commentators and fellow coaches. Who would begrudge him the reward of a trophy?

A single snapshot from last week's televised European Champions final sums up many people's view of Saracens – and it was not on the pitch. There were astonishing scenes at Clermont's Place de Jaude, where fans stood hundreds deep to watch the match on the big screen. That sense of community tradition is in contrast to the accusation that Saracens, recent wanderers and representing no specific area of London, are a manufactured team. That view though is as harsh as it is becoming outdated. There is a real sense of togetherness in almost everything Saracens do – in the squad and in community engagement. Their joy as a group in winning the cup was evident, as is their intention to repeat the feat on the domestic scene. Also outdated is the "boring" tag. Yes, they are pragmatic, ruthlessly efficient and built on defence, but two of their three tries in the European Final were things of rugby beauty. Saracens have built, bonded and branded well and their togetherness is founded on real skill and steel –on and off the pitch. They may well provide the next Ireland coach and who would wager against them having six Test Lions by mid July? Exeter may have home advantage and a delightful bag-of-tricks game, but Saracens will be an awesome obstacle to overcome.
Verdict:
The head says Saracens, the heart Exeter. Exeter will have something special up their sleeve no doubt, but so will the men from Allianz Park. Too close to call.
Semi Final Two: Wasps v Leicester Tigers
Table toppers on the basis of most wins, Wasps must be favourites for this one, if not the title itself. However, the tie is given extra spice by their "usurping" of Tigers' status as top team of the Midlands. This is also the match which Leicester supporters believe the most winnable of the three options. Wasps can boast the Premiership's top points scorer-Jimmy Gopperth, top try scorer and beater of defenders – Christian Wade and two of the three heading the try-assist statistics: Robson and Cipriani. They also have the best try scoring record in the league: their 89 being 3 more even than Exeter. Yet, they are also the most porous in defence of the four semi finalists, conceding a troubling 61 Premiership tries. Their forwards, sharp and aggressive on the carry, at the lineout and in the breakdown, are not the most dominant of scrummagers, so Tigers will hope to exploit that phase, especially if the weather is wet as seems likely. In Haskell and Launchbury they have two of England's leading forwards, fired with motivation, having been omitted from the Lions squad, to prove former Wasps coach Gatland wrong, so Wasps will be hoping for dry conditions.
Tigers have their own luminaries: Brendan O'Connor claims the most Premiership turnovers, while Freddie Burns boasts a better goal kicking record than the players preferred to him at 10 for England. As for motivation – the Youngs brothers will have immense emotional drive from the tragedy affecting Tom's wife and Ben's sacrifice of a Lions place to support his sibling. Leicester's appearance among the playoff teams is a tribute to their enduring fight and drive. Theirs has been a mixed season, with three coaches fired and some evident confusion over preferred playing style. Matt O'Connor has promised to restore the old Leicester virtues: a fearsome pack, territorial dominance, a controlling kicking game. To do so he must first sort out their discipline: Tigers have conceded more yellow cards than any team this campaign. Self-control will be an important factor if the forward battle becomes tight. They have the strike force in Veainu, Petersen and Mermoz, but can they depend on their traditional edge up front?
Verdict:
Four wins from the last five will give Tigers plenty of confidence, but Wasps, buoyed by victory two weeks ago against Saracens, and with the ability to strike in a variety of ways, from anywhere on the pitch, should have too much for them.
Preference:
So, who do we want to be crowned Champions of England? I won't claim to speak for our readers, so I will give my view. It would be great to see Freddie Burns put in a man of The Match performance. Wasps are at times the most daring and dazzling on the counter attack. Saracens are simply admirable and deserving. For me though, it would be delightful to see the West Country represented at Twickenham for the third year in a row. For Rob Baxter and their style of play, I am hoping Exeter will triumph.