Lions or Lambs?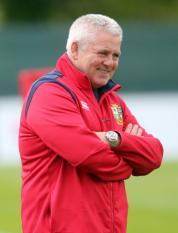 Gatland: conservative
By P G Tips
May 29 2017
The Lions have departed for New Zealand, eleven of them having played on Saturday. In the most demanding schedule yet, they play their first match next Saturday and a total of ten in just six weeks. Those games are three Tests, the Maori –often thought of as an "extra Test", the five new Zealand Super rugby franchises and a "Barbarians" team selected from the provincial unions. To cope with that challenge Warren Gatland and his fellow coaches have opted to take 41 players, with an average of 43 caps each. An impressive group, but will they strut through New Zealand as Lions rampant, or are they doomed by fatigue and the schedule to be lambs to the slaughter?
The Coaches
Plenty of experience here- and winning pedigree. Warren Gatland will be on his 3rd Lions tour and was a winner last time, supported by Rowntree, Farrell, Howley and Jenkins. The new boy, Borthwick needs no introduction to this forum and has grown a stellar reputation in 3 years as an international coach. The nagging doubt is the manner of the 2013 victory, the Lions scraped through in the first Test by only two points when Kurtley Beale missed two late shots at goal and despite injury forcing the Wallabies to field a flanker in midfield. The Third Test was won in style, with a radically reshuffled team, but only after Australia had clawed back a 19-3 deficit on 20 minutes to 19-16 at half time. If a forward orientated game could not crush that Wallaby pack, how will it fare against the might of the All Blacks at home?
The Captain
Sam Warburton becomes only the second player (after Martin Johnson) to skipper 2 Lions tours. Doubts were expressed about his form in the Autumn and he stepped down from the Wales captaincy to focus on his own game. Since Christmas though, pundits and players alike have queued up to laud his suitability for the job. He had arguably his best 6 Nations yet, but does the choice unbalance the back row? This 6 Nations he was used at 6: to select him there would mean losing the carrying threat of Stander or the lineout steals and defensive disruption of O'Mahoney. If chosen at 7 that leaves the dynamic driving of O'Brien and the fluid link play of Tipuric in the cold. Has Gatland made an error of loyalty that will cost the Lions in the long run? There are plenty of strong candidates to deputise if needed: Wyn Jones, Best, Sexton, Farrell or Laidlaw could all stand in to good effect.
The Squad
The 2017 vintage are the strongest Lions squad to New Zealand since 1993, possibly even 1971. Eleven of them have been on a winning side against the All Blacks in the last five years and four more have pushed them to within 3 points or less. These Lions can attack through scrum or lineout, by frontal assault drives through the forwards and by dominating territory with astute tactical kicking. Playing to a Gatland tactical plan and a Farrell defensive structure they will aim to give nothing away in defence. It is a squad of warriors, chosen for a simple and direct gameplan to confront, contain, capitalise on errors and kick goals. None of those chosen will take a backward step and New Zealand infringements look bound to be punished: there are 7 Test goalkickers in the party. Again though, there are doubts. Several selected are seemingly there on trust rather than recent form: notably Biggar, Davies and Halfpenny. As always there are controversial omissions, Hartley and Launchbury can count themselves particularly unfortunate and leaving out Ford shows that flair is secondary to size and sledgehammer tackling. If plan A fails, where will plan B come from? Who will provide the surprises?
The Chances
As said above, this squad has been chosen for a specific job and will play to a defined game plan. If they can deny the All Blacks possession, or territory, or both, in the way that Ireland did at Soldier Field last November, they should be good for one test win. It may not be pretty, but most fans today will not care: the winning end will justify the means. It is hard to see New Zealand falling into the same trap twice though- especially at home. The quickest learners in world rugby can be counted on to turn one day's threat into the next day's opportunity.
Verdict: Two –One to New Zealand, but don't expect much "traditional" Lions back play.
Gatland's Likely First Test 23
I expect a Lions form of Warrenball will be the favoured plan. Set piece dominance, kicking and more kicking, frontal assault in the opposition 22 defence, defence, defence – all suggest a selection like this:

McGrath, Owens, Furlong, W Jones, Kruis, Stander, Warburton (Capt), Faletau. Murray, Sexton. North, Henshaw, Davies, Williams. Halfpenny.
Replacements: Marler, Best, Cole, Itoje, O'Mahoney. Webb, Farrell, Payne.
My First Test 23
The " in your face" tactics employed by Ireland in Chicago last autumn, and by England in 2012 will be needed, but to beat these All Blacks will require tries (as on those occasions) – and the ability to score them in a variety of ways. My selection is more attack, and counter -attack oriented:

McGrath, George, Furlong, Kruis, Itoje, O'Mahoney, O'Brien, Faletau. Murray, Farrell (Capt.). North, Henshaw, Joseph, Daly. Hogg
Replacements: Vunipola, Owens, Sinckler, W Jones, Stander. Webb, Sexton, Nowell.