First Memories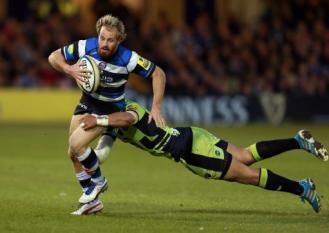 By Lawrence Aggleton
June 15 2017
I moved to Bath in September 1998 for Uni. While I followed 6 Nations rugby, I really hadn't paid much attention to club rugby - other than vague recollections of Rugby Special. Living on campus for my first year meant that we often wouldn't go to town on weekends. Rugby in the first year often rotated around 6 Nations in the Plug bar (there's a surprising number of Welsh people at Bath Uni, so the rivalries were lively).
In my second year was when my love of Bath Rugby really started. This was the 1999-2000 season, the last one before bonus points and playoffs. I went to/through town every day and the colours are infectious. After a not great start to the season I remember Bath upping the pressure on leaders Leicester - a particular newspaper report referring to the team as a 'great West Country vulture hovering'. Sadly it was not to be and we finished second.
2000-2001 was a placement year, I was in Stevenage. I'm sure there are greater beauty disparities in towns than between Bath and Stevenage, but I can't of any right now. Bath games were generally followed on early internet radio. After an enlarged playoffs (top 8 qualified), Bath faced Tigers in the final for my first trip to HQ. Sadly we were thoroughly overpowered and a long sequence of underperformance in finals started.
My final year was a substantial decrease in quality for Bath - but significant increase in my attendance at the Rec. Students would often get corner standing tickets for £5 to some of the smaller games. Bath finished 11th that season, but I still loved it - I was hooked on the city, the club and the ground.
After leaving Bath for London, the first thing I did with my full-time job was get myself a season ticket and an excuse to get on the train back every other week. A lifetime love was born.