Fourth Time Lucky? Bath v Toulon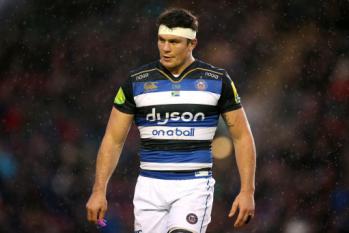 Louw: crucial
By P G Tips
December 12 2017
Bath will be hoping for better luck in their fourth meeting with Toulon in three seasons this weekend. Toulon have prevailed by a single score margin in each of those previous Champions Cup encounters and Bath can argue that they were ill served by fortune in Toulon last week. Despite home advantage and the heroics of that close defeat, they will need more than luck to get their revenge on Saturday evening.
Bath were undone by a combination of their own errors, refereeing laxity and chiefly the intensity and pressure of their hosts. An astonishing defensive performance of 216 tackles was not quite enough to hold out against a side who dominated both possession and territory. When defending a narrow lead, discipline is a key virtue, both in minimising infringements and in accuracy of execution. A yellow card when Bath were tactically and territorially dominant and missed touch finders at the climax handed the initiative back to Toulon just when they most needed relief from Bath's pressure.
Discipline could well be key this weekend too, following Todd Blackadder's ironic but pointed criticism of officiating. He was unimpressed by the inconsistent ruling of the breakdown and the clear-out (seemingly from illegal side entry) by Mathieu "The Beast" Bastareaud, which took Taulupe Faletau out of the game. Bath conceded 14 penalties, twice the tally of their hosts – a ratio that must be reversed if they are to succeed at home.
Bath found ways at the Stade Mayol to challenge, rattle and at times outflank their hosts – especially when playing open and wide, Aled Brew in particular having a standout game. More of the same in front of home support could be the key to victory. Bath were the most successful English club in round 5: unlucky perhaps, but compared to some they got off lightly. While Saracens, and Wasps were walloped by French clubs and Exeter outplayed at home by Leinster, Bath were the only AP side to gain a losing bonus point. They will hope to go one better this time. The weather will be on their side too- the temperature likely to drop to 3° during the match – some 6° lower than Toulon's December average. Bath will want to catch them cold but should not count on the match following a similar pattern to the last - Toulon are too good a side for that and unlikely to be as error prone in the return leg. What they can be is unsettled, but Bath must find new ways to do that. This could be at the breakdown where the absence of Faletau looks likely to be offset by the return of Francois Louw who should be crucial, as he will in tackle defence.
Taking back leadership of Pool 5 and the initiative should be sufficient motivation for Bath, but if more is needed, the misfortune and injustice of last weekend are extra spurs. Toulon are beatable, especially away from home. Last week I referred to Napoleon's place in the city's history. This week he was named the greatest general of all time by a statistical analyst – which overlooks the fact that he ultimately, failed – losing more often to British generals than any others. Bath can triumph this weekend, take their revenge and head the pool- but who will be their Wellington?
Possible Bath Team:
Obano Dunn, Lahiff, Stooke, ,Charteris, Garvey (Capt.), Louw, Grant.. Cook, Priestland. Banahan, Tapuai, Joseph, Brew. Watson.
Replacements:, Auterac, V Vuuren, Thomas, Ewels,, Mercer. Fotuali'I, Burns, Jack Wilson.