SECOND TIME LUCKY? ANGLO WELSH FINAL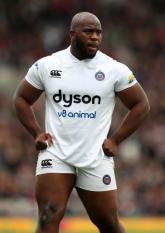 Obano: England hopes?
By P G Tips
March 26 2018
Bath Rugby will be hoping for "second time lucky" in Friday's Anglo Welsh Cup Final. The rearranged contest gives them the chance of a longed for piece of silverware and an opportunity to correct the result of last Friday's frustrating "oh so nearly" defeat by the same opponents. Injuries look likely to restrict Bath's choice of squad (a view seemingly confirmed by Monday's United selection), while Exeter will have a chance to refresh theirs. Will it be continuity or fresh legs that triumph?
Exeter will have left the Rec last Friday evening quietly satisfied that persistence and belief in their systems had enabled them to snatch the win. They will also have been painfully aware that for much of the second half they were second best and that more composure from Bath could have sent them home winless. Their focus in training this week could well be on defence to force more errors from a Bath attack which has recently shown only fitful invention and penetration. Although opened up a few times in last Friday's Rec showdown, the Chiefs' line speed and aggressive tackling shackled the hosts for most of the match and provided the catalyst for the final winning penalty.
A superior kick chase game was another trump card for Baxter's men. Patiently executed, it eventually forced the positions from which the Chiefs were able to drive over for their two tries. We can expect more of the same on Friday, especially as the Kingsholm forecast is persistent light rain through Thursday and into the afternoon of the game.
Bath will know that they let last Friday's match slip from their hands, not only in the final minutes but also in conceding soft territory and scores in the first half. Yet so much of their play was highly promising and the way the forwards put their bodies on the line gave the lie to rumours of poor morale. Stooke, Garvey and Ewels were to the fore in this effort but perhaps the standout pair were Ellis and Obano, both of whom must harbour hopes that Eddie Jones will give them a chance on the forthcoming England trip to South Africa.
In the backs Bath need both more accuracy and more flair. They also need to mix up their kicking game: two key moments from Freddie Burns illustrate the work-ons required. His touch miss from a relieving penalty handed Exeter a try but his long diagonal for Banahan's try was perfectly positioned for the big wing to exploit and score. Freddie is a confidence player and were I DOR I would continue with him as starter to see if he can build the form he showed late last season for Tigers. I would change his starting partner though, in the hope that Cook can provide more tempo and a better box kick game than Fotuali'I who has been too ponderous recently.
Bath must summon up a titanic effort if they are to win. Their most recent performance offers the winning template and a glance at the league table all the motivation that is needed. Realistically, a Top Four place looks out of reach with only four games to go and even Top Six is in nail-biting doubt. Grabbing this cup can boost pride, morale and the winning habit. They need to find the spirit and the execution to do it- to rescue their season.
Possible Teams:
Bath:
Obano, Charles, Lahiff, Stooke, Ewels, Garvey (Capt.), Ellis, Faletau. Cook, Burns. Banahan, Wilson, Hurrell, Brew, Homer.
Replacements: Auterac, Dunn, Thomas, Charteris, Grant.
Fotuali'I, Priestland, Vuna.
Chiefs: M Low, J Innard, G Holmes; M Lees, W Van der Sluys, D Dennis (Capt.,), J Salvi, M Kvesic. Townsend, J Simmonds. T O'Flaherty, I Whitten, O Devoto, J Short. S Cordero
Replacements P Davis J Kenny, J Owlett, Salmon, Horstmann. Chudley, S Morley, T Hendrickson.