Not at The Party: Premiership Playoffs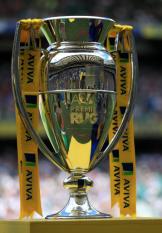 Whose Trophy?
By P G Tips
May 16 2018
Once again Bath find themselves with their nose to the window looking in on the party celebrations. For the third year running Bath miss out on the playoffs and this time were fortunate to make Top Six. Meanwhile the "usual suspects" plus one surprise package will contest the Premiership Crown – the Semi Finals this weekend and the Twickenham Final at the end of May. Who look like winners, who do we want to win and what can Bath learn?
Bath this year got nowhere near the Top Four, despite pre season hopes and some pleasing early results. Two glorious victories at season end cannot mask or change that bleak fact and were little consolation. But those who relish schadenfreude will point out that Leicester Tigers (the masters of that sentiment), despite a late surge, failed this year to make the Top Four for the first time in 13 years. A failure made more agonising as they reaped as many league points as Falcons, but fell one victory short.
The contenders are:

Exeter Chiefs
The most consistent (just) of the 4 teams, Chiefs have topped the table for most of the regular season. As in the previous two campaigns they have exhibited remarkable patience and admirable determination. This year though much of their flair has been reigned in, most of their attacks based on persistent up field rumble from their juggernaut pack, with the majority of tries coming from close forward drives. This approach has many critics tempted to label the once thrilling Chiefs as "boring. They are also accused of basing their game on illegal rucking by flooding the breakdown with belly flopping bodies. Few can deny their effectiveness though: they top the table by virtue of fewest defeats and most try bonuses. Chinks of vulnerability have appeared occasionally. They lost at home to lowly Worcester and away to a Gloucester side whose season promised but eventually stalled.
As tabletoppers they get the most advantageous draw. Negotiate the banana skin of a home semi against Newcastle and, as one of the few sides to win at Allianz Park this season, they should be favourites
Saracens
Playoff ever presents since 2011, Saracens have gone the opposite way to Chiefs. They are this season's top try scorers, have the best points difference and tries for:against balance. They still possess the meanest, most smothering defence and a steely ruthlessness, yet have opened their game up. Tries come not just from grinding pressure or opposition mistakes but also from sharply executed strike moves. Ten of their number have been chosen for England's trip to South Africa this summer and in Farrell, Itoje and the Vunipolas they have the core of the national team for years to come.
Wasps at home will be no pushover, but Saras should have the presence, and the skill, to prevail. After that, who knows?
Wasps
Admired by many for the adventure, pace and fluency of their attack, Wasps should be favoured by many neutrals. When the 10-12 axis of Cipriani and Gopperth clicks and Le Roux brings his creativity to bear as "third creator" from full back, they can be breathtaking, unstoppable. All is not simple and rosy at the Ricoh though. There have been rumours of squad unrest, the club's finances seem in serious difficulty and a number of the squad leave at the end of the season –these include two of their most standout, if maverick personalities – Danny Cipriani and James Haskell. For these two weeks though the most telling worry of all is that they have lost this season to all 3 playoff rivals, twice to Semi Final opponents Saracens.
The odds seem stacked against Wasps in their semi at Allianz Park. However, Cipriani's call up to the England squad could be just the fillip their attack needs. If he can keep his head at the same time as showcasing his sleight of hand they may spring a surprise. After that, anything is possible.
Newcastle Falcons
This year's surprise package and some people's "neutral's favourite". For the perennially 11th placed Tynesiders to snatch the Premiership like a falcon pouncing on a fieldmouse would be the most romantic climax to the tournament for years. It is also unlikely. They are the only one of the top four who finished in negative points equity and one of the lowest in the entire table for tries scored. They could not get closer than ten points on their last visit to Sandy Park, so Chiefs will not be inclined to give them any leeway in Saturday's semi. With few "stars" in their lineup, do they have a player who can provide the moment of magic to unlock a tight game?
Underdog status can be an advantage, but Falcons will need to score early and press consistently to have any chance against Chiefs. The nugget determination of Green, Latu and Wilson should serve them well and if Toby Flood is fit, as rumoured, there will be at least one wise head in the backline, but this looks a bridge too far.
Injuries
As ever this season, the absent will have as much influence as the present. Wasps seem hardest hit, with Miller, Taylor and McIntyre definitely out, question marks over Haskell and Gaskell, although Nathan Hughes is expected to be fit. Nowell of Exeter and Kruis of Saracens are the most notable absentees elsewhere.
The two top seeds are the best equipped to cope with any players missing. Their strength in depth and quality of their "second tier" the envy of other clubs.
Lessons for Bath
Hopefully Bath's new attack coach, Girvan Dempsey will be watching events this weekend closely. He will see that three of the sides in the semi finals keep the ball for long periods. Two know how to attack, ball-in-hand from deep. All can vary attack – close to the breakdown or out wide, forwards or backs, adjusting the game plan for the conditions, the opposition defence and even at times, the officiating. He can learn much. Hopefully the anticipated mental coach, whoever he or she may be, will glean some valuable insights from how the winners deal with the pressure.
Predictions
Form says an Exeter v Saracens final. Last year though showed how close these two and Wasps can be in knockout rugby. Despite Exeter's slight edge in consistency, I believe Saracens may pull the "surprise trick" at the right time. I back them to sneak it this time.
This is knockout rugby though, so anything is possible. Whose trophy will it be?