ERE Met Stuart Barnes In January 1994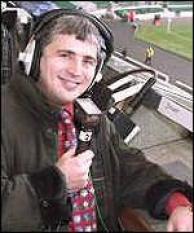 By Glen Leat
January 1 2006
This interview was conducted by Glen and Clive in 1994 and was a great insight in to the views of the greatest player Bath ever had. It now forms part of our "ERE Classic Interview" range.
Most people aged around 40 understand the question "Where were you when Kennedy was shot? "Well perhaps a question to be asked amongst Bath fans in the future will be ' 'Where were you when you heard the announcement that Stuart Barnes had retired?'' 
ERE's editors can certainly remember, Glen was driving up Brass knocker Hill at about 7.30 am on his way to work, "When the radio announcer clubbed me around the side of the head with the news'' he said. ''I 'm not saying I was in shock but the next thing I knew was parking in the centre of Bath and then sitting at my desk; it was just like that, a bit of my life disappearing.''
Clive was decorating his daughter's bedroom - and still made a good job of it! ' 'Perhaps Stuart should come back and then retire again when I do the lounge as this shock therapy seemed to improve my DIY skills.''
A few weeks later, with the shock somewhat abated, we decided that we just had to speak to Stuart, after all this would be our last chance to interview the club's greatest fly-half (that 's saying something when one thinks of the others we can boast) whilst memories (his and ours) of marvellous exploits at the Rec and Twickenham were still fresh.
In keeping with the typical family atmosphere of our club, where players are always happy to talk to fans about rugby, Stuart welcomed us into his office for a chat. No apologies are made for the extreme length of this interview, after all Stuart Barnes is one of our heroes and we just had to share everything with you. Consequently the interview has to be spread over issues 16 and 17 of ERE.
Let's start off with the obvious question that everyone will want to know, why have you retired?
A lot of people have said it is early to leave at 31 but it is not the age at which you quit but the length of time you have played. Obviously there are exceptions, John Hall has been going as long as me, but I was in the Welsh national squad at 18 and, apart from when I excluded myself, I've been in international squads for 14 years and in my time out I have been playing for the best club side in the world.
I said when I was 18 that I would quit after 10 years and it was only staying at Bath which kept me going as long as I did. At 28 I told myself privately that I would stop when the enjoyment of playing didn't surpass the pain of playing. It's pretty common knowledge that I don't like training and I felt that the commitment required to stay at the top, with Bath primarily but also England, really was 5 days a week training and that was transcending the playing.
I think that people sometimes forget just what you have to put into playing on a Saturday; if I could just go out and play without training I would play on until I dropped but you can't do that and I didn't want to get to the stage where halfway through a season my enthusiasm waned and either Bath dropped me or, more probably, they felt' 'he's been here a long time so we'll keep him in the team" but I would be letting down my team mates. It was a hard decision to make but I was certain at the time it was the right one.
Yes it is true that one more year would have meant the World Cup but that is hanging on to the end of one aspect of my life and I would like to think there is a lot more to me than just being a rugby player. One year from the World Cup offers more opportunities in other areas such as writing which is something I would really like to take up now.
So is that really the end of your connections with Bath?
I never had any intentions of doing any coaching at Bath, it's too close and I know the people too well. It would also be very difficult as I was not the best of trainers and I could not go back and give people a lot of stick for not putting in enough effort. Also coaching would have meant turning up on Mondays and Wednesdays and a bit extra. If I had been prepared to put up with that I would have carried on playing. Anyway we have the best backs coach in England in Brian Ashton.
Despite what many people thought in the earlier and more controversial days of my committee phase at Bath I have never had any intention of setting up some form of a cartel there, apart from supporting Bath body and soul. I just hope the Telegraph do not ask me to cover the boys too much because my impartiality may be brought into doubt. I shall merely be a supporter of Bath in the foreseeable future.
Will you be resigning from the Committee?
I won't be standing again, to be honest my commitments were so great last year that I only managed to attend one meeting and that's not right and I will be just as busy this year.
Big sigh of relief from the other Committee members?
Well I don't know, most who are in place now were not in place when all the wars started; all I ever tried to do on the Committee was give an honest appraisal and I suppose there may be a big sigh if anyone is acting in their own interest because I was always very anti-that. I felt that people covered up faults by saying ' 'It's amateurs, why must we take it seriously?'' But it's a serious business now and people can't just fall back on ' 'We do it for the love of it so don't give us a hard time!''
I have always been a great believer in the Committee being run as professionally as possible, it's certainly a lot better now but I still believe it is imperative that sooner rather than later we appoint a Chief Executive. I think the most important financial and management position is at the top and then the benefits of having someone good in place will come on down through.
Does the role of Chief Executive appeal to you?
No, not at all. I really enjoy writing, in the last eighteen months it has been as enjoyable as playing, and as a freelance writer I can be flexible and even spend some time with my family. Chief Executive is still a corporate position and I like the idea of living a non-corporate life.
Had any writing offers?
Well I have just resigned from the building society and you will probably see me quite often in the Telegraph and of course I have also got the book coming out in the autumn which will require a lot of marketing. Also I will be putting together a synopsis for another book almost as soon as the first one comes out.
Last year when I was with the building society, in effect with my book and the Telegraph I was doing 3 full time jobs as well as playing, that was too much. I didn't
want to continue doing reports and articles at 10 or 11 at night or after matches on Saturdays, something had to give. I have a lot of opportunities in front of me and I wouldn't be leaving a secure job if I didn't think I could continue paying the mortgage.
How did the book come about, did you write it yourself or have help from a ghostwriter?
It's all my own work except for a few kindly words of advice from my libel lawyers. It started off as a far more general book about rugby which was fairly irreverent and lighthearted but then I found that, as my first book, it was difficult to structure all the material I had in my head without giving it a framework so it turned more into an autobiography. It's really opinions and views about rugby in general including the ethos and committees and I used my own career and the various conflicts I have had to highlight my views on what is good and not so good in the game.
Has the famous dicky-bow been filed away for posterity?
No definitely not, every time there is a big Bath match, even if I am at Orrell reporting on a game I shall wear it in honour of the boys. The dicky-bow is definitely not dead!
Bath has been a big part of your life, you won't forget it?
I don't want to forget Bath, it has been my salvation as a rugby player. I was 22 when I arrived at the Rec and pretty well disaffected with England and, with my volatile character, I could easily have drifted out of the game altogether. At the time the big joke was that I'd had more clubs than Jack Nicklaus-Newport, Bristol and Bath by 22 and people doubted my character, they thought of me as being very fickle and at Bath I found what I wanted - a rugby home and I could never replace that
Sport is a wonderful part of your life, it provides exhilarating moments but I wouldn't swap 50 England caps for all I have achieved at Bath. No doubt in a couple of years I will be wallowing in nostalgia.
How ready do you feel Mike Catt is to step into your shoes?
Mike is a marvellously talented player and more importantly he is a very confident player. A lot of the essence of outside-half play is confidence and what Mike has to do now is get the experience. He has played a lot of top class rugby at centre but not that much at outside-half. He has the talent but now must settle into the psychological role.
For more than the last decade at Bath, with John Horton and myself, outside-half has been the pivotal decision making position and that is where Mike has got to forge his own identity and that is where he will feel any pressure upon himself. Personally I have no doubt that, given a little time, Catty will be the new No 10 King at Bath and we are very lucky to have him follow John and me.
There is not much of a settling-in period for Mike, what with the Barbarians game followed by 9 straight league games. The Barbarians game is very important for Bath and they must play in a committed league-structure way because that is the only prep game before the league starts. I don't know how the leagues are going to pan out after Christmas but it looks imperative that we put together an undefeated sequence before the break.
There is going to be a lot of pressure on our pack to really help Mike through it and of course Ian (Sanders) at scrum-half if he is at No 9. Therefore I am glad that Hally is still there, and as captain, because that experience is going to be vital. But the way our pack finished the season I have no doubt they are up to the task.
Do you think the RFU could have prevented a potential club -v- country dilemma in the second half of the season?
Yes, if there was any foresight they would have. It was quite clear that the only way to settle this one was to revert to the single game system if England are to take the World Cup seriously. Now I still don't accept why it is automatically clear that country must come before club, it didn't in my career but I don't blame players because that is where their road to riches lie and that is where the glory is, but there is this assumption that country always comes first.
I always felt that the great support I received was from people with an identity, I always describe myself as a human being and not English I am extremely unpatriotic. I always hope the best team wins unless I know some of those involved in one side. When I have played for England and been in the Twickenham car park there has been no sense of identity for me, unlike when I walk through the car park at Bath where I know people.
This whole situation is tough on players and what should have happened should have enabled players to both represent club and country, after all one is the team message and the other the individual essence and if the RFU had negotiated a couple of years ago with Courage, which is obviously the stumbling block, we could have avoided this whole thing.
A couple of months ago you were the mystery guest on A Question of Sport, where was it filmed?
Waterstones in Bath and though I never saw it, my wife has told me never to wear a polo-neck top again. Oh and for those of you who saw it, the kiss aimed at Margaret Thatcher at the end was deeply ironic!
You may be surprised to learn that Bill Beaumont did not recognise you but Ian Botham did.
It doesn't surprise me really, I think Bill knows more about other sports these days than rugby. In terms of spiritual brethren Both is closer to me than Bill. Bill is straight and Ian is bit of the naughty guy and he probably saw a kindred spirit in me!
Ian seems to know quite a few Bath players when they appear on the quiz, has he any connections with you all?
No not really, I think he just likes the Bath spirit which is play hard and work hard and I think he has recognised that, whereas a lot of others think we are just a dour bunch which couldn't be further from the truth. I think most of the extroverts during the last ten years in English rugby have worn the blue, black and white colours which doesn't fit in with that grim work ethos and no fun.
Last season at Northampton the PA announcement that Wales had beaten Scotland seemed to give you much pleasure, was that your Welsh connections or the fact that you had a few bob on Wales to win?
I'd been betting on City Index and had told a few friends in London that Wales were going to give Scotland a rare old hiding, because I didn't rate the Scotland team at the time and I think it was £5 a point that I had put on Wales. It was not up to my great Cheltenham wins (or losses!) but it was £100 on a light bet and was good for my credibility with the City.
Did you expect more of a crack at the England No 10shirt with JackRowell as coach?
It's difficult to say, Jack took over a settled team with settled personalities and South Africa was always going to be a voyage of discovery for Jack. I was disappointed that after the first two games I wasn't given a chance behind the first team pack in the Transvaal game, I didn't really think I was given a platform to play off. But Jack is a deep thinking man and God knows what his longer term plans are and whether my retirement has upset them.
Have you spoken to Jack about your announcement?
He just said he is sorry I've gone, there is not a lot of point talking about it now because it is all over. Jack wished me the best and I wished him the best.
We were surprised to hear that Jack was surprised to hear you had retired, who was the first person you told?
Apart from the Telegraph knowing for obvious reasons I told John Hall and Brian Ashton first. John and I go back a long way and one of the disappointing aspects of my retirement is that we had planned to go out together - two drunken cowboys riding over the horizon but it wasn't to be and I think Hally was disappointed because we have been through a lot together.
Without being disrespectful to Jack I didn't think on tour was the place to announce it and Bath has always been in front of England in my loyalties so it was key that I told the two most important people in the Bath set up in John and Coco, after all England had nine months to adapt whereas Bath only had a matter of weeks.
Coco?
It's Brian's nickname amongst the Bath backs.
Brian is highly rated amongst the Bath players?
They all think he is outstanding, he is a very original thinker and in my time originality in rugby has been sorely lacking in England. We have been great emulators not great originators and that is why Bath have been on top because we looked at the best of other countries, the best of other sports and merged it with our own strengths whereas I think England just said let's try and follow whatever New Zealand or Australia are doing.
Brian also comes from a Rugby League background so he is very thoughtful about the game, is very original and is very aggressive in his coaching. The two of us had a very good rapport because our philosophy on back play and rugby in general was similar. Bath fans will benefit from Brian because I think you will see a lot more positive play.
How exciting was the South Africa tour?
It was one of the most enjoyable and interesting tours I have ever been on, certainly better than going to New Zealand for a third year. Funnily enough that seemed to be a good reason to choose now to retire because in days gone by if Rob had got the berth when he had played a couple of games where he failed to impress I would previously have got uptight but this time I was not too concerned because there were so many other things happening.
It was fascinating, I was fortunate to have met Nelson Mandela on a couple of occasions before (the 1st Test) and I think it could be one of the best things to happen to the world if South Africa pulls it off. To see the spirit out there and the will to make things happen was fabulous. It was interesting to see the old Afrikan world and to realise why for so long I have been anti, but there is no doubt that their (Afrikan) spirit still exists in certain parts of the country.
If the Telegraph choose to send me to Cape Town during the World Cup to cover South Africa and Australia I will be more than happy!
Where had you met Mr Mandela before?
A function at the Dorchester Hotel where they were rising money for education programmes, because it is the ANC's view that the way to take things forward is to make sure as many people as possible are educated, a fairly sensible view. I don't know how, but I came to be standing in line between Lord King (ex-chairman British Airways) and Richard Branson and I let Mr Mandela know that Bath expenses did not make me a first grade target for donations to the cause.
I have known ANC members in London for some time on a friendly level and every so often I get a perk like going to see the man. It was so good to see things going well for him.
Does Nelson Mandela have an interest in rugby?
Yes I think he is quite interested, Robben Island where he was in prison for 27 years had five rugby teams and I think he may have played a bit in his time.
What rugby reporters/commentators do you rate or will be looking to emulate in your new career?
I don't want to emulate anyone. When I was on the field I tried to be me and likewise with writing. However it would be remiss of me not to mention dear Stephen Jones because he was the lone voice in Bath's defence in the early years -I'd rather not comment on other journalists. In terms of commentators, Bill McLaren has a certain timeless quality about him, Starmers is great because you can almost hear him cry when Bath beat Harlequins. Ian Robertson on the radio doesn't do a lot for me, Higgy is alright but again that is local bias. I don't think rugby is blessed with an abundance of great commentators.
Why did you do the half-time talk in the Cup Final?
Hally had a bit of a knock and was receiving some treatment and rugby is not like football where you have a lot of time, so as vice-captain and club loudmouth anyway I always say something at half-time. There was no other reason than John's injury.
Is it true you have written to the Football Association complaining about the lenience of Spurs recent fine and points deduction?
No but I am glad that ERE has brought this point up because if they (Spurs) get let off I might actually go on hunger strike (you 're safe for a few months then Stuart! Ed.) To me Tottenham Hotspur are the Bristol Rugby Club of football - they should be knocked at every possible moment!
How often do you get to see Arsenal?
I saw them about 10-11 times last season. I saw them play on one of my Saturdays off against Manachester City, who destroyed the game and made it one of the most boring matches I have ever seen, I also got to see them some Monday and Tuesday nights. The highlight was to go and see the second leg of the Cup Winners Cup semi final against Paris St Germain. In future my only exercise will probably be playing for the Arsenal celeb eleven.
Do you know the Arsenal management and players?
I know a couple of them, though not that well. They are such heroes of mine that I don't really want to meet them, I like to be a supporter from a distance. I've done a few articles in the London Evening Standard on Arsenal and also for their fanzines, I'm almost an unpaid publicity machine for the club. I am also President of Bath Arsenal FC, run by a good mate of mine Peter Weeks.
Who are your Arsenal heroes?
Obviously Liam Brady because to me he was an outside-half playing a different sport, he had a brain, vision, time and he just read and ran the game beautifully. Then of course Charlie George, because he scored the double winning goal. I have a huge amount of respect for Tony Adams and I think he is vastly underrated, in sport you get tagged as something and this was a problem for me as I was tagged the' 'running outside-half' when most people at Bath know I have tried to be a decision making player.
I always felt my advantage was that I wasn't either a running or kicking player but someone who decided on the basis of the quality of the ball I received. At times too many players or teams have tried to be one thing or the other and I got annoyed when I was given that ' 'running'' tag. Coming back to Tony Adams, he is known as a big effort donkey but if you watch his distribution he doesn't waste the ball but sadly most people are happier to live with his tag.
It's very odd that I support Arsenal, probably more to do with my stubborn nature and the fact that they are so unpopular. Most people pick up on the fact that Arsenal are the antithesis of everything I believe in rugby. I think it is fair to say they would be more a Geoff Cooke side than a Stuart Barnes/Brian Ashton side.
Dudley Wood is due to retire at the end of next season, do you fancy a crack at his job?
Near the end of my book there is a comment about my next career move and the RFUis mentioned, but I think I might have to put that one firmly in the category of tongue-in-cheek. The thought of being involved with Bath on a professional level makes me wince slightly but I think I will leave the RFU for another 20 years!
You will need a few more grey hairs to be allowed onto an RFU committee!
Hang on, the cup semi-final against Harlequins has given me more than enough! I was not overly fit for the game and I must admit that when Ben Clarke threw a ball from the kick-off straight into my hands instead of passing it to Hilly I did not find it amusing and anyone who saw my lame kick over a wing out of position will understand that I was suffering - still it made me realise that I had to get fit for the last month of the season.
Did Richard Hill's retirement have an effect on you?
No, not really, it is sad when mates I have played with for a long time go but in sports teams things evolve and I got on very well with the younger lads as well as the older ones, I have never tried to stay in one clique. Bath's success is that we have just moved on and on. Lots of people have come and gone, it was sad when Richard went but when he announced that he was to hang his boots up this had no effect on me and certainly at that stage I wasn't thinking of retiring.
What was the best Bath side you played in ? (This question caused Stuart real torment and the following is a very brief extract of his agonizing Ed.)
This is difficult, but then I won't be there that often! This team will play in my preferred style!
Victor Ubogu, Graham Dawe and Coochie as my front row.
Can we play a Welsh team where they are not so tall or are we playing an English team because this will make a difference? (Welsh team Ed.) John Morrison at two and Ollie Redman at four but if it was against an English team I would play Redman at two and Andy Reed at four.
Back row?
Oh nightmare.. John Hall, Ben Clarke.... (Somebody could get injured at half-time Ed.) Yes but I still have a problem... Spurrell was a big man for the club but in terms of footballing ability Robbo has been there doing it for a long time but Ojo might just possibly be the best of the lot.
Richard and myself at half-back, but what about the centres? I will have to put John Palmer at full-back to get him in the team, though he will need a month to get ready for the game, he was my favourite footballer in my Bath career. Guscott and Halliday in the centre.
Fallon and Swifty on the wings, you have to have Tony in not just for his tries but the balance he has provided. They provided the best balance of wings I saw in my ten years of English rugby.
Well that is my team but it is a painful one to pick.
Swifty had a good season last year?
Well he hasn't had many bad ones, he is an outstanding player and I don't want that comment in the article (No alright Stuart we will leave it out Ed.). One of the worst aspects of my time at Bath was that Swifty always said he was going to hang on until I went because I have been trying to get rid of him for two years and now he has actually outlasted me which I find very depressing.
Is there anybody just below the current first team we should watch out for?
I think scrum-half Olsen is very talented, he was injured for a lot of last season, he is quite small but very competitive and has a quick brain and hands and reads the game well which is so important at half-back. This is good because this will keep Sandy on his toes. I also quite like the lad on the wing Tony Iacono.
Audley will come back this year with a vengeance which will make life very interesting at full-back because Jon Callard finished the season very well but Audley showed signs of being back to his best.
Up front Crompton has enormous potential and John Mallet had a storming tour of South Africa, I think he exceeded everyone's expectations.
What soap character would you most like to play?
Ha ha ha you have got me in trouble here. Oddly enough I don't know much about contemporary soaps but lets be an utter slob and say, God rest his soul, Stan Ogden!
I always remember a day when Stan had a bad back and couldn't go window cleaning so Hilda was doing double the workload. Stan would be at home drinking cans of bitter and in the end she forced him to go out but later found him in the Rovers Return having slipped doing a bit of work and needing a pint to restore himself.
The laziest most conniving slob ever - he and Eddie Yates were two of my heroes. Just like me and Chilcott - Stan and Eddie.
What message have you got for the thousands of Bath fans who are going to miss you trotting out at the Rec next season?
I think it is quite exciting and the fans have got to look at it as further evolution. In the past some players have made shirts their own and it is great to watch how the youngsters take over. It is going to be a new look Bath team, and teams tend to get moulded around a few characters, but it has to be looked on as another stage in the Bath regeneration. We did it with Spurrell, Simpson, Egerton, Halliday, Palmer and we just kept on doing it and following Hill and Barnes the process is carrying on.