Rugby at its coarsest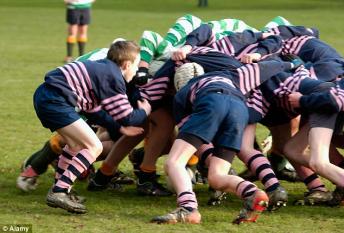 By Patgadd
October 9 2017
"Just hold the ball like this, d'you see, and when you're ready, shout 'Coming in, colours, coming in - now', and chuck it like this".
This was my introduction to schoolboy rugby. The speaker was none other than England flanker (or wing forward in those days) Alan Ashcroft, who taught us geography and rugby. Colours vs whites (shirts) was the norm, and I was learning to be a scrum half.
Little did I dream in those far-off days that I would eventually climb the highest peaks of amateur rugby, playing alongside or against names such as Fran Cotton and Bill Beaumont. This was just as well, as in twenty years of playing I never emerged from the lowest valleys.
Some years after leaving school, I moved to the midlands, and was approached in a pub (where else?) by a chap who was looking for somebody – anybody – who could help make up the numbers for Dudley Kingswinford's 6th team the following weekend. A few drinks later, five years without rugby was forgotten, and by the appointed day I had acquired the necessary kit.
Unfortunately, I had also acquired a massive hangover from the previous night. Red-eyed and whey-faced, I rang him to say I couldn't make it. "Well, you have to. We've only got 14 men as it is, so we'll hide you away at full back".
Thus I found myself, still shivering and trying not to retch, on a soggy Bridgnorth meadow waiting to receive the opening kick. Imagine my horror as the ball came spinning high in the air and descended towards me with laser-like accuracy. I didn't even have to move a step, which was handy as I couldn't have. I cupped my arms in a manner which, had he been thought of then, would have been reminiscent of Mr Bean.
The ball fell straight into my arms. I don't know whether I was mesmerised like a startled rabbit in front of a ferret or felt too ill to move, or indeed was simply scared out of my wits; probably all three. All I know is that the onrushing opposition player realised in the final yard that he didn't have to execute any kind of a tackle, rib-crunching or otherwise. He slowed to a walk, gently took the ball from me (not a word of thanks, mind) and trotted over the line.
Twenty years later, I retired – or as some might say, desisted – from playing the game without ever rising to the giddy heights of playing with a number on my back, so when I shuffle off this mortal coil, will somebody please supply an appropriate shirt?
More Worcester Warriors headlines
Worcester Warriors Poll