All aboard the Fun Bus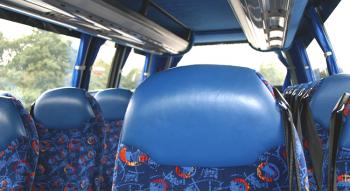 By Lindsay Clayton
December 4 2017
What better way to experience another Premiership ground than with a group of fellow Warriors supporters.
Using the coach has the convenience of someone else doing the driving to Allianz Park and having the company of a coach load of Warriors supporters to chat to about our current team, injuries and other facts and rumours.
There is a raffle run by Warriors Rugby Supporters Club with the chance to win a Jonny Arr Testimonial Calendar and lots of other goodies.
There are 3 pickup points, The Bull Ring, St Johns, Lowesmoor and Sixways.
If you wish to book the away coach please contact the Warriors Ticket Office on 01905 459309. You can book your tickets for the game at the same time the tickets available from the Ticket Office are Black/Red zones @ £28 per adult or Silver zones @ £44 per adult
Pick up Times are:
St. Johns @ 10.30 am
Lowesmoor @ 10.40 am
Departing Sixways @ 11.00 am
All for the cost of £ 17.00 season/debenture or £ 19.00 full price.
Looking forward to seeing you on the coach.
More Worcester Warriors headlines
Worcester Warriors Poll