The Night After Christmas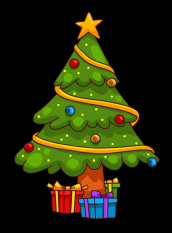 By R Threadgold
December 18 2017
'Twas the night after Christmas, when all through the ground Nothing was stirring, no mouse to be found. The changing-rooms jerseys were laid out with care For the visit of Saints who to-morrow were here.
The players were nestled all snug in their beds, While dreams of a home win came into their heads And Rudds in his jumper and Reg in his cap Had closed up their lap-tops to snatch a quick nap.
Then out on the pitch there arose such a clatter They sprang from their seats to see what was the matter; Away to the window they flew like a flash And onto the balcony both made a dash.
The moon on the dew-laden, silvery green Gave the lustre of mid-day so all could be seen. So imagine their wonder when what should appear But a well-laden sleigh with a team of reindeer.
With a jolly old driver, so lively and quick That they knew in a moment it must be St. Nick. But what was he doing when Christmas was gone? Perhaps he'd got lost and his map was all wrong.
He looked up at the watchers and said he was sorry- The motorway exit was blocked by a lorry, But it wasn't too late for the presents and toys That he'd brought in his sack for the Warrior boys.
And with that he rushed to the changing-room door And turned out his gifts on the well-polished floor. He spoke not a word, but went straight to his task And filled up the stockings, though no one had asked.
There were gloves that would help any wearer to catch And twizzling arms for a swift line-out snatch; There were boots with a spring for helping a take And deft sleights-of-hand for a magical break.
There were shoulder protectors and flexible bones And reinforced boots that were labelled "Matt Jones"; Some bagpipes for Alex and sun-cream for Jake And purple-heart tabs to keep linesmen awake.
He'd gift-wrapped a parcel of soothing Bournvita To help ease the sleeping of battered Tevita; For Pat, there was placed on a large Christmas wreath, A ribbon-tied box holding gleaming false teeth.
At last Santa's job was almost complete. It was time to go north and put up his feet. He made one last check that none were forgotten And found something tucked in his sleigh, at the bottom.
A particular present that's rarely been seen Which will raise a big smile on a Worcester fifteen. For his liveliest parcel it most surely was- Gold and blue kangaroos for the Wizard of Oz.
Then Santa looked up at the watchers and waved And gave them,when leaving, their gift he had saved. For he pointed up East to the top of the stand, Before fading away with a flick of his hand. Then Reg and Mike Ruddock broke into a grin, For the scoreboard for Saints showed a Warriors' win!!!