Jekyll and Hyde Form Continues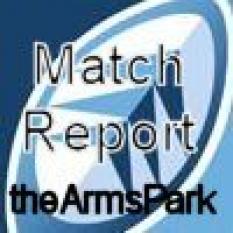 Cardiff 3 Bristol 20
By Andrew Collins
August 29 2006
Having ben away myself, the sites fans report on just how bad the game was on Friday night.
Having been at the Reading Music Festival ver the bank holiday weekend, I missed Cardiff's second ,and final, friendly match before the Magners League kicks off next week.
But as ever, you lot made your voices heard, and so here are some of your views on the 20-3 home loss to Bristol.
Hughdp:
It was much like the Edinburgh game last season, after the famous HC exit at Leeds. They were all trying and seemed pretty determined, but there was no spark or energy to it. There were alot more handling errors than last week too, much like last season, and again the line out failed miserably on more than one occasion. Dai was looking really frustrated, you've got to feel sorry for him though. What is it with the Blues? In just 6 days they go from being ace to meadiocre at best.
Dare2bBlue:
Very poor display on Friday. No real possesion from the pack for the backs to use, when they did get possesion they either lost or dropped it. After last weeks game running and quick passing, there seemed to be no decisive breaks into opposition territory. Poor weather didn't help handling but they will have to get used to that, the winter is coming! Lets hope they pull it back together for next week.
Cardiff Boo's:
Need to start winning clean lineout ball, how hard can it be with Sid in the squad?...They took the game as if it would be a pushover just look at the squad selection. Failing to prepare is preparing to fail.
i love the blues:
I was at the game and yes Cardiff were that bad. The forwards were disjointed and didnt work as a pack. The backs were more unlucky recieving poor quality ball from the Wayne Evans. A scrum half who will surely never threaten Mikes position. Sowden Taylor was the only player who came close to preforming.
Thanks to those of you who commented on the match, lets hope Dai can find whatever it is that makes us tick soon! This Jekyll and Hyde form simply isn't good enough, it may well be whatever is said in the dressing room to get them up for it, in which case Dai must make his team talks as inspirational as possible, that also goes for Xavier Rush, who must keep them going all the time on the pitch.
With Munster visiting the Arms Park next friday, the Blues have just a few days to get themselves up for it, and into a good league position. A good start could be the difference to top or bottom Welsh side.
More Cardiff Blues headlines
Cardiff Blues Poll