CRFC Ltd's Finance director Speaks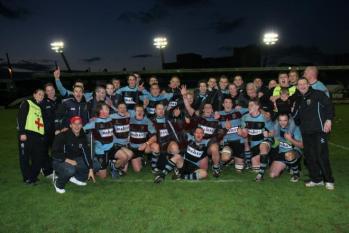 CRFC the Champions
By ATTR
February 10 2010
Here, as promised is an overview of the conversation I had will Alun Doull. CRFC Ltd's Finance director back in December. I hope you find it of interest...
Meeting with Allan Doull
Here are Mr Doull's comments.
Clearly all he said was not recorded so I cannot "Prove" any of it.
1. Actual crowds are 65 - 75 % of the announced figures. The announced figure includes all tickets issued - Season tickets or whatever. Stressed this is "normal practice" in sports accounting. The fact that many ST holders were not using their tickets and were quite likely to reconsider the "value" of buying one next season did not seem to be as important to Mr Doull as the money through the till now. (This seems a little odd to me as we need to build a committed following)
2. Approx 85% of last season's ST renewed. ST sales are approx 25% up on last season. Many of the new STs have decided to try the stadium and / or would not have bought one at CAP (straw poll of new ST holders). (ATTR again the "new" was stressed rather than people who have walked away)
3. Club is trading, financially, more successfully this season than last with corporate business "very positive". Club accepts that profit will be secondary to building attendances over a few years and they expect to lose money over the short medium term. This, it is believed, will be "repaid" when the crowds grow over the longer term. (ATTR - It will be interesting to see the Accounts covering this season when they come out [in 2011]as they will show how we are trading this season compared to last)
4. Acknowledgement that communication has not been good enough.
5. Club were not aware of the issues regarding the "supporters' Bus". Club was under the impression that the buses were waiting at the final whistle to take supporters back into town. They did not realise that there was a wait for the buses to turn up.
6. The club gets 11% of the profit from the food and drink outlets on CB match days the rest goes to compass. This is the same arrangement as CCFC get. If outside events e.g. a concert or the like is arranged Compass will get all the money on such occasions.
7. We pay 25% of match day costs. This is capped so if costs were to go "through the roof" there is a limit to such costs.
8. CCC is putting immense political pressure on CAC to sell CAP. It WILL happen. CRFC Ltd is looking at plans for a new ground and clubhouse for the RFC side. The plan is to include a training facility. There is also a plan to get a clubhouse for the regional side near to the SdR.
9. The Club is "concerned" about the atmosphere at the stadium.
10. Club is optimistic as to Academy players coming through from U18 squad approx 11 will be offered contracts.
11. We will buy if the price and terms are right.
12. The Robinsons: Nicky left due to "non-financial" issues. Jamie left as he saw himself going down the pecking order.
Mr Doull also spoke "off the record" so I cannot reprint those items here.
More Cardiff Blues headlines
Cardiff Blues Poll