Position Focus: Wing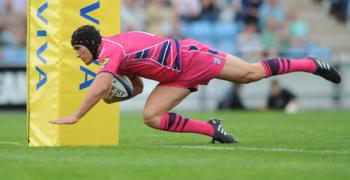 Tom James
By Rhys Thomas
August 30 2010
Rhys continues his 'Position Focus' articles, this week looking at the wings.
The Incumbents - Leigh Halfpenny and Chris Czekaj
In my humble opinion, Leigh Halfpenny is Wales's best wing at the moment. Of course Shane Williams is a rugby legend, and a fantastic player, so why do I consider Halfpenny to be better than him? Halfpenny has a fantastic all round game, like Williams, he has electric pace, and a great sidestep, but this is where the similarity ends. Halfpenny is not afraid to tackle, often scrambling back to make key last ditch tackles on men twice as big as him. Arguably his greatest asset though, is his monster boot. Whenever the Blues get a penalty from 50+ meters out, you know where the ball is going - to Halfpenny and then between the posts, as shown in the last Magners League game against Munster. So who is Halfpenny's partner in crime? It has to be Chris Czekaj. We all remember his disastrous Six Nations debut against Ireland, and then his horrific leg injury against the Wallabies. Granted, he was poor in those early games, but has seemingly come back hungrier after his injury. He has got stronger and faster, and most importantly, more intelligent. One issue with Czekaj, is tackling, and after the injury he has been unreliable in the tackle.
The Challengers - Tom James and Richard Mustoe
What went wrong with Tom James? Remember 2007-2009? Tom James was great then, cutting through the Munster defence, running through Leicester's defenders, and scoring a try in the EDF cup final. He was also capped for Wales during that fruitful period in his Rugby life. He was even selected for the 2010 Wales Six Nations squad, and therein lies our answer. He started the first game against England at Twickenham, but did not play again, following a disastrous loss. For the last game against Italy, James was overlooked, and Ospreys wing Tom Prydie was selected instead. This prompted James to walk out, and put his future Wales and Blues selections in jeopardy. He has only played twice for the Blues since that Italy game. So, it seems, his temperament is the problem. He needs to be back to his best, he was fast, strong, and a devastating finisher, but it seems he is nothing without the right attitude. This is in stark contrast to the other winger, Richard Mustoe. Mustoe is the typical "journeyman" player, he always gives 100%, he is a talented regional player and I've been very impressed with his attitude. He is also very unlucky not to have got a full Welsh cap, as he is much better than some of the players Wales have has over the years!
The Future - James Loxton
As far as I know, Loxton is the only U20 Blues winger coming up through the ranks at the moment. He impressed during the 2010 U20s Six Nations, scoring tries against England, France and Ireland. He scored a try on his Blues debut against Ulster, and has put in a series of impressive performances for Glamorgan Wanderers in the Premiership. The question now is how much game time will he get for the Blues?