Blues Attempt Audacious Henson Coup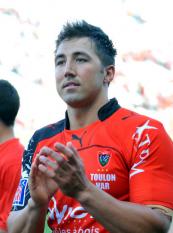 Henson at Toulon
By Andrew Collins
June 2 2011
Just weeks after admitting that there would be no new additions to the Cardiff Blues this summer, it appears that a sensational U-turn could see Wales, Lions and Strictly Come Dancing star Gavin Henson at the CCS next season...
Gavin Henson is perhaps the most talked about Welsh rugby player since Gareth Edwards. A naturally talented, confident and gifted sportsman, Henson is perhaps the best Welsh player to never make a Rugby World Cup... yet.
Since Henson broke onto the scene with Swansea and then the Ospreys, the fly-half cum centre has been constantly in the limelight, both inside of rugby circles – most notably that kick against England – but unfortunately just as much in celebrity culture. Once married to singer Charlotte Church, Henson's fame became almost overwhelming in Wales, culminating with his appearance in BBC's reality show, Strictly Come Dancing last year.
But it seems as his celebrity stock grew, his rugby valuation fell, as apparently did his aspirations.
Since taking a self imposed 21-month break from the game to recover from a spat of injuries and personal issues, Henson than agreed an early release from his Ospreys contract to join Saracens, reasons for which included being closer to his children.
Yet under 2 months later, he moved further afield to Toulon as he believed he wasn't given enough game time at the London club.
Though offered a subject-to-trail 2 year deal with the super-rich French club, Henson hit the headlines following a bust up with team mates at his new club. He saw out the end of the season in the Top 14, but was shown the door soon after.
But let's be honest, you knew all of that.
The marmite of rugby union, Henson has split the Welsh public with his obvious gift for rugby, but his seeming desire to waste it. A fit and firing Henson can only be a benefit to Welsh rugby, and the Blues would be stupid not to look into his availability. According to today's (02/06/11) Western Mail, Peter Thomas is pulling out all the stops to land Henson, although there's competition from Stade Francais, Bayonne and Biarritz.
When looking into any deal with Henson, there are so many questions to consider. Can he stay fit? Can he stay motivated? Is he even half the player we saw nearly 5 years ago when he was at his best? Do the players and coach want him? Given our financial situation, is he worth the gamble? Would he be the big-name signing that supporters need to kick-start season ticket sales? Is he better than what we already have? 10 or 12?
But the biggest question of all lies at the feet of Henson himself. Is his finally ready to be the great player that we know and want him to be?
If that's a yes, then i think any Cardiff fan would welcome him with open arms.
More Cardiff Blues headlines
Cardiff Blues Poll