Quarter Finals; FromThe Keyboard of CardiffSteve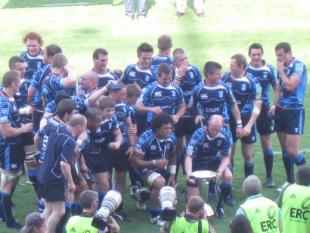 By CardiffSteve
April 6 2012
Heineken Cup quarter final tomorrow, a few signings for next season in the works and a group of players coming back from some grand slam winning exploits. We're looking at a great future, aren't we? Everything is, in fact, absolutely fantastic.
Obviously not, but lets not dwell on who may be leaving, who may be tweeting what and what meetings might have been held this week. There's already enough of that to be going round.
And definitely ignore the four try defeat to the Scarlets. Nor should anyone mention the four try defeat in Glasgow. Pondering those results will just ruin the upbeat mood.
And no mentions of the H word. No thanks.
Whilst on the subject lets disregard the fact that the latest set of accounts have yet to be filed amid rumours of huge losses. That kind of pessimistic thinking definitely isn't needed. And while we're at it, lets definitely not ponder whether there'll be more games at the Arms Park this season. Don't even think about speculating on where we'll be playing next season. None of that thank you very much.
Nobody wants to ruin the mood. So, lets think happy thoughts.
Any fan will have fond memories of Heineken Cup quarter finals. Its when the hope that you can win the BIG prize either starts to look a bit more real or vanishes.
Our first, in 1997 (the first HEC didn't feature a quarter final stage) was quite something. A gripping match (Jiffy putting Nigel Walker over anyone? I swear I thought the roof would come off the south stand) and, particularly by the standards of the time, a wonderful crowd. It suggested a big future for the Heineken Cup and for Cardiff rugby.
Just to jog memories, here's a match report: http://www.independent.co.uk/sport/rugby-union-davies-toast-of-cardiff-1352844.html
We were in another the following year, but the tables were turned. http://www.independent.co.uk/sport/rugby-union-bath-show-cardiff-how-to-take-their-chances-1293196.html
And, from that time onward it seemed like the chance for real HEC success was drifting further and further away from us. At one point (well, several points... right now for instance) the idea of Cardiff winning the Heineken Cup was laughable.
After a few damp squib quarter finals in Llanelli and Gloucester (another thing I won't dwell on - still far too annoying) we had to wait until 2008 for the next. And, although Toulouse took us to the cleaners, it was good just to be there. A taste of the latter stages put a smile on our faces. I think we knew we were on a hiding to nothing out there but nevertheless the build up was upbeat – the future looked good.
The following year and things had really accelerated. We knew we had a good chance of beating Toulouse in front of a good Millennium Stadium crowd and things were justifiably upbeat.
So, with all that in mind, the build up to this Leinster game seems quite bizarre. I can't imagine a stranger run up to a big game. There's an absence of any kind of optimism and off field issues completely dominate any discussion of the game. I almost get the feeling that some fans wish this game wasn't taking place. Its hard to look forward to a game you suspect you might have to watch either blind drunk or from behind a sofa.
Frankly, perhaps it's for the best that we get thumped mercilessly by Leinster. Our of field issues are boring to talk about, but they're serious and perhaps it needs a real on field disaster to really make people sit up and wonder what the hell has gone wrong at this team.
On the other hand, if by some miracle we win this, it'll be one of the great HEC days and even the most negative fan would force himself to enjoy it. So, I'll allow myself a few daydreams about Laulala waltzing under the posts or Halfpenny nailing a touchline conversion to seal the win. You never know and, wouldn't it be nice?
We'll get back to the despair and abuse on Monday. And who knows, maybe talks to sort out our off field problems are taking place as I type?
Admin Edit: Many thanks to CardiffSteve for this article. Hopefully, the first of many wonderful articles from theArmsPark.co.uk's new columnist.
More Cardiff Blues headlines
Cardiff Blues Poll