Heineken Exit: The Aftermath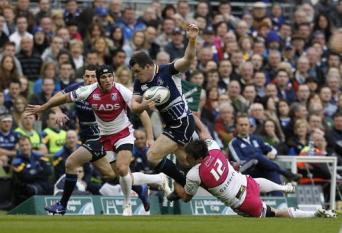 Heineken Heartache
By Andrew Collins
April 8 2012
As expected, the Blues were humbled in their Heineken Cup Quarter Final by Leinster, a team whose current stature in world rugby could not be much further from our own.
enjoyed yesterdays match, as it is likely to be the last time the Cardiff Blues reach the knockout stages of the Heineken Cup for some time.
I don't need to go into too much analysis over our own performance, mainly because there was very little analyse. The players, or at least the vast majority of them, gave it a good go on Saturday. Martyn Williams rolled back the years with a classic back-foot display. Gethin Jenkins proved why he is the best open-play prop in world rugby with an awesome defensive effort typified by the 78th minute turn over, the scores at 34-3. Likewise Patterson showed tremendous endeavours as he has all season playing at flanker.
You could see the effort personified in Tom James, who battled all match long despite being fed hospital pass after hospital pass, Def Hewitt, who made a number of big tackles, Bradley Davies, Leigh Halfpenny and so on.
In most parts, we matched Leinster for effort. What we lacked was direction, decision, momentum, confidence and, most of all, any sort of game plan.
If anything highlighted the gulf in training and management, it was Leinster's beautifully worked 3rd try just before half time. The Irishmen crafted a stunning try direct from 1st phase ball, so well worked was it, that not one Blues hand got on the Leinsterman to slow their ruthless progress to the try line.
While Leinster looked like scoring every time they got the ball, and indeed they would have had it not been for some good last ditch defending, the Blues never once looked like crossing the whitewash. After the whirlwind 1st forty, the Blues rallied well to have sustained pressure on the Leinster line, but they were blocked at every avenue. Yes, Leinster defended well, but our attacks were so obvious and repetitive I think I could've been in that Irish back line and still have kept the Blues out.
I believe we have three game plans at the moment.
1) Consistently spread the ball wide, without earning the right to do so, and look for gaps.
2) Park up and under.
3) Give it to Casey.
The closest they came was when Martyn Williams dived between several tackles, but just failed to ground the ball. A great solo effort following some sustained pressure, but even then, whereas every Leinster try was a stroll over beneath the posts, Martyn Williams was surrounded by Leinster shirts which ultimately prevented him from getting the allusive try.
Last week, the players lay down and let Glasgow embarrass them without shame. They did not want to be there.
This week, we tried. We huffed, puffed, but were totally outclassed by a well organised, well managed, well drilled Leinster side who made their 34-3 victory seem easy, in fact less then they deserved.
Both games showed very different sides of the players, and they both highlighted different reasons to change the coaching set up.
It is the job of the coaches to motive, encourage and inspire the players to greatness. Dai Young took a lot of stick from some quarters during his reins, but I maintain he got the very best out of a decent group of players. Burnell and baber seem totally incapable of doing this. If the Blues had bothered to turn up at Murrayfield a few months ago, and actually put in 100%, we wouldn't have even been at the Aviva yesterday.
The other reason these coaches must go, is because they've been given all season to install some sort of game management or plan, and I am yet to see it (other than the three pathetic ones above!)
To be fair to them both, they've had a real baptism of fire this year. The Cardiff City Stadium must've been an incredibly depressing place to be this season. There have been so many players out of contract, messed about as to whether they would be offered a new deal or whether they should look elsewhere, that those players' focus probably hasn't been 100% on rugby. Add to that the 'Team Wales' players, who came back from the Rugby World Cup as heroes, their seasons had already climaxed. They didn't want to be back playing in an empty CCS against Connacht when only a few weeks ago they missed their once in a lifetime chance in the RWC against France. Motivating that lot must've been a very difficult task.
Burnell and Baber will have learnt a lot from this year, and will become better coaches for it in the long run.
But as a result of this season, whether it's their fault or not, the players have no confidence in them whatsoever.
If next season is to be a fresh start, a new batch of players playing with renewed confidence and an arrogance to take on the world then a new head coach must be brought in. The Cardiff Blues will be a weaker side next year, no doubt about it. But they need a coach who can make sure that this here right now is the lowest we go.
A fresh start needs a new head coach. Admittedly, we don't have the money for the likes of Nick Mallet or Ian McGeechan, but we have players at the end of their careers who could take up the reigns along with an outsider and help us rise once more.
Personally, I would love to see Paul Tito, Xavier Rush and an experienced, older head coach come in for next season. Those two were inspirational players and wore the Cardiff shirt with pride and passion. They are the sort of leaders that we will need next year and can inspire a young team, who would have spent their own development watching the Kiwis in the Blue jerseys, into a new era.
We are witnessing the end of a golden era. We must make sure to begin a new one next season.
View a Printer Friendly version of this Story.
Heineken Exit: The Aftermath
Posted by: theArmsPark.co.uk (IP Logged)
Date: 08/04/2012 12:51
What do you think? You can have your say by posting below.
If you do not already have an account
Click here to Register
.
Re: Heineken Exit: The Aftermath
Posted by:
Y Cadno
(IP Logged)
Date: 08/04/2012 14:02
When was our Golden era? This has been on the cards for a while. Old core to the squad, no FR depth, no Outside half, no money. We've been in the position for a while now.