All You Need-to-Know About Cardiff's New Signings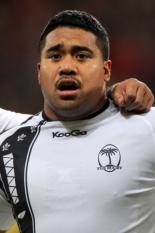 Campese Ma'afu
By CardiffSteve
April 17 2012
Three confirmed signings and another three strongly rumoured. Cause for celebration, no? Rugby fans love hearing about stuff like this don't they?...
Instead the reaction has been quite mixed.
Leaving the frothing about why there's no money to one side, lets look sensibly at the players coming in:
Campese Ma'afu. Loosehead prop. West Harbour. Fijian.
Some countries have a reputation for producing hard as steel and tough as old boot front row forwards that make the rest of the world tremble and hope George Clancy's reffing.
Fiji is not one of these countries. Neither is Australia. So we can be forgiven for assuming that a Fijian plucked from Australian club rugby might not be the man needed to harden up the front row.
On youtube is this handy highlight reel:
http://www.youtube.com/watch?v=pwxWB-YwA0A
Its already been pointed out that many of these highlights aren't too flattering and consist of Campo picking the ball up, trundling a few yards then falling over.
On the other hand, much of that highlight vid consist of Campo playing the Wallabies and All Blacks – he has some top level experience. Also, he's been signed from what in Australia is essentially amateur/part time rugby (albeit of a high standard) so, he should be hungry and out to prove himself. Time will tell.
Robin Copeland. Blindside flanker/Second row. Rotherham Titans. Irish.
The last time Cardiff dipped into the RFU Championship, we signed three players who made little impact before moving on after one season. However, other clubs have signed players from the Championship who've gone on to become top notch players. Mouritz Botha at Saracens, Matt Hooper at Quins, Akapusi Qera at Gloucester a few examples.
Copeland is highly regarded by Rotherham fans and by regular watchers of the Championship in general. Worth noting that he has an impressive try scoring record for a forward (11 tries from 20 matches).
Here's some brief footage of him in action, scoring against Esher:
http://youtu.be/k9bLqddbgV8?t=3m50s
So, pace, good feet and an awful try celebration. Seems like he probably has the raw ability to be a useful player. Time will tell.
Jason Tovey. Outside half. Newport Gwent Dragons. Welsh.
Arriving in a blaze of bitterness from down the 'port – this is at least a signing everyone is probably happy with. We've seen plenty of Tovey, know what can do and know where he can improve. A couple of reminders:
http://www.youtube.com/watch?v=GBgRvE_hQBg
http://youtu.be/v_TAzfK3yxk?t=20s
Outside half has been a problem position since Saint Nick left. Even then, sections of our support were immune to his magic. In my own opinion, we've signed a better player than the guy leaving and he's young enough to get better. But the Cardiff 10 shirt has claimed many victims over the years. Hopefully Tovey can beat the curse and make it his own.
Three other signings are unconfirmed but "strongly rumoured":
Benoit Bourrust. Tighthead Prop. USAP. French.
For as long as I can remember, people have been banging on about signing a big hairy prop from the French league. Now we've got one. Here he is, having a fight:
http://www.youtube.com/watch?v=LKnSbAlajfM
Given our scrum's recent problems (and it hasn't exactly been formidable for a long time) signing a guy who has been understudying Nicolas Mas sounds like a damn good idea. Bourrust is still only 26 and has managed to last three years at USAP – where non scrummaging tightheads are probably burned at the stake. On paper, he sounds ideal competition for the much maligned Scott Andrews.
Andy Kyriacou. Hooker. Ulster. English.
Sale, Leeds, Saracens, Munster, Saracens (again), Ulster and a couple of Ireland A caps despite being a Scouser. I don't think Andy Kyriacou would be offended if he was described as a journeyman. I can't find any youtube footage – thats how solid and unspectacular he is.
And there's nothing wrong with that - a guy who has been around a bit and will be unspectacular but put in a shift is probably exactly what we need.
Lou Reed. Second Row. Scarlets. Welsh.
A guy who is probably sick to death of being asked if he's had a "Perfect Day" or if he likes a "Walk on the Wild Side". Lou partnered Bradley Davies in the second row when Wales U.19 won a Grand Slam in 2006 (coached by Justin Burnell). He hasn't enjoyed the same sort of success since but is young enough to improve.
Other rumoured signings are London Welsh scrum half Rob Lewis and Cross Keys hooker Gerwyn Price.